The Best Golf Clubs for Seniors
The Best Golf Clubs for Seniors in 2022 — Plus, The Top 4 Best Golf Ball Picks for Older Players
By Publisher
| Last updated
Looking for the best golf clubs for seniors in 2022? How about the best golf balls for seniors? One of the joys of retirement is the additional time available to spend on fun, relaxing, and social activities like golf. So, no more waiting for the weekend to hit the links!
However, as you get older, you may find that your game isn't the same as it was in your younger years. Flexibility, range of motion, and endurance are impacted by aging, plus arthritis and knee problems can interfere with some older players' gameplay. But there is still the opportunity to improve your game through practice and finding the right equipment to work with. Age-related changes affecting your driving distance can be slowed down.
Take a look at some of the ways senior golfers can keep their edge:
This article contains affiliate links. We are compensated with a small commission, at no extra cost to you, for sales made through the links.
Best Golf Clubs for Seniors 2022
Let's look at some of 2022's offerings designed specifically for senior golfers.
Drivers
Back in the day, drivers were made from wood, which is why they are still referred to as "fairway woods." Today's high-tech drivers are made with elements such as tungsten and graphite, making them light and effective.
Drivers for Senior Men
Drivers for Senior Women
Unisex Irons
Irons (sometimes called "blades") are designed explicitly for fairway shots, and they range in size from a 3-iron to a 9-iron. The higher the iron's number, the greater the loft and the shorter the shaft. Irons have angled heads that are usually grooved to grip the golf ball better and help it spin. And today's sophisticated irons are appropriate regardless of your gender, so even if one of the following irons specifies "men's" it is also suitable for women.
Hybrids
Hybrids became common in 2000. They're sometimes called rescue clubs or utility clubs. They are a cross between a wood and an iron and are numbered like irons are. Some golfers call hybrids "iron-replacement clubs." Like irons, hybrids are unisex clubs. Most pro golfers carry at least one hybrid in their bag.
Wedges
Wedges are similar to irons, except they are more severely angled. These clubs allow golfers to get out of sand traps, hazards, and other difficult spots like long grass or mud. Wedges are also for shorter chip shots and lobs that require great accuracy.
Putters
Now let's concentrate on the short game. Putters are one of the most important types of golf clubs in a player's tool kit because they're the ones that sink the shot. Today's putters can look wildly different from traditional models and offer a lot more to the senior golfer.
Best Golf Balls for Seniors
Today's golf balls are far from those of the last century. No longer do golfers have to choose between a ball that feels mushy or rock-hard. Golf balls have evolved, largely thanks to technology. So, what are the best bets for senior golfers?
Softer golf balls can help a senior's golf game significantly. Inevitably, as we age, swing times begin to slow down. A ball with lower internal compression (rated 70 or 80) will offer good loft and distance off the tee. Another part of aging can be vision issues. So, a ball with lower compression and high visibility is vital, especially if you're playing in the early morning hours or late afternoon towards dusk. When selecting a low compression ball, ask yourself the following:
What's my average swing speed? If your speed is more than 100 mph, a low compression ball will yield a dissatisfying distance. A swing speed of less than 85 mph calls for a low compression ball.
What type of clubs will I be using? Some low compression balls don't work as well with irons, wedges, and hybrids.
How much spin do I want? Low compression balls tend to spin less, which could be an issue for some golfers.
With these points in mind, here are the best low compression balls on the market in 2022.
Other Golf Tips for Seniors: How to Improve Your Game
Compensating for some of the annoying and painful issues that come with aging can range from the simple (adjusting your stance, for instance) to the extreme (total knee or hip replacement surgery). It's wise to take advantage of emerging technology to get the best golf clubs for seniors. But there are some other things you can begin to do in the meantime to help up your golf game: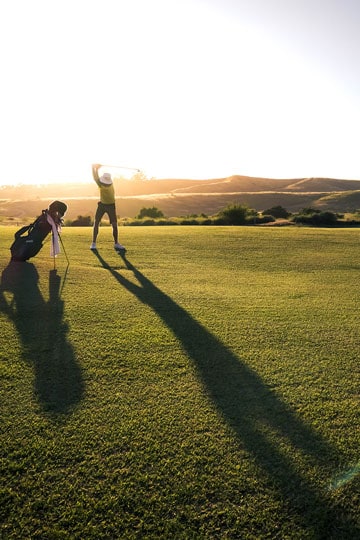 Get into a routine of strength and flexibility training. Yoga is a gentle way to regain more flexibility. Yoga's prolonged asanas (poses) enhance balance and include deep stretching and controlled breathing. Pilates is another strength and flexibility-building practice. Pilates originated as a rehabilitation method for bed-ridden patients. The practice quickly develops core strength, necessary for stability and balance.
Stay hydrated. It's easy to sip coffee or iced tea and forget about drinking water. Being hydrated improves endurance, energy, and muscle and tendon flexibility.
Ask a trusted health professional about trying CBD. CBD is part of the cannabis plant that doesn't produce the mind-altering effects that THC does; in essence, CBD alone will not make you feel "high." CBD can be very helpful for body pain and muscle spasms. Just be sure the CBD tincture or edible you buy doesn't contain more than 2 percent THC if you want to avoid feeling impaired.
Stretch before hitting the green. Doing some gentle stretches before starting your game gets your circulation going and warms your muscles to help avoid pain and potential injuries.
Take a senior refresher course. There are plenty of courses designed to help seniors improve their golf games, whether in person or on video.
Change up your equipment. Selecting different clubs and different types of balls is a great way to compensate for slower swing speed and shorter distance drives.
FAQs About the Best Clubs and Balls for the Senior Golfer
What is the best golf ball for a senior man?
Despite marketing tactics designed to appeal to various genders, the best golf balls for seniors genuinely have nothing to do with gender. Choose your ball by looking at your swing speed, your need for distance, and if you prefer a ball with more spin or less. In general, a lower-compression golf ball is best for seniors, allowing compensation for reduced power and swing speed.
How far should a 70-year-old hit a golf ball?
It depends on which club you're using. The average drive for a 70-year-old golfer is around 196 yards or 588 feet. When using a 7-iron, the average distance for a 70-year-old is 123 yards (369 feet). As an aside, as golfers age, they often find 5- and 6-irons are next to useless. You may want to consider a hybrid club instead.
What golf ball should I use with a 60-mph swing speed?
Both the Callaway SuperSoft balls and the TaylorMade Tour Response balls are ideal for a slow swing speed.
What is the longest-hitting golf ball for seniors?
Again, the Callaway SuperSoft is the longest-hitting golf ball, especially for seniors.
What distance should a 60-year-old man hit with a driver?
The average 60-year-old man should drive about 212 yards with an average handicap of 14.7. Coupling a distance driver with a low-compression golf ball can up that distance.
What is the average swing speed for a 75-year-old golfer?
According to a recent study, golfers over the age of 60 have an average speed of 93 mph for men and 73 mph for females. Using the right club and ball type for you can improve your speed.