Senior Caregiver Duties
Caregiver Duties: Understanding the Differences Between Professional and Family Care
By Publisher
| Last updated
Are you looking for a list of caregiver duties because you're about to begin caring for a loved one? Or are you or a family member preparing to move into a senior living facility, prompting you to ask questions like "What is a caregiver?" and "What do caregivers do?" Well, in both professional and family-care settings, caregivers make a positive difference for seniors, frequently improving their quality of life. They provide loving, compassionate care and, in return, they often report that the work is gratifying, rewarding, and fulfilling.
Professional and family caregivers are essential to the fabric of society. According to the U.S. Department of Health and Human Services, in 2014, there were more than 46 million seniors aged 65 and older in America. By 2060, the number of seniors could reach almost 100 million. That means caregivers are more important than ever. And it may surprise you to learn that unpaid family caregivers actually play a larger role in senior care than professional caregivers.
Check out the following sections to uncover essential information about caregivers and their roles and responsibilities:
Facts About Caregivers in America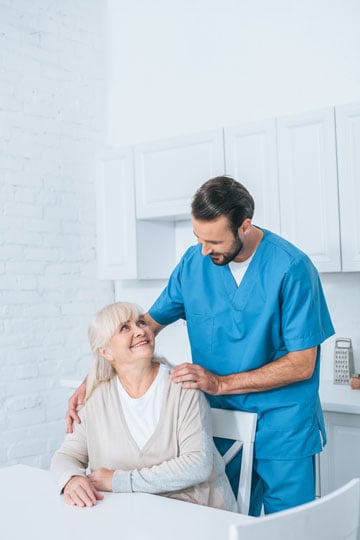 What is a caregiver? Most people would probably say that it's a paid professional who cares for seniors in their homes, assisted living facilities, or nursing homes. That answer is partially correct. However, it leaves out a large group of caregivers: family members who provide unpaid, in-home care to their loved ones. Both professional and family caregivers take on important roles related to senior care.
The U.S. Bureau of Labor Statistics says that in 2018, America's senior care industry consisted of:
Even though many professional caregivers are employed across the country, there are even more unpaid family caregivers helping aging seniors. A 2015 report by AARP found that more than 34 million Americans had provided unpaid care to adults above the age of 50 within the past year. Of those caregivers, 85 percent were providing care for their own family members. On average, they had been in their caregiver roles for four years and provided 24 hours of care per week.
So family members are offering an impressive amount of care to their senior loved ones. In fact, a 2014 study by RAND Corporation concluded that Americans are providing approximately 30 billion hours of unpaid care every year for their aging family members and friends. The opportunity cost of that care is $522 billion per year. If that care was replaced by non-nursing or skilled nursing care, it's estimated that it would cost $221 billion or $642 billion, respectively.
Professional and unpaid caregivers are both essential for quality senior care. Whether you or your loved one is planning to get family support at home or move to an assisted living facility or nursing home, it's important to understand the scope of caregiver duties so that you know what to expect.
Professional, Non-Medical Caregiver Duties
Paid caregivers vary in their responsibilities and types of employers, which can include assisted living facilities, retirement communities, nursing homes, and home health care agencies. The most common types of senior caregivers in this category are:
Home care aides
Personal care aides
Certified nursing assistants (CNAs)
Licensed practical and vocational nurses (LPNs/LVNs) can also be responsible for providing non-medical bedside care. The education, licensing, and responsibility requirements vary based on the specific types of positions and facilities. For those reasons, senior caretaker job descriptions are not all the same. But there are common responsibilities among the different positions.
Whether they're providing in-home care or working at senior care facilities, non-medical caregivers are often responsible for the following tasks:
Assisting with preparing care plans: Caregivers work with medical professionals and family members to conduct needs assessments. They look at what types of care are needed, how much of it is needed, and whether any medical support is required. The plans they create help guide the actions of all caregivers and family members who are helping with a senior's care.
Assisting with daily living and medication needs: Caregivers can help seniors get dressed, have a bath or shower, and take the proper amounts of medications at the correct times. A caregiver can often help with almost any basic daily living activity.
Providing mobility assistance: Senior caregivers help residents and clients who are not able to get around easily on their own. They can do things like help you or your loved one get in and out of bed or move from a wheelchair to a couch.
Preparing meals: In-home caregivers can be responsible for preparing and serving meals. On the other hand, caregivers who work in facilities may work with dietitians, nutritionists, and other kitchen staff members in order to serve three healthy meals per day, as well as snacks and beverages. They may also ensure that special dietary needs are met, such as for seniors who are diabetic or have celiac disease. In a facility, caregivers may serve meals in the residents' living quarters or help ensure that residents make it to the dining hall at meal times.
Housekeeping: Caregivers are often responsible for tidying and cleaning homes or living quarters, vacuuming, dusting, cleaning the bathroom, changing linens, doing laundry, and washing dishes.
Arranging transportation: Caregivers can help seniors arrange transportation to get to appointments, social outings, and other activities.
Monitoring and communicating: Caregivers usually conduct ongoing needs assessments of the seniors they're caring for. They note any changes in their residents' or clients' health and report those changes back to family members and other medical professionals.
Professional, Medical Caregiver Responsibilities
Some senior care facilities and in-home care agencies offer skilled nursing services. Those services are typically provided by LPNs/LVNs or registered nurses (RNs). The types of medical care they can offer depend on several factors, including professional licensing and their state of residence. But here are some of the medical care services that may be provided:
Monitoring vital signs
Drawing blood
Changing dressings
Giving injections
Inserting catheters
Preparing and monitoring IVs
Treating acute or chronic conditions
Providing palliative or hospice care for terminal illnesses
Senior care residences, specifically those with skilled nursing units, may also have other health care professionals on staff such as licensed physicians, physical therapists, and advanced practice nurses (APNs). Skilled nursing staff can offer high levels of medical care to seniors without requiring them to attend appointments outside of their facilities.
Family Caregiver Duties
When seniors want to keep living at home, unpaid family members are the most common care providers who help them out. Providing care to a loved one can be challenging and demanding at times, but it's also highly rewarding. Family caregivers are often responsible for many of the same tasks as professional caregivers, but only one or two family members may be taking on those responsibilities for a particular senior.
A survey by Pew Research Center found that the most common responsibilities of family caregivers include activities like running errands and completing housework and home repairs. In fact, 58 percent of the caregivers who were surveyed indicated that those were the main tasks they helped their loved ones with around home. However, a growing number of family caregivers are taking on medical and nursing tasks. The AARP study found that 57 percent of unpaid caregivers of adults were taking care of tasks like giving injections, administering tube feedings, and caring for catheters.
So the types of care that family caregivers provide are just as diverse as those of professional caregivers. It all depends on a senior's needs and the capabilities of his or her family members and friends. Here are some caregiver responsibilities that may be relevant to your own situation:
Establishing a care plan: Just like professional caregivers, family caregivers need to create care plans. It's especially important when more than one family member is helping because everybody needs to have access to the same information. As a family caregiver, you may need to meet with your loved one's doctor and any other medical professionals to ensure that all medical conditions, treatments, and medications are understood and properly administered.
Taking care of transportation: Family caretakers often provide transportation for their loved ones. You may need to be responsible for driving your loved one wherever he or she needs to go, including to doctors' appointments and the grocery store.
Managing finances: The loved one you're caring for may have trouble keeping his or her finances straight. If bills start going unpaid or checks are bouncing, then you may need to step in and help your family member manage the finances.
Providing companionship: Your loved one may become lonely and require emotional support. In fact, Pew Research Center found that 68 percent of adults give some level of emotional support to their aging family members. So just being there to make your loved one feel connected is important.
Scheduling: Family caregivers often need to help their loved ones make appointments and arrange proper transportation for getting to and from them.
Arranging in-home care services: Family caregivers are not always able to take care of everything themselves. If that's the case for you, then you may need to arrange professional services like housecleaning and meal deliveries.
Ensuring home safety: Loved ones staying at home need to be kept safe. So family caregivers need to assess and address safety risks, make sure that smoke alarms have batteries, install handrails, and take care of any other safety measures that can help reduce the risk of accidents and injuries.
Creating emergency plans: Family caregivers cannot usually be present with their loved ones at all times. So it's important to develop an emergency plan that your family member can easily follow if an accident happens when he or she is home alone.
Tips for Family Caregivers
A caregiver job—especially one that is unpaid—comes with great responsibility. But it can also provide a lot of personal fulfillment. In fact, Pew Research Center found that 88 percent of adults who help care for their aging family members say that it's rewarding. However, almost 60 percent of unpaid adult caregivers consider providing care to be a medium to high burden to carry, according to the AARP report. However, almost 60 percent of unpaid adult caregivers consider providing care to be a medium to high burden to carry. So it's clear that caring for a loved one comes with its fair share of challenges and rewards.
That said, family caregivers can take steps to help minimize the challenges that come with caring for aging loved ones. The 10 tips below can help you feel successful in your role as a family caregiver.
1. Take care of your mental and physical health. Make sure that you're taking time for yourself in order to reduce the chances of burning out. Get exercise, attend yoga classes, make time to visit with your friends, and take part in other activities that you enjoy. Also, make sure you're getting enough rest and sleep.
2. Develop stress-management techniques. The AARP study found that more than 40 percent of unpaid adult caregivers wanted more information about how to handle their stress. Doing simple things like coloring in an adult coloring book, getting fresh air, or meditating for 20 minutes a day may be enough to keep your stress level low.
3. Educate yourself. It's important to become familiar with your loved one's condition, as well as with basic caregiving principles. After all, the more you understand about caregiving and your loved one's specific needs, the easier it will be to care for him or her. According to the AARP study, 85 percent of unpaid adult caregivers said that they would like more information about caregiving topics, especially information about how to keep their loved ones safe at home.
4. Create a schedule. Even if you're the only family member who is providing care, it's important to have a schedule. You should include your scheduled care times, personal time, and loved one's appointments, along with the schedule details of any other family members who are also helping.
5. Stay organized. Use file folders or binders to hold all of the important information related to your loved one's care. Include phone numbers, lists of current and past medications, medical documents, and test results.
6. Make sure all legal documents are in order. While your loved one is in a clear mental state, it's important to update all legal and insurance documents. Specifically, you'll want to ensure that his or her will is accurate, that he or she has a power of attorney named, and that the beneficiaries on insurance plans and investment accounts reflect your loved one's current wishes.
7. Don't let problems pile up. Be sure to deal with any challenges as they come up so that your to-do list remains manageable. Communicate with your loved one if you feel the relationship is becoming strained or tense. (Not communicating your expectations clearly can lead to estranged relationships between family members.)
8. Be realistic about your capabilities. Assess your own life situation in order to determine the level of care that you can offer to your loved one. If you're working a demanding, full-time job and have a young family at home, then assisting your family member 20 or more hours per week may not be realistic.
9. Connect with other caregivers in your community. It can be helpful to make connections with other people who are going through similar experiences. You may be able to find and join caregiver support groups. It's important to feel connected and supported while caring for your loved one.
10. Seek professional help if it's needed. If you find that caring for your loved one is too much to manage on your own, then be sure to ask for help. Talk to other family members and close friends to see who may be able to offer a hand. Additionally, look into the support services that are available in your community, such as in-home care, meal delivery, and medical assistance services.