The Best Grocery Carts for Seniors
The Best Grocery Carts for Seniors
By Publisher
| Last updated
Some seniors are lucky enough to be within walking distance of their local grocery store and like to take the trip on foot. A sturdy, portable grocery cart can come in very handy for them. Others dependent on public transit prefer carts over lugging heavy bags all over town. Even if you're still driving, having your own cart can be very convenient, especially now that stores need to sanitize their carts and baskets frequently.
Benefits of Grocery Carts for Seniors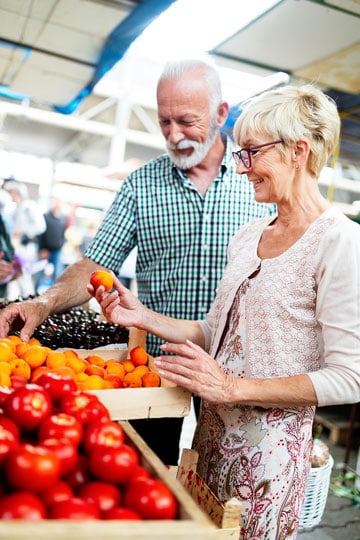 Portability
Most grocery carts for seniors are designed for easy portability, generous space and capacity, convenient storage, and ease of maneuvering around or through various surfaces. Ensure your grocery cart can be folded down for storage and has sturdy wheels to handle any outside conditions or surfaces.
Versatility
Many grocery carts for seniors can be put to other uses. For instance:
Toting all your luggage at the airport or train station
Taking your dirty (and later, clean) laundry to and from the washing machine or laundry room
Hauling plants and bags of potting soil
Toting sports equipment
Bringing all your odds and ends to the beach
Some grocery carts for seniors have removable liners or backpacks, allowing the trolley to be used as a dolly for moving boxes and other heavy objects.
Maneuverability
A small personal grocery cart is much more maneuverable than a clunky standard cart you'll find at the entrance of a store or bodega. Their footprint is smaller, meaning there's less chance of running into another cart in a cramped or crowded aisle. Most grocery carts for seniors have rubber wheels that can tackle wet or icy conditions, rough terrain, stairs or steep city curbs, and cracked sidewalks.
Health and Peace of Mind
The right grocery cart for a senior can be life-changing. Being relieved of the burden of lugging around cumbersome bags can lead to a sense of freedom for seniors. If you have a post-surgical lifting limit or hernia, you will be less concerned about picking up something too heavy with a cart that can handle the task. And you won't get more back or neck pain from carrying heavy items. Plus, since the cart is a personal item, you don't need to worry about how many dirty hands have touched the cart's handles (a particular concern during a global pandemic).
What to Look for When Shopping for Grocery Carts for Seniors
As you start shopping for grocery carts for seniors, consider the different ways you may use the cart. For instance, you might take your cart with you to your garden center when picking up plants for your patio, balcony, or window garden. Bring your cart along when you go to a farmer's market. Holiday shopping burdens become much lighter when you're equipped with your own cart. A cart eliminates the wear and tear of carrying that heavy box of cat litter or package of dog food. You get the picture.
With these uses in mind, look for carts with the following features:
Space and capacity: How many bags or items can the cart handle?
Size: Is the cart big and bulky, or small and compact?
Swivel wheels: Swivel wheels are essential for optimal maneuverability.
Weight capacity: How heavy of a load can the cart carry?
Non-slip handle grip: This can make it easier to use and helps avoid blisters.
Capability to move large or heavy items: Does the cart have a trolley that can handle heavy or oversized items?
Storage space: How much room will the cart take up when not in use?
Spots for personal items: Does the cart provide a place for a water bottle, a purse, or other personal items?
Construction: Is the cart made of steel or a softer material?
Bag: Some carts include a removable bag. Make sure it's sturdy.
Considering these factors will help you choose the best grocery cart for you or your senior loved one.
Ten Best Grocery Carts for Seniors
Today's marketplace features carts light-years beyond the old rickety carts Grandma and Grandpa had to contend with. Check out these recommendations.
Best All-Around Grocery Carts for Seniors
Best Carts for Seniors Dealing with Stairs
4. Stair Climber Bigger Trolley Dolly
If you live in a city with big curbs or cracked concrete, it's easier to get a cart designed for rough terrain and stairs. This "Shark Tank"-winning Trolley Dolly can handle the bumps and keeps going. It weighs only 7 pounds and folds down into a tidy, almost flat bundle for storage. The Dolly features eight storage compartments, including front and rear pockets, an inner pouch, an umbrella holder, and a beverage holder. The polyester bag is removable—as a result, you can also use the frame as a dolly for boxes, cases of water bottles, etc.
Buy on Amazon
5. Amazon Basics Folding Stair Climber Shopping Cart
This budget-priced Amazon cart features a 44-inch stair-climbing dolly with a detachable polyester bag. It has a padded handle as well as a kickstand. Like most other grocery carts, this one folds down flat for storage. We do note that the wheels are connected by plastic which may not be the sturdiest option.
Buy on Amazon
6. Goplus Folding Shopping Cart
This nine-pound powerhouse can handle 88 pounds of cargo. If you get tired, you can even sit on it as long as you weigh less than 185 lbs. This is a basic cart, sort of a plastic crate on wheels, but those wheels are something else. The oversized tri-wheels are designed to go up or down the stairs with ease. The front wheels also lock—no runaway carts allowed. This multi-purpose cart also has a hanging lid that can be easily folded flat for easy storage.
Buy on Amazon
Best Grocery Carts for Seniors in a Big City
If you live in one of the big urban centers of America that are pedestrian-friendly, you'll want to check out some of these carts designed to make your grocery and Target runs much more manageable. Whether you rely on public transit or you're a die-hard walker, these carts will make your life easier—right away.
7. Supenice Jumbo Shopping Cart
This double basket utility cart can carry a 160-pound load, and reviewers are raving, saying things like "it's extremely sturdy, incredibly easy to maneuver, can handle a very heavy load, and folds up for storage." Currently, it comes in two sizes—jumbo and medium. The double-basket cart is made of alloy steel, so it's strong. The handle is nicely padded, and the manufacturer added an upgraded mesh bottom. All the wheels are solidly constructed with bearings. The cart also features a side basket where shoppers can put eggs or other fragile items, or a purse and cell phone. Assembly is said to be easy. With the upgraded bottom, the bearing wheels, and the steel frame, it seems like an ideal solution for city dwellers tired of schlepping their groceries and other purchases by hand.
Buy on Amazon
8. Winkeep Newly Released Grocery Utility Flat Folding Shopping Cart
This new product by Winkeep comes in three sizes: large, medium jumbo, and super jumbo. No matter the size, the cart is incredibly sturdy, can carry loads of up to 200 lbs, and comes with a five-year manufacturer's warranty. Swivel wheels add to the maneuverability. Wire mesh on the bottom of the cart prevents small items from falling out. As a result, one reviewer says it's "...the best shopping cart ever! It is worth every penny ..." The handle is padded with heavy foam to ease your grip. People tout the cart's quality of construction.
Buy on Amazon
9. Wellmax WM99024S Grocery Utility Shopping Cart
This grocery cart is designed for easy maneuverability around town, with four front swivel wheels and two large back wheels that snap on and off for storage. Weighing 10.6 lbs, the cart can carry up to 66 lbs. One reviewer stationed in Germany said the cart handled cobblestone streets and train tracks like a champ. Another said she used it up and down stairs with ease.
Buy on Amazon
Best Bargain Grocery Cart for Seniors
10. Giantex Shopping Cart
This little cart features a sturdy trolley frame with a backpack made of rugged, waterproof oxford fabric. The bag closes with a drawstring and then a cover. The frame itself only has two rear wheels, but reviewers say it's great to use on public transportation because of its narrow profile. While the handle isn't adjustable, it is well-padded. Since the cart only has two wheels, it also has a kickstand for stabilization. The trolley itself folds in half for easy storage. Caution: this cart may be inexpensive, but it's not built for anyone over 5'8" in height.
Buy on Amazon
Finding grocery carts for seniors is easier than ever, but more options often lead to more difficulty deciding. Hopefully, this guide will be a simple way to narrow down your options and find the perfect cart for you or your loved one. Then it's time to enjoy the freedom that extra mobility brings!