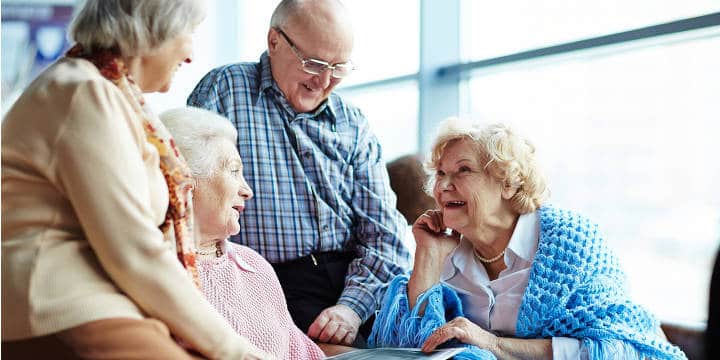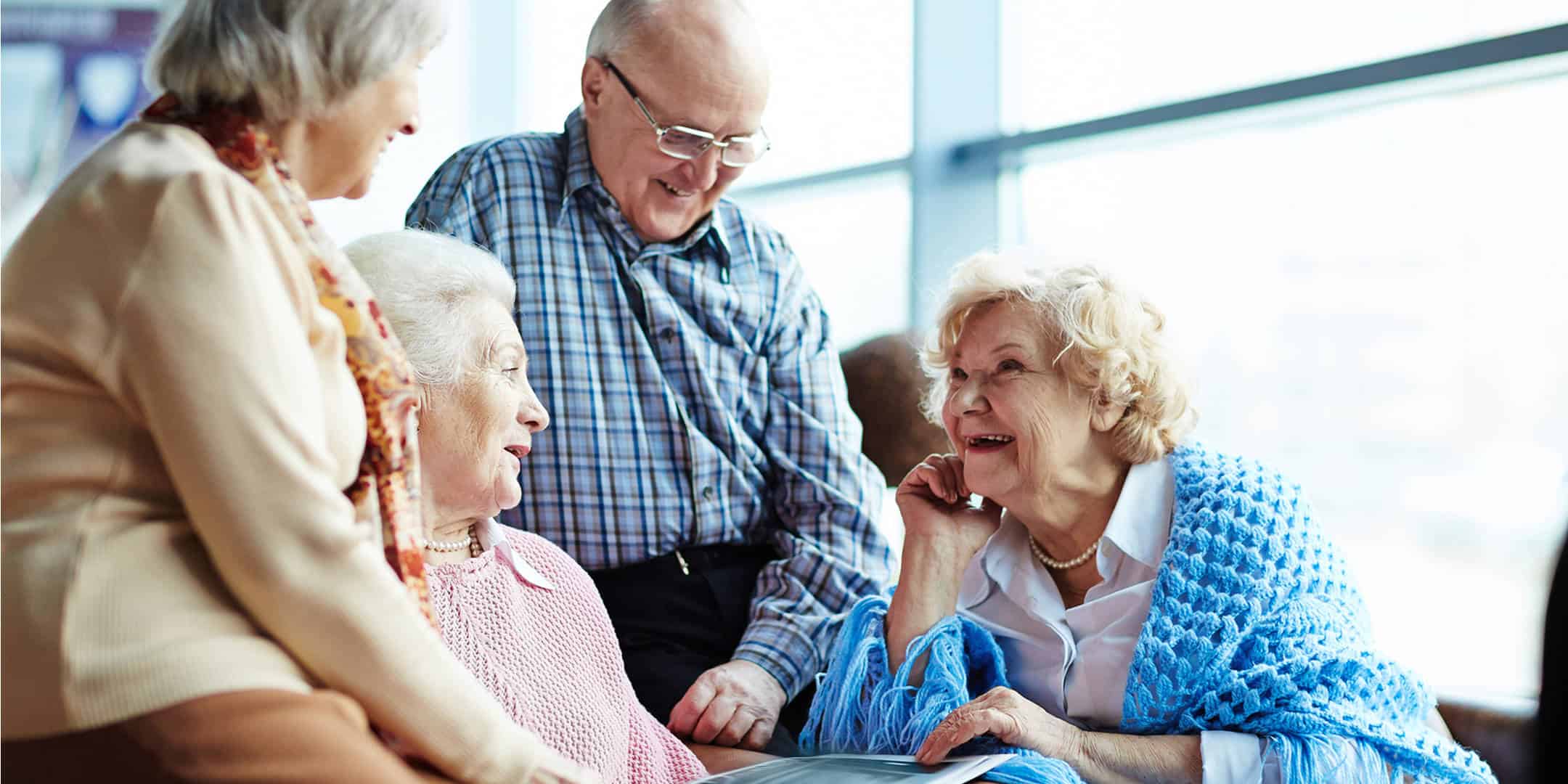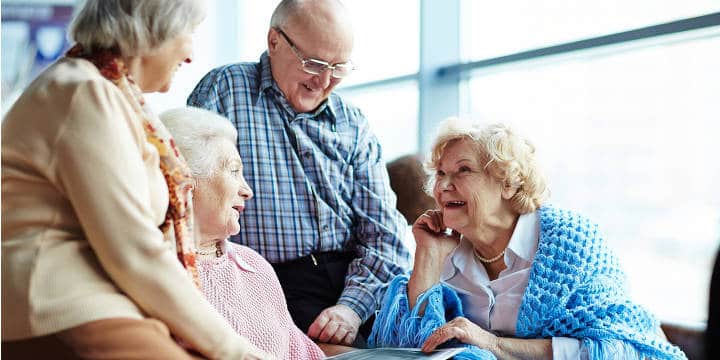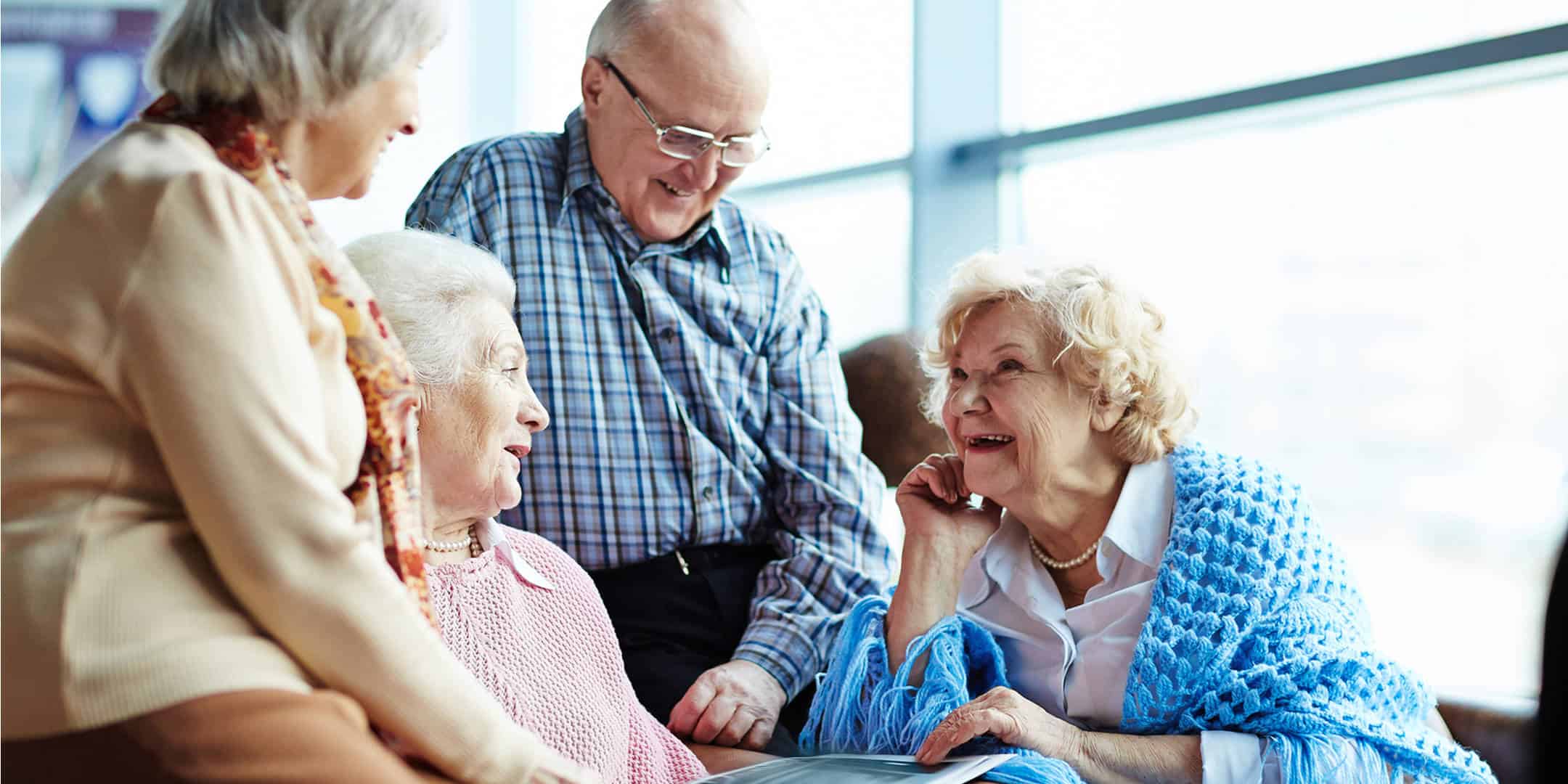 Social Well-Being
Social Well-Being for Seniors: A Guide to Staying Connected and Making Friends
By Publisher
| Last updated
Social engagement is important for people's well-being, regardless of their age. Yet, it's probably most vital during a person's senior years because older adults and the elderly are sometimes more susceptible to social isolation than younger people. Besides, it can be fun and refreshing to take advantage of social opportunities that let you share and connect with others who are in similar situations. Along with helping you navigate all of the changes that come with growing older, taking care of your social well-being provides mental and physical health benefits.
Recreation is important for seniors because having an active social life helps prevent depression as well as Alzheimer's and other types of dementia. And intellectual stimulation helps keep your mind sharp.
You can learn new knowledge and skills while also having fun. But to do that, you need to find social events that interest you. Thankfully, making senior friends and staying socially active is quite easy if you're willing to venture out and try new things.
Check out the following sections for ideas on how you can maintain social connections and reap the rewards of doing so:
This article contains affiliate links. We are compensated with a small commission, at no extra cost to you, for sales made through the links.
16 Social Activities for Seniors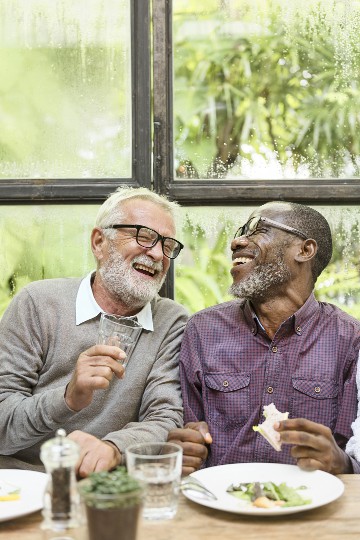 When it comes to fostering social interaction, the best activities for seniors are those that make it easy for older adults to mingle with their peers on a regular basis. Social activities for adults are aimed at helping mature individuals develop meaningful connections and enrich their lives.

With that in mind, here are 16 things you can do to boost your social well-being:
1. Check out your local senior center.
This is a great way to find senior activities near you. Most centers have a wide range of offerings, including exercise classes, educational programs, and arts and crafts workshops. Some activities for seniors include computer classes, potluck dinners, and even special field trips. In many cases, programs at senior centers are free or have very low cost. Some centers even provide transportation for older adults who are not able to drive themselves.
2. Join clubs for seniors in your area.
Getting involved in senior clubs near you is a fantastic way to stay socially active. There are clubs for just about anything you can imagine. Some are general interest and offer a variety of activities, while others concentrate on specific interests. For example, there may be clubs for seniors near you that focus on activities such as gardening, reading, doing crossword puzzles, playing bingo, knitting, taking photographs, or playing bridge and other card games. You might also find clubs that center around sports like golf, tennis, or baseball.
3. Sign up for exercise classes.
According to the World Health Organization, an elderly person should do at least 150-300 minutes of moderate aerobic exercise every week. Joining up with senior groups near you can be an easy way to meet that target and bond with new people at the same time. Plus, swimming, water aerobics, dance, yoga, and tai chi classes offer low-impact ways to boost your strength and flexibility, improve your balance, and prevent falls.
4. Organize a regular game night.
Round up a few friends or neighbors and challenge them to card, board, dice, or other types of games once a week or once a month. Games like bridge, canasta, poker, bingo, and charades can inspire lots of laughs in senior groups and generate plenty of fun.
5. Explore online dating.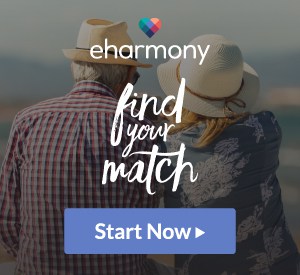 The desire for romantic companionship certainly doesn't stop during your senior years. The good news is that plenty of dating websites specialize in helping those over 50 connect with other mature single people. Each site offers free memberships, but you typically have to sign up for a paid account to take full advantage of all available features. It is essential to understand the challenges, dangers, and safety precautions of online dating.
Here are a few options worth checking out:

6. Explore senior social groups near you.
Some towns and cities have activity or community centers, libraries, or houses of worship that host senior citizen friendship clubs that enable the 55-plus crowd to get together. Such social groups for older adults typically offer organized activities like bingo, pool, mahjong, and bridge. Many also serve a low- or no-cost breakfast or lunch, so it's possible that you can eat and socialize with no money.
7. Start a mall walking group.
Plenty of walking clubs stroll through different neighborhoods, but that gets to be difficult when temperatures drop. However, you can do mall walking activities in winter or any other time the weather doesn't allow you to be outside. Lots of shopping centers unlock their doors well before the actual stores open, so your group could even wander the hallways and chat while it's relatively quiet.
8. Volunteer.
Volunteering can become one of the most fun and meaningful activities you do as a senior. You can get out of the house, meet new people, and make a difference in your community. For example, volunteers at senior homes might play games, make crafts, or swap stories with the residents. Libraries, museums, thrift stores, and soup kitchens also rely on volunteers in order to operate. Plus, many cities have foster grandparent programs in which you get to spend time with at-risk youth who need positive role models in their lives.
Additionally, AmeriCorps Seniors is a government agency that's dedicated to linking seniors with community volunteer opportunities. And if you're feeling really adventurous, check out the opportunities with the Peace Corps. You can take your skills overseas to help people who may need your assistance the most.
9. Start or join a band.
If you play an instrument (or want to learn how to do so), why not join an established band or start your own? Playing music with other people can be incredibly rewarding. And you don't necessarily even need any musical experience: New Horizons music groups welcome older adults who have either never played or have not played for a long time.
Working part-time can be an excellent way to socialize with other people, keep your mind stimulated, and earn a bit of extra cash at the same time. You can pursue positions that draw on your existing skill set or go for something entirely different. You might even consider roles that allow you to increase the social well-being of other seniors.
11. Go to camp.
Who says summer camp is just for kids? Some specialized camps are specifically designed to give adults over 50 the chance to spend a few days doing things like swimming, kayaking, and sitting around the campfire with other people of a similar age. In many cases, you'll bunk in air-conditioned comfort and even enjoy your own private bathroom. Camp Chief Ouray and the City of Sacramento Senior Summer Camp are two options you may want to check out.
Walking a dog forces you to get outdoors in the fresh air, and you can easily strike up conversations with other dog owners or animal lovers while you're hanging out at the park. If you live somewhere that doesn't allow pets or you just don't want the full-time responsibility, try volunteering at your local animal shelter. Many shelters welcome volunteers who are willing to feed or groom the animals or take the dogs out for a walk.
13. Get active on senior social networking sites.
Did you know that, according to Pew Research Center, more than one-third of Americans over age 65 use social media? It's an excellent way to stay connected and engaged without even having to leave your home. Popular sites allow you to create personal profiles, connect with friends and family members of all ages, join groups of like-minded people, and engage in other social activities for seniors near you. A study in The Journals of Gerontology: Series B found that adults over 80 who connected with others through technology had better mental well-being than their peers who did not reach out digitally.
Here are some of the more popular sites worth checking out (keeping in mind that, for each of them, you'll need to create a free account if you don't already have one):
Facebook: One of the largest social networking sites that offers everything from live chatting to videos to games
Meetup: A social media site that helps people find groups and events of interest that take place offline in towns and cities across the country
Stitch: A social networking website that is specifically designed for individuals who are 50-plus
14. Take an organized trip.
If you're adventurous and want to get out and explore with other seniors, get in touch with travel groups. Sign up for a senior bus tour for a day or a weekend trip to a casino. Or go on a longer in-state, out-of-state, or out-of-country excursion. You can also look into senior RV clubs or cruise lines that offer special rates for older adults. There are even international travel groups that organize trips for seniors. Start by checking out companies like Road Scholar, ElderTreks, and Adventures Abroad. You have no shortage of options for getting out and seeing the world with other like-minded folks.
15. Enroll in an educational class.
A lot of colleges and universities offer senior classes. Registering in one of them is an excellent opportunity to make friends and learn new skills. You can often attend for free or at a discounted rate. And if it's a for-credit class, you may have the option to audit it, which means you're not required to complete assignments or exams.
Preventing social isolation in elderly people can be challenging, especially if they're less mobile than they used to be or can no longer drive. Those are some reasons why many older people decide to move into assisted living or senior-only communities. You get to live among people of the same generation, and most places of that type are designed to meet the needs of active seniors. So you could find all kinds of fun events and activities in you own residential community.
Most such communities have staff members dedicated to developing fun activities for the residents. For instance, an activity coordinator might plan music and art programs, community outings, and other social events. Getting involved is as easy as simply expressing an interest.
17. Embrace smartphone and mobile technology to ensure your ability to connect with others.
There is no true replacement for spending time with people face-to-face, and that includes technology. However, sometimes life presents us with circumstances where we are physically limited in whom we can see and what we are able to get out and do. From pandemics to snowstorms to the family moving away, the reasons for a senior to have a good smartphone or tablet are plenty.
Being able to text, talk, video chat, and so much more can be a valuable source of fulfillment and freedom for seniors, especially those who face isolation for one reason or another. And there are many resources for learning to use mobile devices, so you don't need to feel intimidated by the technology. You may even be surprised how natural it can feel to connect with people virtually once you get the hang of it.
How Being Social Keeps Older Adults Healthy
Building and maintaining social relationships can have a huge impact on seniors' overall wellness. Social activities are important for the elderly because they help ward off loneliness and prevent feelings of isolation. Organized social pursuits also provide a sense of purpose and give older adults something to look forward to regularly.
Here are a few of the benefits that come from staying socially engaged as an older adult:
Part-Time Jobs That Help Promote Social Well-Being in Seniors
Are you looking for paid opportunities that provide lots of social interaction and allow you to help your fellow seniors connect with the people around them at the same time? Here are a few roles that may inspire you:
Many seniors who are relatively healthy rely on companion caregivers to provide conversation as well as assistance with basic tasks like preparing meals, washing clothes, or picking up prescriptions. You might also provide transportation to appointments or accompany clients to senior social clubs. A key part of the job is simply keeping your clients socially connected with the wider community. In many cases, no medical skills or certifications are required.
2. Activities assistant
The main responsibility of activities assistants in nursing homes and retirement communities is to organize social groups for elderly residents and help them have fun. Working under the direction of activities coordinators, these assistants lead seniors in games, crafts, and exercise routines. They might also arrange for musicians or other performers to entertain the residents. Formal training is not typically necessary.
3. Tour guide
Sharing interesting information and anecdotes about landmarks, museums, and other attractions can be a great way to meet and mingle with people from all over the country or even the world. Tour guides strive to engage with travelers in order to help them enjoy their vacations as much as possible. Many positions are seasonal or temporary, so you'll still have plenty of time for other pursuits.
Stay Connected
It's clear that maintaining your social well-being can come with a whole host of mental and physical rewards. So use the ideas outlined above for inspiration—and get out there!