Assisted Living Cost
How Much Does Assisted Living Cost? Essential Information for Long-Term Care Planning
By Publisher
| Last updated
What does assisted living cost? Figuring that out for the facilities and communities near you is probably a top priority if you're planning for long-term care. Whether it's for you or a loved one—and whether it's needed now or in the future—it's important to understand the costs in order to develop a plan for how to pay for assisted living. After all, the reality is that most people are going to need some level of long-term care in their later years.
In fact, modeling done by the U.S. Department of Health and Human Services shows that a little over half of people who are turning 65 years old can expect to use some long-term care services in their senior and elderly years. So you want to be sure that you or your loved one can afford to pay for high-quality care whenever that time comes. Developing a care plan now means that you'll be more prepared and ready for the transition when it's time to move into assisted living.
Start by researching affordable assisted living facilities (ALFs) that offer what you need. The fees that ALFs charge depend on many factors, such as the setting, style, and services. Settings range from small facilities to large activity-based communities. Some are more basic, and others are posh and luxurious. The available services and amenities also vary between facilities, as do the types of units. You may find facilities with studios, one- and two-bedroom apartments, or shared units.
Every facility that you come across will offer something different. That means their prices and fee models will also be different. But it's easy to get important information that can help you create a budget, decide which pricing models are best for you, and find ways to save money and secure funding. So get started on those tasks today by checking out the sections below:
How Much Does Assisted Living Cost?
When it comes to senior living residences, a lot of options are available. In fact, in 2014, there were more than 30,000 assisted living and senior care communities in America, according to a National Center for Health Statistics report. They vary in size, styles, amenities, services, and prices. So you have a great deal of flexibility in choosing a facility that meets your needs, including your budget.
Initially, assisted living facilities may seem expensive. But, when compared to other services in the same geographic area, they are often cheaper than in-home support services and nursing homes. So, for seniors who want to continue living with some independence and freedom, assisted living is an excellent option.
According to a Genworth Cost of Care Survey, the national median for a private, one-bedroom unit in an ALF was $3,628 per month in 2016. That means half of all assisted living facilities in the U.S. charge less than that amount, and half charge more. So when you are comparing assisted living costs by state, you'll find quite a bit of variance. To give you a better idea of state-by-state pricing, take a look at the least and most expensive states and regions below.
In 2016, the median monthly rates within the 10 least expensive states were:
Missouri: $2,537
Oklahoma: $2,803
Georgia: $2,850
Alabama: $2,900
Utah: $2,950
North Carolina: $3,000
South Carolina: $3,000
Florida: $3,045
Nevada: $3,050
Arkansas: $3,133
In contrast, the median monthly rates within the 10 most expensive states and regions were:
District of Columbia: $6,700
Alaska: $5,750
Massachusetts: $5,463
Delaware: $5,368
Maine: $4,991
Connecticut: $4,950
New Jersey: $4,950
Rhode Island: $4,931
Vermont: $4,860
New Hampshire: $4,800
As you review your budget, it's also important to consider the future costs of assisted living. Based on historical rate information, Genworth estimates show that the national median for a private, one-bedroom assisted living apartment in 2026 may be $4,876 per month. By 2036, that amount could increase to $6,553 per month.
What Services Are Included in Assisted Living Fees?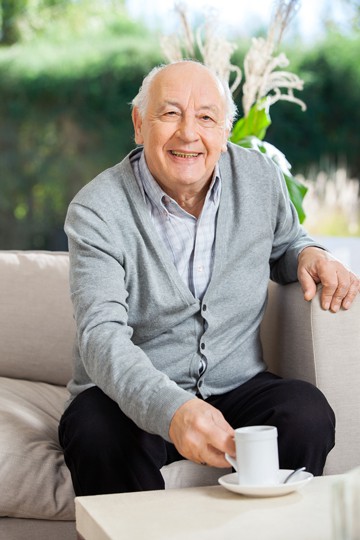 As you explore assisted living options, you'll find that the included services are different at every facility. Many services and amenities can be provided, including assistance with bathing, dressing, preparing meals, managing prescriptions, and almost any other daily activity. So it's important to make sure that you're clear on exactly which services and amenities are included in your monthly rate. That will help you determine an accurate cost of living.
You'll likely come across three main types of fee structures or models:
All-inclusive: This model includes all services and amenities in your monthly fee. However, make sure that you're clear on the facility's definition of all-inclusive. It may not include things like general store purchases, medication management, and salon services. Many people like this fee structure since it keeps their budgets consistent. But you'll want to compare it to other fee models in order to make sure that it's the most economical choice for you or your loved one. Whether or not it is will depend on your or your loved one's care and assistance needs.
Tiered: This structure offers rates based upon residents' care requirements. Three to five levels of service are usually available, each one with a different variety of included services. Some facilities may determine your rates with a points system. At those facilities, every service and amenity that you need is given a value. Those values are then totaled in order to determine your fee level. Tiered pricing can be a more cost-effective choice than all-inclusive. But it can also result in unplanned rate increases if your (or your loved one's) care needs suddenly change.
Fee for services or a la carte: This model starts out by charging a base rate for your rent. That may include some basic services like meals or housekeeping. Then you're charged a flat or per-hour fee based on every added service or amenity that you use. The main benefit of this fee structure is that you only pay for what you use. But you can get large fluctuations in your bill from month to month, which can be a challenge for budgeting.
Along with different fee structures, some assisted living residences and communities also charge entrance fees (i.e., lump sums of money that you pay up front prior to moving into a residence). However, those fees are often negotiable. So don't rule out a facility without speaking to administration or management staff and seeing if there's some leeway.
Are There Ways to Lower the Costs of Assisted Living?
One of the best ways to help ensure that you or your loved one can afford assisted living is to start planning early. However, that's not always possible. Some people don't foresee the need for assisted living until it actually arrives. Others may rely on spouses or family members to care for them, only to find out that their care needs are too extensive to continue living at home.
Even if you or your loved one plan appropriately, it still makes sense to make assisted living as affordable as possible. Here are a few tips that can help you do exactly that:
Take your time and do your research: It's important to choose the right assisted living facility or community the first time. If you need to move around due to a mismatch, then your expenses are going to start adding up quickly.
Negotiate rates: A lot people don't realize that assisted living costs are often negotiable. Depending on the time of year, location, and occupancy rate, a facility may agree to a reduced rate. Alternatively, you may be able to negotiate a locked-in rate so that you know fees won't increase for an agreed-upon period.
Compare different-sized communities: Many people think that larger facilities will have the best rates, but that's not always the case. Sometimes, smaller assisted living facilities offer lower rates because of smaller staffing budgets or fewer state-mandated regulations.
Consider changing locations: If you're finding that the fees in your area are more expensive than you budgeted for, then consider looking at outlying communities, nearby towns and cities, or even different states. For example, you or your loved one may be happy to move to a warmer climate. So, in that case, look at states like Georgia, South Carolina, and Florida, which are among the 10 least expensive states for assisted living. Some seniors are even choosing to leave the country. Malaysia, Mexico, and the Philippines are favorite destinations.
Look at places that offer shared living or studio units: The places that only offer private apartments are often more expensive. Find out if there are facilities in your desired area that offer small studios or shared apartments (if those are options that interest you or your loved one).
Ask for a price reduction: If you find that your (or your loved one's) facility is just too expensive, then speak with the administration or management staff prior to moving out. Some places will offer lower rates if they know that you need to move due to affordability.
See a financial planner: A financial planner or advisor may be able to help you discover budgeting and funding options that you've never considered.
Who Pays for Assisted Living?
When people are figuring out how to pay for assisted living, one of the first questions they have is "Does Medicare cover assisted living costs?" The answer to that question is usually no. Medicare may temporarily cover the costs of care at skilled nursing facilities, but it isn't meant for covering the costs of assisted living. However, it may cover certain supply, equipment, medication, and service fees that are incurred due to medical reasons while residing at an assisted living facility. (You'll need to speak to your plan representative because the items that are actually covered depend on your personal coverage and state of residence.)
Ultimately, it's up to you or your loved to pay for assisted living, but you're not completely on your own. There are several different funding sources for you or your loved one to consider. Discover some of the most common possibilities below:
Family Support
A lot of people don't realize how many seniors rely on family support in order to pay for assisted living. You or your loved one may have children who are in the financial position to help pay monthly bills. Other family members may also be willing to give a one-time or yearly payment. Every little bit will help.
Home Equity
Selling the family home is one of the main ways that people pay for their assisted living care. If you or your loved one can no longer live at home (and there are no spouses or family members continuing to reside there), then selling the house is probably a great choice. However, you also have options if someone is going to continue living in the family home. Those possibilities include:
Obtaining a reverse mortgage: This option allows seniors to take out a loan against the equity that they have in their home. The lender pays a predetermined amount every month and usually collects the loan upon the eventual sale of the house.
Getting a home equity line of credit: This financing choice is essentially a loan that is taken out against the home. It's for a set period, and, at the end of the loan term, it's paid back with interest. You would likely need to sell your home at that time in order to repay the loan.
Obtaining an Equity Key agreement: This option involves a real estate company buying out the existing equity on your home. In doing so, it obtains a stake in any future equity growth.
Did you know that many life insurance policies provide the option of converting them into long-term care benefit plans? By converting your life insurance policy, you will receive monthly payments for a set amount of time. The value of your policy determines the payment amount and schedule. It's recommended that you meet with your financial or insurance advisor to help make sure that you understand how it works. And, if you have a large insurance policy with cash value, then ask your advisor to compare cashing out the policy to converting it.
It's also worth mentioning that life insurance policies can qualify as assets when applying for Medicaid funding. However, once you have converted a life insurance policy into a long-term care benefit plan, it might no longer be considered a qualifying asset.
The sooner you buy a long-term care insurance policy, the better. They're usually more affordable when you're younger. Additionally, people who have chronic conditions or already need long-term care services probably won't qualify for a policy. So purchasing a policy before those things happen is definitely ideal.
You'll find a lot of variance in long-term care insurance policies with regard to the services they cover and amounts they pay. It's important to accurately assess the future care needs for you or your loved one in order to pick the best policy. Before buying a policy, ask for the premium rate history so you can see how often (and how much) the rates have increased historically. Also, make sure you're clear about what the policy covers, as well as what it excludes and limits. You'll also want to know how much (and how long) the policy pays.
Make sure that you research insurance companies and comparison shop different policies before signing up for anything. Doing so will help ensure that you're getting the best value for your dollar.
Medicaid
Although Medicaid is partially a federal program, it's administered at the state level. So the rules are different in every state. Historically, Medicaid didn't cover assisted living services, but that is starting to change. As of 2016, 46 states and the District of Columbia offer some level of Medicaid coverage for assisted living care.
There are two main types of Medicaid programs: (1) regular Medicaid (also called state-plan Medicaid) and (2) Medicaid waivers. Medicaid has eligibility requirements that include your income level, assets, and care needs. Waiver plans typically have higher income eligibility requirements than state plans. However, enrollment is usually limited, which means that you could end up on a waiting list. Also, waiver plans usually require candidates to need higher levels of care than state plans. In contrast, state plans don't typically have enrollment caps, and they're less restrictive when it comes to the level of care that applicants need.
It's important to note that the definition of assisted living varies between states (and so does the availability of Medicaid benefits). Additionally, Medicaid payments may not cover all of the costs of assisted living. And not all facilities accept Medicaid payments.
Non-Medicaid State Plans
Try not to worry if you don't qualify for Medicaid or if your Medicaid payments don't cover all of your costs. You may have other state funding possibilities. Many states offer non-Medicaid plans that help cover assisted living costs. All you need to do is check with your state's Department of Health or Human Services. Most state plans will still take your current income and assets into account, but they may offer more flexibility than Medicaid. Discover some of the most prominent state plans below. (Note: This list isn't inclusive and doesn't cover every state plan that may be available.)
Personal Pensions and Retirement Savings
Dipping into personal pensions and retirement savings is one of the simplest methods—and usually the first source of payment—for many seniors. If you paid into a company or municipal pension plan throughout your career, then you may be able to rely on regular payments. Plus, almost 90 percent of seniors receive some Social Security benefits. So having regular monthly pension checks, combined with retirement or savings accounts, can help make assisted living much more affordable.
Veterans' Benefits
If you, your spouse, or your loved one served in the military, then there may be veterans' benefits that can help cover assisted living costs. The Aid & Attendance (A&A) benefit is an improved pension program that's offered to veterans and their surviving spouses who need varying levels of support services. Additionally, the Veteran-Directed Care program assists senior veterans who require daily support. You are given a flexible budget and can choose the services that best meet your needs. However, Veteran-Directed Care is a newer program and may not be available in all locations.
To determine your eligibility and funding options, set up an appointment with a Veteran Affairs administrator.