Senior Fitness and Exercise
Senior Exercise: Making Fitness a Part of Your Daily Routine
By Publisher
| Last updated
For almost every senior, exercise can be an important part of maintaining overall health, well-being, and longevity. Beneficial exercises and activities exist for every age group and health and fitness level. Adopting a regular workout routine can help you combat the effects of aging. And it can help you maintain your youthful vitality, sharpen your mind, and enhance your joy for life.
For a senior, exercises completed daily can also help improve immune function and allow you to live with less pain and more mobility. Plus, they can help you maintain or lose weight after 60 (if necessary) in a safe, healthy, and sustainable way. And those benefits can result in being able to reduce your healthcare spending and extend the amount of time that you're able to live independently at home, in a retirement community, or at an assisted living facility.
So take a moment right now to uncover all of the great reasons why you should start a fitness program. Learn about the currently recommended guidelines for your age group, find exercises that you can incorporate into your routine, and watch examples. Plus, explore tips for successfully keeping your health and fitness goals on track and check out some books and equipment that can help you get started!
The Importance of Senior Fitness
Today's seniors are more vital than ever before. And good exercise is just as important for them as it is for people in any other age group. In fact, a 2013 study in Population Health Management found that senior exercise programs helped improve the overall quality of life for those who regularly participated in them. Exercise was actually found to be more important than a healthy diet. Specifically, the study found that seniors who exercised regularly were more likely to have:
Improved physical and mental health
Increased energy
Improved social interactions
Slowing or reversal of overall declining health
Fewer limitations with daily activities
Lower risk of depression
Fewer falls and injuries
Lower rates of hospitalization
Lower rates of chronic disease (or more manageable symptoms for those who are already affected by it)
So, as you can see, there are many great benefits to beginning a regular workout routine. Continue reading the following sections to discover some of your fitness options and explore a few exercise videos for seniors.
Recommended Guidelines When It Comes to Exercises for Seniors
For adults who are 65 or older, don't have any limiting health concerns, and are generally fit, the Centers for Disease Control and Prevention (CDC) recommends a minimum of 150 minutes of moderate-intensity aerobic exercise per week (or 75 minutes of vigorous-intensity aerobic exercise). Seniors who want to achieve even greater health benefits can up their moderate-intensity exercise to 300 minutes a week or vigorous-intensity exercise to 150 minutes a week. The CDC also recommends taking part in muscle-strengthening exercises that work all major muscle groups at least two days per week.
Aerobic exercise—also called cardio—is any activity that makes you breathe harder and raises your heart rate. It includes activities like mowing the lawn or shoveling snow, as long as you're doing the activity for a minimum of 10 minutes at a time. Doing it at moderate intensity means that you should still be able to talk. An example would be going on a brisk walk. Exercising at a vigorous intensity means that you would only be able to speak a few words without having to stop what you're doing.
Muscle-strengthening exercises are just as important as aerobic exercises. They can help you maintain your muscle and bone mass and slow down common age-related ailments like back and joint pain. When you do any strengthening exercise, you want to try to do eight to 12 repetitions before you take a break. Then, you should try to repeat that two or three more times. Depending on your current fitness level, you may not be able to start or complete that kind of routine, but you can work up to it and eventually get there.
Types of Senior Exercise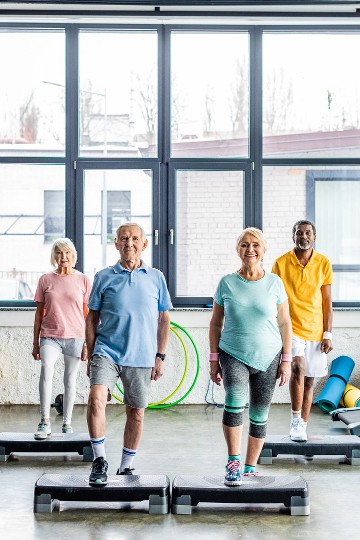 You have a lot of options when it comes to the best exercises for seniors. And that's great because it's important to do a variety of activities. Not only does it help keep different parts of your body healthy, but it also helps keep your workouts interesting and fun. Keep reading to discover different workouts, including chair exercises and others that can be completed from almost anywhere.

Balance Exercises

These exercises are important for fall prevention because they help you improve your ability to control your body. They can also help build your lower body strength, which is important for maintaining and improving your stability. When you do any balance exercises, be sure to have a sturdy chair or surface nearby so that you have something to hold on to if you become unsteady. Also, do a combination of exercises for both standing and moving balance.

Check out these three exercises that you can try out:

1. Standing on one foot
Stand behind a sturdy chair and place your hands on it for balance.
Lift one leg up so that your foot is off the floor.
Hold that position for 10 seconds (or less if you can't hold it for that long).
Repeat that motion 10 to 15 times and then switch to your other leg and do the same thing.
Try to repeat the whole routine two or three more times.
2. Walking heel to toe
To help you maintain balance during this exercise, place your arms straight out from your sides. You can also do this exercise in a hallway or near a wall.
Start by placing the heel of your one foot directly in front of the toes of your other foot.
Focus your eyes on a spot in front of you to help you maintain your balance.
Step forward with your back foot and place your heel directly in front of your toes on your other foot.
Repeat until you have taken 20 steps.
3. Knee marching
Place a sturdy chair in front of you so that you can use it for support if needed.
Place your arms at your sides and stand with your feet shoulder width apart.
Raise one knee up as high as you comfortably can.
Lower it and then raise your knee on the other side in the same way.
Repeat the above steps up to 20 times.
Endurance Exercises
Endurance exercises increase your breathing and heart rate and help you maintain and improve your strength, mobility, stability, and balance. They also help you burn fat and improve your energy levels. All of that can make you feel better, stay healthier, and manage everyday activities more easily.
Try to complete endurance exercises at least three days a week. Start by participating in an endurance activity or exercise for 10 minutes at a time. Then, try to eventually work up to 30 minutes. Warm up and cool down after your endurance training by stretching or walking lightly to prevent muscle strains and injuries. Also, make sure to drink lots of water, dress appropriately, and wear proper shoes.
If you get dizzy or so winded that you're not able to talk, then take a break and reduce your intensity level. You can also get a heart rate monitor to ensure that you're not working out too hard. Plus, remember: Before starting any exercise program, check with your doctor, especially if you're concerned about exercising with certain conditions or diseases, such as heart disease or diabetes.
There are many ways to endurance train. Here are some examples:
Indoors: Use an elliptical machine or treadmill at home or in the gym, or attend dance or aquafit classes.
Outdoors: Go for a brisk walk or jog, ride a bike, or go skating.
Household activities like gardening, shoveling snow, and raking leaves can also count as endurance activities as long as your breathing and heart rate increases and you do the activity for at least 10 minutes. Any activities that meet those criteria are considered endurance exercises.
Flexibility Exercises
Maintaining and improving your flexibility helps you feel better and can reduce your muscle aches and pains. Routines that improve your flexibility can also make engaging in other exercises and activities easier and more enjoyable. That's because stretching increases your range of motion, and it can also improve your posture and relieve arthritis, back pain, and joint aches and pains.
It's recommended that you perform stretches and flexibility exercises at least two to three times per week. However, if you're experiencing soreness after an injury or surgery, then you may want to stretch up to three times a day. (Just be sure to check with your doctor first.) When you begin a stretching routine, warm up slowly. Start with gentle stretches first to help prevent pulling muscles.
Try to stretch all of your muscle groups from head to toe. As you do your stretches, make sure that you're not bouncing, holding your breath, or locking your joints. And if a stretch or flexibility exercise is ever painful, then you may be stretching too hard or far. In that case, ease off a little until the pain goes away.
If you're ready to start some flexibility training, then check out the following stretches:
1. Shoulder and upper back stretch
Get into a seated position on a chair. Ensure that you're sitting straight with both feet planted firmly on the floor.
Bring the palms of your hands together in front of your chest—as if you're praying—and take in a deep breath through your nose at the same time.
Draw your breath in all the way down to your abdomen.
As you slowly exhale, bring your arms out to your sides—with your palms facing out—and then raise your arms over your head.
Begin to inhale as you bring your arms back down and go back into your original position with your palms together in front of your chest again.
Repeat the stretch at least 10 times.
Increase the intensity of the stretch by putting on light wrist weights.
2. Back stretch
Sit on a sturdy chair with armrests.
Position yourself toward the front of the chair and make sure that your feet are flat on the floor about shoulder width apart.
Keep your spine and neck as straight as possible.
Place your left hand on the left arm of the chair.
Place your right hand on the top of your right thigh.
Keeping your hips firmly planted on the chair, slowly start to twist to the left from your waist and turn your head to the left.
Twist as far as you comfortably can without lifting your hips. Hold that position for 10 to 30 seconds.
Slowly return to a forward-facing position and repeat the above steps on the right side.
Repeat the entire stretch routine three to five times.
3. Back of thigh stretch
Lie flat on your back on the floor.
Bend your left knee so that your left foot is flat on the floor.
Raise your right leg into the air while keeping your knees slightly bent and your head and shoulders flat on the floor.
Hold on to your right leg with both of your hands. You can hold your leg behind your thigh, knee, or calf depending on which position is the most comfortable for you.
Slowly pull your right leg toward your body until you feel a stretch in the back of your leg. If it hurts, then ease off a little.
Hold that position for 10 to 30 seconds and then lower your right leg back to the floor.
Repeat at least three to five times and then do the same steps and repetitions with your left leg.
Muscle-Strengthening Exercises
Strength training helps you build and strengthen your muscles, which can make a huge difference in your everyday life. It also helps you maintain your bone mass, which can prevent conditions like osteoporosis and arthritis. In addition, strength training can promote good posture, which can result in fewer muscle aches and pains. So there are a lot of good reasons to incorporate strength-building exercises into your fitness routine.
As with any exercise, make any necessary adjustments for your fitness level and health conditions. Be sure to warm up and cool down with stretching or light walking before and after strength training. And, while performing your exercises, practice good posture, don't hold your breath, and stop any exercises that cause you pain.
It's recommended that you try to strength train two to three times per week. Alternate different muscle groups with each workout to balance your training. Here are some example exercises to get you started:
1. Bicep curl
Bicep curls require two dumbbells. Make sure that they're suitable for your current strength level. For beginners, three- to five-pound weights are usually enough.
Sit in a sturdy armless chair and ensure that you have good posture.
Place a dumbbell in each hand, relax your shoulders, and let your arms fall to your sides with your elbows close to your body and your palms facing out.
With your elbows at your sides, bend them and lift your dumbbells three-quarters of the way up to your shoulders and then slowly lower them again.
Repeat 10 to 12 times.
Have a short rest and then repeat the steps over again two or three more times.
2. Lunges
If you're unsteady on your feet, do this exercise with a chair or wall nearby.
Stand with your feet about shoulder width apart.
Place your arms at your sides or place your hands on your hips.
Keep your back straight and step forward with your right foot.
Push back with your right foot so that you return to your original standing position.
Repeat those steps 10 times and then do the same with your left leg.
Take a short rest and then repeat the entire sequence two or three more times.
3. Straight leg raises
Lie flat on your back on the floor and engage your abdominal muscles.
Lift your right knee up toward your chest while keeping your left leg on the floor. Be sure to keep your hips straight and don't lift them off the floor.
Straighten your right leg and then slowly bring it back to the floor.
Repeat 10 times with your right leg and then do the same with your left leg.
Repeat the entire sequence two or three more times.
Exercise Classes to Consider
Joining exercise classes or groups can be another great way to get in shape while getting out of the house and socializing. Many classes involve a variety of workouts, giving you a bit of balance, endurance, flexibility, and strength training all in one session. Along with giving you a good workout, classes can also help your exercise regime stay interesting and fun.
Take a look at places like the YMCA or other local fitness, community, or senior centers to see what kinds of programs are offered. Depending on where you live, there could be a lot of classes, clubs, and groups that are specifically designed for seniors. You could take part in activities like:
Cross-country skiing
Dancing
Nordic walking
Pilates
Spinning (indoor cycling)
Step aerobics
Swimming
Tennis or golfing
Zumba
Free Exercises on YouTube
There are literally hundreds—if not thousands—of exercise channels on YouTube that you can view on a computer or mobile device. Some of them are targeted to seniors, and others offer exercise videos to people of all ages and fitness levels. Here are some of the more popular choices:
Tips for Getting and Staying Fit
Incorporating daily exercise into your life can be simple and fun. There are many ways to improve and maintain your health. But it's important to find the approaches that work best for you. So check out the tips below. They can help you start achieving your health and fitness goals.
1. Eat healthy, nutritious food and drink lots of water. When it comes to senior fitness, fueling your body with good food and staying hydrated is one of the most important steps to take. It helps keep your body energized and feeling strong, which makes working out much easier.
2. Take part in a variety of exercises and activities. Join exercise classes and find free or inexpensive activities in your community. Changing up your routine makes exercise more interesting, and it helps ensure that you're working all of your major muscle groups.
3. Create a schedule and keep track of your activities. Pick a day every week to sit down and plan your exercises and activities for the next seven days. Include in-home workouts, classes, and any other activities and outings that count as exercise, such as mowing the lawn or walking around a shopping mall. It will be easier to commit to your fitness program if you write it down and keep it in a visible spot such as the fridge door or kitchen table.
4. Plan to complete your exercises or activities at the times of day when your energy is the highest. You'll be setting yourself up for greater success if you exercise when you feel your best and have the most energy.
5. Ask your friends and family for support. And ask them to join you. Having a support system can be key to keeping your fitness program on track. Along with helping you stay accountable, spending time and staying fit with your family members is also enjoyable.
6. Cut back on your workouts or reduce their intensity if you're excessively sore or in pain afterwards. It may be a sign that you're working too hard for your fitness level. Working out at the right level is more enjoyable, which means that you're more likely to stick to your routine and less likely to incur workout-related injuries.
7. Stay positive. You may find that there are things you can't do, but there's still probably a lot that you can do. So focus your mind on all of the great things you can do to keep in shape. And praise yourself for creating a workout routine and sticking with it.
8. Talk to your doctor if you have any concerns. If you have any health conditions, disabilities, or physical limitations that you're concerned about, then be sure to speak with your doctor before beginning any kind of exercise.
This article contains affiliate links. We are compensated with a small commission, at no extra cost to you, for sales made through the links.
Books About Exercise for Seniors
Below are a few books that offer good information for seniors who want more guidance on how to increase their physical activity.
Exercise Equipment for Seniors' Home Workouts
If you're ready to get fit at home, here are a few products you may want to check out.