The Best Cell Phones for Seniors
Best Cell Phones for Seniors: Options That Are Easy to Use
By Crystal Lee
| Last updated
This article contains affiliate links. We are compensated with a small commission, at no extra cost to you, for sales made through the links.
In our view, the best cell phone for seniors is either the Jitterbug Smart2 or the Lively Flip. But several other options are worth considering, depending on your particular needs and budget. Some people just want a basic device to make occasional voice calls, whereas others prefer having easy access to more advanced features like cameras and GPS.
According to Pew Research Center, more than half of American adults over age 65 own a smartphone. So that's where we'll begin.
Best Smartphones for Seniors
This simplified Android device features a 5.5-inch screen with a bright display, big icons, and extra-large text. Calls come through clearly and loudly. You also get a built-in camera, voice-to-text capability, and hearing aid compatibility.
Plus, a 5Star emergency button appears at the bottom of the screen at all times when the phone is on. Pressing the 5Star button connects you with a trained agent who can confirm your location and send help if required. Additional apps are available that allow you to receive medication reminders and get health advice from a network of medical professionals (but you pay a fee for such calls).
The Jitterbug Smart2 regularly costs $149.99,* but discounts may be offered during the holidays or other times of the year. It runs on GreatCall's network, which uses Verizon's hardware.
The Moto G6 Play offers outstanding value for seniors on a budget. It features a large 5.7-inch HD display, a water-repellant coating, and both front and rear-facing cameras. The battery lasts an exceptionally long time. And the fingerprint sensor allows you to unlock the phone with a simple touch.
You can purchase an unlocked version of the Moto G6 Play for $159.99,* and it will work on several U.S. wireless networks. Slightly less expensive versions are available directly through the wireless carriers, but they will be locked to those carriers for a certain period of time.
This smartphone features a 5.8-inch screen that offers clear rendering and good outdoor visibility. It comes with a variety of accessibility features for those with hearing, vision, and other physical challenges or disabilities. It also has a long-lasting battery, front and rear cameras, and expandable memory.
Plus, Samsung phones offer an optional Easy Mode that, when activated, simplifies the layout and enlarges the icons on the home screen. You can buy an unlocked version for $365.11.*
Runners-Up:
Best Basic Cell Phones for Older Adults
This flip phone with large buttons was designed specifically for older adults. It features a simple menu, backlit keypad, bright screen, excellent battery life, voice dialing, and very loud speakers. It also includes a camera with flash as well as a reading magnifier. The integration of Amazon Alexa means you can use voice commands to place calls, compose texts, set reminders, and more.
A one-touch Urgent Response button connects to an operator who can track the caller via GPS and summon help, but this service requires a monthly fee. For an additional cost, you can also get 24/7 access to healthcare professionals.
At full retail price, the Lively Flip costs $99.99,* but you may be able to get it for less through holiday discounts or other special promotions. It uses the GreatCall network, which is powered by Verizon and known for good nationwide coverage.
For elderly users who value simplicity, this flip phone is designed primarily for making calls and sending texts. It offers excellent call quality, a bright display, and large, widely spaced, backlit buttons, including a separate button to activate the built-in camera. It also features a microSD slot, and it includes Bluetooth for hands-free use.
In addition, the Doro 7050 includes a dedicated alert button that calls your pre-programmed emergency contact when it is pressed three consecutive times. It costs $50* from Consumer Cellular, which offers discounts to AARP members.
Looking for a voice phone under $100?* Mobile devices for seniors don't come much simpler than this one. It's a block-style gadget, which means it doesn't have a lid that closes over the screen.
The ezTWO 3G has good volume, large rubbery buttons, and an extremely simple user interface. You can't send or receive texts, but you can use senior-friendly features like a dedicated SOS button and an option to have the keypad speak the numbers as you press them. It's also hearing aid-compatible.
Runner-Up:
Features to Consider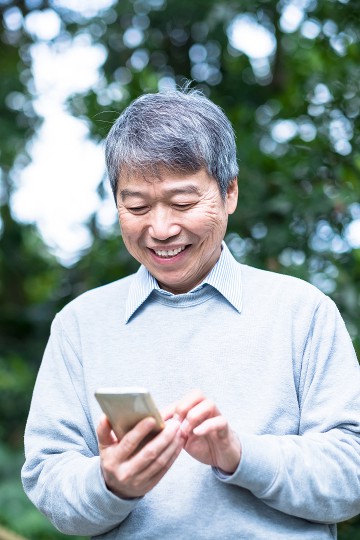 Wireless carrier: Some phones only work on particular networks.
Large, bright display: Bigger screens are easier on aging eyes, but larger devices are more difficult to fit in a pocket or use with one hand.
Durable construction: Some products can withstand bumps and splashes better than others.
Camera: The megapixel count is one factor to consider (higher is better), but also look for a bright aperture and image stabilization capability. Cameras on higher-end devices can even take decent pictures in low-light conditions.
Good speakers: You need to clearly hear what callers are saying to you without being distracted by a lot of background noise.
Hearing aid compatibility: Devices that are rated as some combination of M3, M4, T3, or T4 meet the FCC's standards for this feature.
Voice command capability: This allows you to use verbal commands to do things like make calls, send messages, or check voice mail. That can be a tremendous help for older adults with vision challenges.
Long-lasting battery: Many phones can go all day on a single charge, depending on how you use them.
Storage: More is better if you'll be taking or downloading lots of photos or videos. Many smart devices include a microSD slot for supplementing the internal storage.
GPS capability: This can enable you to get turn-by-turn directions or allow the phone to be used as a tracking device.
Dedicated emergency help button: This feature can quickly connect you to trained professionals in urgent situations.
Cellular Plans for Seniors
Several plans offer good value. Here are a few worth checking out:
How to Lower Your Cell Phone Costs
Some wireless carriers offer plans that include a free or discounted mobile device in exchange for signing a longer service contract. Also, most carriers have special promotions throughout the year that offer significant savings if you sign up for a certain plan.
In addition, some low-income Americans are eligible for discounts through a government program called Lifeline. It's designed to ensure that financially challenged individuals are able to stay in touch with family members, employers, and emergency services.
You may qualify for the Lifeline program if your income is less than 135 percent of the federal poverty level or if you receive benefits from any of the following programs:
Medicaid
Supplemental Security Income (SSI)
Federal Public Housing Assistance
Supplemental Nutrition Assistance Program (SNAP)
Veterans Pension or Survivors Pension
Tribal-specific assistance programs
Only one member of a household can receive the Lifeline benefit, and you must provide proof of eligibility each year in order to stay enrolled.
Get Connected
Whether you want a simple flip phone for voice calls or a smart device with advanced features, there are options for every age and preference. Use the information above to find the best solution for you.
* All prices are current as of January 29, 2020.