Valentine's Day Gifts for Mom and Dad
Finding a Loving Valentine's Day Gift for Your Elderly Mom and Dad
By Publisher
| Last updated
Valentine's Day is fast approaching, and nothing conveys love and appreciation for your senior parents better than a very special Valentine's Day gift. So, what are some thoughtful gift choices and activities for this love-filled holiday? Here are some gift ideas we're sure they (and you) will love.
This article contains affiliate links. We are compensated with a small commission, at no extra cost to you, for sales made through the links.
Valentine's Day Gifts for Mom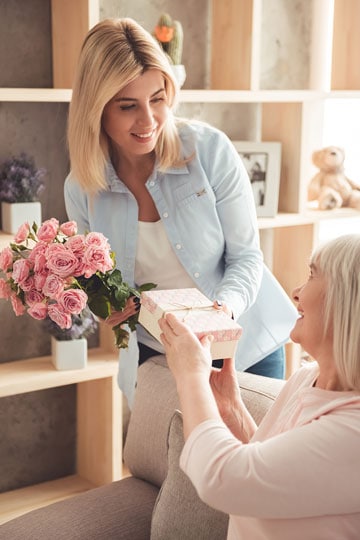 Mothers tend to share one characteristic: dedication and love for their children. So the best Valentine's Day gifts for Mom are the ones that come from the heart that make her feel loved and appreciated.
If you live nearby, quality time spent with you may be the best gift you could offer to your senior mother. Take her for a nice lunch date, or a side-by-side pedicure, or to a movie in a genre she loves (bringing along lots of yummy treats!).
Often, though, this in-person time or activity isn't an option for one reason or another. Often the best gift for your elderly mom is something comforting, luxurious, or thoughtful being delivered straight to her door. Here are some ideas to get you started:
1. A delivery of fresh, vibrant flowers
JustFlowers.com
offers a simple way to express your affection with an impressive variety of floral creations, potted plants, and gift baskets to choose from. And if you tend to wait until the last minute to get a gift as many people do, Just Flowers has got you covered with their same-day delivery option.
And here's a fun idea: if you are looking for a way to make the flower choices even more meaningful, you could choose an arrangement containing pink carnations, which are traditionally known to represent a mother's love. Or you could find a bouquet including her "birth flower," so it feels extra personalized.
2. A gourmet tea gift set
If your older mom is an aficionado of all things tea, treat her to
Vahdam's Assorted Tea Gift Set
. Beautifully packaged, the set offers six gold tea caddies in a gift box. One happy purchaser raved, "This a great gift for someone who is very special to you. The best tea I have ever tasted and smelled!" Vahdam Teas are certified organic and non-GMO verified.
If Oprah, Ellen, and Mariah Carey vouch for Vahdam teas, they must be good, right?
These varieties are included:
Hibiscus Rush—with tones of tropical fruit and hibiscus petals
Sweet Cinnamon Masala Chai—a strong Assam tea with cinnamon and cardamom
Vanilla Spice Masala Chai—a house-blended Masala accented with creamy vanilla and spices
Original Indian Masala Chai—an iconic blend of black tea, cinnamon, cardamom, cloves, and black pepper
Classic English Breakfast—a perfect blend of black Assam teas that yields a red, robust brew
Turmeric Spiced Herbal—a comforting and delicious tincture of turmeric powder, black pepper, cardamom pods, and clove
Buy on Amazon
Tip: If you decide to treat Mom to gourmet loose-leaf tea, make sure she has a tea diffuser. If you're not sure and don't want to ruin the surprise, you can find one that's especially cute, silly, pretty, or otherwise suits her style. Then potentially having an extra just means she can feel even more delighted when she brews a cup!
Tea diffuser mugs are also available in many shapes, sizes, and styles that could delight your mom. You could even choose one that is beautiful but also has a special meaning, like this diffuser mug, adorned with pink roses which traditionally represent a mother's love. This would also pair nicely with some fresh, pink roses delivered straight to her door!
3. A cozy, soft cotton robe in her favorite color
Even if you can't wrap your mom up in your arms, you can make sure she is cloaked in warmth and comfort every day. The
PajamaGram
Long Women's Cotton Robe is made with double-brushed cotton jersey that's complemented by a small amount of Spandex, which allows the robe to both flex and retain its shape. The fit is described as "generously oversized" so if your mom prefers closer-fitting clothing, sizing down may be a good idea.
These ultra-soft cotton robes are machine washable and provide the breathability a natural fabric offers. This can be especially helpful to senior women who experience hot flashes, body temperature fluctuations, and skin sensitivities. Plus, there are more than 20 colors and patterns to choose from so you can pick Mom's favorite color or theme.
Buy on Amazon
Valentine's Day Gifts for Dad
Dads like to be pampered, too; they just might be a bit less likely to admit it. Giving your senior father a gift to make him feel special on Valentine's Day can delight you both. Here are some thoughtful ideas for showing Dad how much you care:
1. A heated massaging pillow
Sure, some dads have it all, but we bet he doesn't have a Victor Jurgen Deep Kneading Neck Massage Pillow. The name doesn't describe the magic of this massaging pillow. The device contains massage nodes simulating Japanese Shiatsu. The massager also has the option to add heat to the massage. As a result, it enhances muscle relaxation. It comes with an easy-to-clean faux leather cover, a DC power cord, and a car charger. Users call it "addictive." Better yet, it's small and lightweight. Dad can even use it on his feet or lower back.
Buy on Amazon
2. A durable, high-quality multitool
Dads tend to love helping people and fixing things. Having an appropriate tool on hand makes it a lot more fun and convenient for them to be handy. The Leatherman Wingman includes 14 different tools designed to meet day-to-day needs, plus it's small and light enough to fit comfortably in a pocket. Leatherman offers a generous 25-year warranty which Dad likely won't need to use thanks to the multitool's durable, stainless steel construction.
If you wanted to make this gift more personal, you could get the tool engraved with a message from you or with your father's initials.
Buy on Amazon
Celebrate Love by Bringing Some Magic into Your Senior Parent's Day
We hope this list has piqued your interest and given you some great ideas for perfect gifts for your aging—and much-beloved—parents. Treating your mom or dad on Valentine's Day is a lovely way to show how grateful you are for them and just how much they mean to you.