Bed Rails for Seniors
Bed Rails for Seniors: Your Questions Answered
By Publisher
| Last updated
As people age, mobility often becomes a concern. Thankfully, bed rails for seniors provide security and support to prevent falls from rolling out of bed, in addition to stability for standing and sitting.
The decision to purchase any type of medical product should involve your doctor. They can work with you to find a solution that addresses your medical concerns while keeping you safe.
To help you get started learning about the options that might suit you, here are some frequently asked questions about bed rails for seniors:
This article contains affiliate links. We are compensated with a small commission, at no extra cost to you, for sales made through the links.
Are There Alternatives to Bed Rails?
Even though seniors often receive the most significant benefit from using bed rails explicitly designed for safety, alternatives exist that can also prevent slips and falls. Bed wedges can be used as a buffer if the concern is rolling off the edge of the bed, and concave mattresses and mattress covers can also be used for the same reason.
You can utilize alarms and intercom systems to communicate the need for assistance when getting in and out of bed. To be effective, these options require that aid be nearby.
Additionally, floor-to-ceiling grab bars and vertical poles can be installed next to a bed or attached to the bed frame for added support and assistance when getting into or out of bed.
What Different Types of Bed Rails Are Available?
In general, there are two types of bed rail systems used to provide security for seniors:
Portable bed rails for seniors can be used with any mattress and work by taking advantage of the weight placed on the mattress and safety strap(s) to keep the rail in place.
Permanent bed rails are attached to the bed frame and are generally more difficult to remove. These types of bed rails usually fold to allow access to the bed.
Are Bed Rails Safe for Seniors? Can Bed Rails Cause Injuries?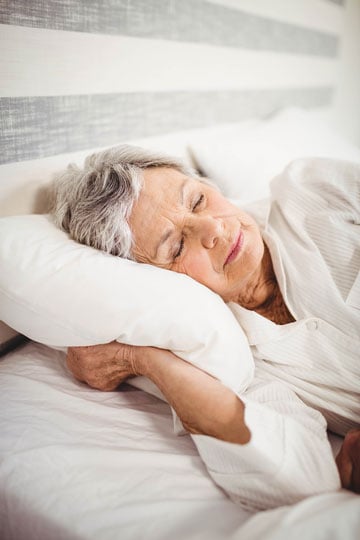 Safety is a top concern when using bed rails. For most people, features like safety straps mitigate the potential for danger. The risk of entrapment is a possibility when using bed rails for seniors. You can often overcome this risk by ensuring the rails are installed and placed correctly according to the manufacturer's instructions.
A medical professional should be involved in choosing the right bed rails to ensure that your specific medical needs are taken into consideration. Work with your doctor and medical care team to determine any risks unique to your situation and your best action plan for staying safe.
Does Medicare Cover Bed Rails?
Medicare covers durable medical equipment (DME) through Part B, the outpatient benefit. While detachable rails for conventional beds are not covered, the program does provide benefits for hospital beds when these products are medically necessary. Because many in-home hospital beds include bed rails, Medicare does provide coverage if the bed itself is covered.
Buyer's Guide: The Best Bed Rails for Seniors
The best bed rails for seniors provide safety and security while also offering customizable options to fit a variety of bed and mattress types. Modern bed rail systems offer features like:
Adjustable height to minimize fall risks
Stability to improve mobility around the bed
The ability to assist seniors who have different bodyweight requirements
Involving your doctor before investing in bed rails is vital. Bed rails for seniors come in a variety of styles, materials, and lengths. Finding the one that meets your needs comes down to selecting a railing system that works with your existing bed or with a bed you will purchase. Additionally, using certain medical products may change insurance rates, so it's worth contacting your insurance company to discuss purchases of bed rails for seniors.
By consulting with your physician and following these guidelines, you can find an effective solution to providing security for you or a loved one. For many, bed rails for seniors are an affordable, efficient way to gain peace of mind without the expense of live-in care or other costly medical monitoring.