Mobility Scooters for the Elderly
Mobility for the Elderly: Scooter Options That Can Improve Your Life
By Publisher
| Last updated
For the elderly, scooter amenities like comfy seats and powerful motors can mean a whole new level of freedom and independence around the house, throughout the neighborhood, and beyond. In fact, mobility scooters are allowed in shops, on buses, and anywhere else that pedestrians are permitted. Some models are even suitable for air travel.
That's why more and more adults are realizing the benefits of using motorized scooters. At the start of this century, only 142,000 Americans over age 65 used electric scooters to help them get around, according to the National Institute on Disability and Rehabilitation Research. About a decade later, that number had grown to 815,000, according to a study in the Journal of the American Geriatrics Society. The study says that, in total, roughly two percent of U.S. seniors use mobility scooters.
Below, you'll discover the different types of scooters you can choose and what factors you should think about when doing so. You'll also learn what you can expect to pay for a scooter and how you may be able to get the government to cover some of the cost. And you'll get details about 13 of the best scooter models that are worth considering.
Basic Types of Mobility Scooters
Do you find it difficult to walk around for more than a short amount of time? If so, a medical scooter may be exactly what you need. But in order to choose one that's right for you, you need to understand your options. There are two basic types of power scooters:
Three-wheeled scooters have two wheels in the back and one centered in the front. They work best on smooth, level ground. Their tight turning radius makes them good at maneuvering indoors and in crowded spaces. They offer more leg room than four-wheeled models, so they are often a good option for people who are taller or have leg or knee problems. They also tend to be lighter and less expensive than four-wheeled scooters. However, they are not as stable as the models with four wheels, and they are generally not great on gravel or grass.
Four-wheeled scooters are more like mini cars, with two wheels in the back and two in the front. They provide more even weight distribution and offer good stability on many types of terrain, including grass, dirt, hills, and curbs. However, they require more space to turn, which makes them less maneuverable. They are also typically heavier than three-wheeled scooters, and they tend to cost more.
Within each of the above categories, you can find scooters that are touted as "travel" or "compact" models. These are designed to fold down or come apart in order to fit into a closet, vehicle trunk, or aircraft cargo bin. They are typically lightweight and often have safety features such as leakproof batteries that make them ideal for transport. However, they may not be super comfortable, and they may not be rated for your size.
Some three- or four-wheeled scooters are "heavy duty" models, which means they can support extra weight (sometimes up to 500 pounds). They tend to have wider seats and adjustable armrests. However, they might be too big to fit through doorways.
Keep in mind that an electric scooter is not the same thing as an electric wheelchair. Motorized wheelchairs are high-tech machines that are designed for people who have mobility challenges in both their lower and upper bodies. They offer a wide range of seating positions and are controlled by joysticks (which can be operated via hand, eye, or even mouth movements). They are typically much more expensive than scooters.
What to Look For in a Motorized Scooter for Elderly People
A senior scooter can be a major investment, so you want to be sure you weigh all the pertinent factors. Here are some important things to think about when shopping for a scooter: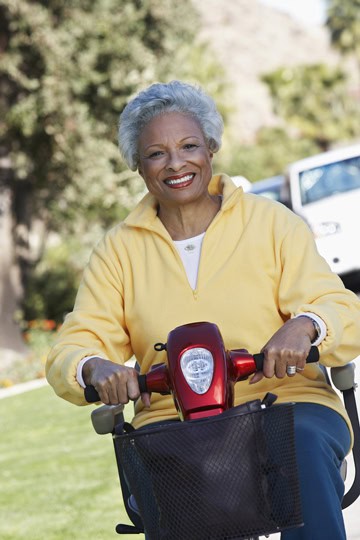 Intended use: Do you want a scooter to help you maneuver inside your home? If so, it might be important to get one that can make sharp turns. Are you looking for a model that can take you around the neighborhood or through the park? If that's the case, you will probably want one that can handle hills or curbs. Different scooters are designed for different uses, so be sure to choose one that's meant for what you want to do.
Comfort: If the seat is too hard, your legs are too cramped, or you can't easily reach the controls, the scooter won't be very useful for you. Comfort may be especially important if you have back issues, joint problems, or some type of disability. Scooters often let you change the height of the seat, but some models feature wider seats, extra padding, or adjustable backs and armrests. Some higher-end models even have headrests and seats that recline.
Capacity: Make sure the scooter's weight limit can accommodate you as well as anything else you plan to carry (such as shopping items, oxygen tanks, or extra batteries). Most scooters are designed to hold anywhere between 250 and 300 pounds, but some heavy-duty models can handle up to 500 pounds.
Portability: If you want to be able to transport your scooter in a vehicle, consider how easy it is to take apart and put back together. Find out how many components you have to deal with and how much each individual piece weighs. You may want to look for a model that folds down rather than completely disassembles. Keep in mind that some heavier models neither fold nor come apart.
Battery life and operating range: How far do you want to be able to go before recharging? Typically, scooters can go 10 to 15 miles before running out of power, but some can only make seven miles and others can go 25 miles or more. If you're just using it around the house or for short trips outside, a limited operating range may be fine. But if you plan to use it to tour around for extended periods of time, you'll want to be sure the battery will last. Be aware that any scooter's operating range will change depending on things like how much weight it carries and how many hills it climbs.
Turning radius: The smaller the turning radius, the easier it will be to make a U-turn or navigate around tight corners. That's particularly important if you will be using your scooter indoors. Most scooters have a turning radius between 33 and 55 inches. As noted above, a three-wheeled model will generally have a lower turning radius than one that has four wheels. (However, a three-wheeled scooter is more prone to tipping over.)
Controls: The steering column at the front of the scooter is called the tiller. Some scooters have T-shaped tillers with bicycle-type handlebars that use separate thumb levers for forward and backward motion control. Other scooters have delta tillers, which feature D-shaped wrap-around handles that give you somewhere to rest your wrists. If you have poor hand strength or limited dexterity, a delta tiller is a better option.
Speed: The top speed of most scooters is somewhere between 4 and 5 miles per hour (mph). The slowest ones top out at about 3 mph, which is about as fast as an average person walks. That pace is likely fine for an indoor scooter. Some speedier models can go 10 mph or more, which might be more practical for outdoor travel. But if you have balance issues or are worried about losing control, you may want a scooter that doesn't go too fast. Most models allow you to set a maximum user speed for safety.
Maximum incline: This tells you how much of an angle the scooter can climb while keeping all of its wheels on the ground. Scooters can generally handle inclines of anywhere between six and 12 degrees. A scooter that has the power and stability to handle steeper angles will be more useful on varied outdoor terrain. (Under the Americans with Disabilities Act, commercial ramps can have no more than a five-degree incline, so all scooters should be able to navigate them.)
How Much Do Scooters Cost?
A mobility scooter costs anywhere from $700 to $5,000, depending on its features. (That might seem high, but keep in mind that the cost of an electric wheelchair can be up to $15,000!)
Medicare covers scooters for seniors in certain situations, but you have to meet fairly stringent requirements. You must be covered under Part B, and your doctor must sign an order saying that an electric scooter is medically necessary for you to use inside your home. In this case, "medically necessary" means that you cannot perform tasks like cooking or using the bathroom, even with the help of a cane, walker, or manual wheelchair. Medicare also requires you to demonstrate that you are capable of operating the scooter safely and getting on and off of it safely. (Getting on and off can be with the help of a family member or caregiver who is always available to assist you.)
If you qualify, you must pay your Part B deductible (if you haven't already paid it for the year). Medicare will then cover 80 percent of the approved cost of the scooter, and you will be responsible for the remaining 20 percent.
However, under Medicare rules, the scooter has to be intended for use inside your home. So if you only need a scooter to get around outdoors, or the one you choose won't fit through your home's doorways, Medicare will not cover it. Also, your claim will be denied if you do not purchase from a Medicare-approved supplier, so be sure to take that into account when considering where to buy scooters.
Medicaid covers electric scooters for people who meet certain conditions, but those conditions vary somewhat from state to state. In many states, you can get a free mobility scooter if you live in a Medicaid-funded nursing home and the staff believe you have a need for such a device. Contact your state Medicaid office to learn about the specific rules in your region.
Keep in mind that you don't necessarily have to purchase a scooter outright. You can rent a mobility scooter online or over the phone and have it delivered either to your home or to places like hotels or cruise ships. Some firms carry well-known mobility scooter brands such as Pride Mobility; others offer their own brands. Costs typically range from $20 to $60 per day. Discounted rates are often available for weekly or long-term rentals.
5 of the Best Three-Wheeled Motorized Scooters for Adults
Leaning toward a three-wheeled model? Here are a few of the best options to consider:
8 of the Best Four-Wheeled Electric Scooters for Elderly People
Scooters with four wheels offer greater stability and are good choices for getting around the yard, the neighborhood, or points further afield. Check out these nine models:
Find What You Need to Get Moving
Whether you're looking for an electric scooter to get around the house or around the world, the information above can help you zero in on a model that works best for you.