What Is Respite Care for Seniors?
What Is Respite Care for Seniors? Here Are the Essential Facts You Should Know
By Publisher
| Last updated
Without a doubt, looking after an aging loved one can be rewarding. But caregiving can also be demanding and time-consuming. Fortunately, respite care can provide much-needed breaks. So, what is respite care? Here's a simple respite care definition: temporary help that gives caregivers some relief from their duties.
This article lists many advantages of using respite care. It also explains the different types of respite assistance and how to access them. As well, you'll learn about options that can help you pay for respite services. Plus, if you're interested in working as a respite provider, you'll find out how to get started.
Why Using Respite Care Is a Vital Part of Caregiving
According to a report by the National Academies of Sciences, Engineering, and Medicine, about 17.7 million Americans provide care for a family member over the age of 65. And that number is expected to increase as the average age of Americans rises.
Most people who act as caregivers for family members (or friends) are motivated by love and a sense of commitment. We often see it as our duty to help the people we are close to while they experience the changes that accompany physical health issues, mental health problems, or the aging process.
But caregiving can also be hard work, without many breaks. And that kind of labor takes a toll on caregivers that's often overlooked. That's why caregiver relief is so important. Consider these facts:
Yet, despite the demands placed on them, only about 14 percent of caregivers have used respite care, according to the AARP and NAC report.
Why isn't respite care used more often? Many caregivers say that they feel guilty about getting help. And they worry about the financial costs.
But you should know this: Taking a break is often the best course of action for a caregiver. Respite is also good for the person being cared for.
You've probably heard the warning at the start of every commercial airline flight telling you to put your own oxygen mask on before helping anyone else. That's a good analogy for the importance of seeking some rest.
Simply put, respite care is important because taking care of yourself can make you a better caregiver. So respite care isn't an indulgence. It's a necessary part of looking after another person.
Studies back this up. The use of respite care for elderly people has been shown to improve the well-being of both the caregiver and the care receiver, and it is linked to:
Lower levels of stress
Reduced rates of depression
Improved relationships between caregivers and care receivers
Fewer behavioral problems with care receivers
Better financial health for caregivers
Plus, you don't need to be suffering from exhaustion in order to seek respite care. For caregivers, respite can provide opportunities to take a vacation, run errands, attend social events, or simply go to a job without having to worry about a loved one being at home alone.
Types of Respite Care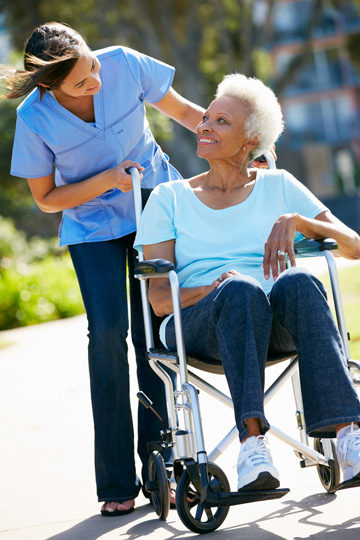 One of the best things about respite care is its versatility. It can provide regularly scheduled breaks, or it can be available in case of an emergency. Respite care for elderly people, in short, can be adapted to fit your particular needs.
Here are the three main types of respite care:
1. Home-based
In home-based situations, you arrange to have someone come to your loved one's residence for temporary home care services.
An in-home respite care provider can be a person who simply offers companionship for an elderly person. Or he or she can be a home health aide, nursing assistant, or registered nurse and provide some medical assistance.
2. Facility-based
Many nursing homes and assisted living facilities provide respite care. An elderly person can stay for a period of time ranging from a few hours to a few weeks. So if you need overnight respite care for adults, facility-based services may be a good option.
3. Community-based
Many religious organizations, community groups, and adult day cares offer seniors opportunities to socialize and participate in activities while their caregivers take a break. (What is adult day care? It's a service or facility that provides temporary support, safe supervision, and stimulating activities for seniors. It can be a great way for an older person to make some beneficial social connections.)
Finding Respite Care Near You
When you're overwhelmed by caregiving responsibilities, finding reliable and affordable respite care might feel like an insurmountable task. Fortunately, several resources are available that can help you find care in your area. Here are some examples:
Choosing the Right Type of Respite Care
With so many respite options available, it's often possible to customize care to fit your unique circumstances. And in many cases, it's possible to create a respite care plan that uses several types of care.
For example, consider an elderly man who is the primary caregiver for his wife (who has dementia). If he wants to go out for coffee with friends, a home health aide could come to the house. If he wants to vacuum, but the noise upsets his wife, she could visit an adult day care while he cleans. And if he wants to attend a grandchild's out-of-town graduation, his wife could stay in a residential care facility for a few days.
In other words, respite care can help this elderly man take steps to prevent loneliness, stay on top of his daily tasks, and maintain close connections with his family.
Some questions to ask when creating a respite care plan include:
How long do you need care for?
Are you comfortable having a provider come to your home?
How much can you afford to pay?
Will you need help on a regular basis?
Do you need additional services, such as housekeeping or medical care?
Does the care receiver have mobility challenges? Will the respite provider need to drive him or her?
Does your loved one need more social contact? Is he or she getting enough physical exercise?
If you are looking for in-home respite care, you can hire privately or work through an agency that provides people who do home visits.
Hiring someone privately is often the cheapest option. And you can select your respite provider. But it carries a bit more risk. For example, if the person you hire is ever sick or takes a vacation, you may be without someone to fill in.
If you hire someone for respite care privately, be sure to:
Have clear expectations in terms of duties and pay. A contract is often necessary.
Ask for references. Request more than one reference and be sure to ask them about the applicant's punctuality and dependability.
Ensure that any applicant meets the person who needs care before you make any hiring decisions.
If you use a home care agency, the agency's staff will often take care of administrative tasks such as payroll. Most agencies screen their employees carefully, and they can often provide a backup respite caregiver if the regular person is sick or away. They will also handle complaints or awkward situations. But you may not get to choose the person who has direct contact with your loved one.
AARP has a very thorough checklist of questions to ask home health agencies.
If you're considering respite services at a care facility or adult day care, be sure to visit during regular hours before you commit. Ask questions such as:
Do they perform background checks on employees?
How are employees trained?
What are the emergency procedures?
What kind of activities do clients participate in? Is the center open to suggestions for activities?
What kind of food is provided?
Does staff help with personal care tasks?
In all cases, be sure to check the regulations for care providers in your area. You want to be aware of what to look for. (For example, in some states, workers who provide personal care need to be licensed or certified.)
How to Pay for Respite Care
The cost of respite care can present a challenge for some seniors and caregivers. But you have to weigh any potential costs against the benefits to your own health and well-being.
For caregivers who have jobs outside the home, respite care can ultimately save money since it reduces the amount of time they need to spend away from work. And respite services often make it possible for a senior to stay at home instead of moving into an assisted living or nursing facility full-time.
So, how much does respite care cost? Here's the median respite care cost per day for various types of providers, according to Genworth:
Adult day care: $78
Homemaker services: $163
Home health aide: $169
Assisted living facility: $148
Semi-private room in a nursing home: $260
Private room in a nursing home: $297
As you can imagine, the costs of respite care can add up quickly. And who pays for respite care is not always straightforward. But depending on your personal circumstances, several possible sources of assistance are available:
1. Medicare
Original Medicare does not pay for respite care, with one exception. If a terminally ill person is in hospice, respite care can be covered by Medicare for up to five days. This care typically involves staying in a facility approved by Medicare, such as a long-term care facility or a hospital.
As of 2019, insurance carriers are able to add respite care to Medicare Advantage plans. However, few plans currently include respite care. But this could change as carriers adapt to the new rules.
2. Medicaid
When it comes to respite care, Medicaid benefits vary by state. In many states, people who are eligible for Medicaid may be able to receive respite care through the Home & Community-Based Care Services (HCBS) waivers program. Contact your state Medicaid agency to learn more about respite care benefits in your region.
3. National Family Caregiver Support Program grants and vouchers
Under the National Family Caregiver Support Program, grants for respite care are provided to individual states. A respite grant is typically administered through your local Area Agency on Aging (AAA). Each AAA determines eligibility for caregiver reimbursement vouchers and what they cover. In general, priority is given to people with low incomes.
You should be aware that these voucher programs often have long waiting lists. And because funding availability changes often, most AAAs do not publicly publish the details of their programs. So the best way to get information is to contact them directly.
4. Insurance
Sometimes long-term care insurance pays for respite care, as long as the care is provided by a licensed practitioner (for example, a nurse).
5. Private grants
Grants from some private organizations are available for respite care. For example, the Association for Frontotemporal Degeneration offers respite grants of up to $500 to people whose loved ones have been diagnosed with frontotemporal degeneration (FTD).
Your local AAA can help you learn about other possible funding sources in your area. As well, talk to your loved one's healthcare provider.
Succeeding With Respite Care
Once you've set up a respite care plan, it's important to take a few steps to ensure that it goes smoothly for everyone involved. Here are some tips for success:
1. Let go of any guilt and make the most of your respite.
Here's a vital part of ensuring that you get the most out of respite care: Always remember that you deserve a break. Don't worry about being seen as neglectful or lazy.
Sometimes primary caregivers feel like it's easier to just keep doing everything themselves rather than turning over control and explaining their routines to another person. But in the long run, having help will be worth it. Focus on yourself during the respite instead of worrying about your loved one.
Some caregivers aren't sure what to do with a sudden void in their schedules if they're not looking after someone else around the clock. If you feel this way, try to consider respite care as an opportunity to pursue activities you've always want to try or to rekindle old interests.
2. Keep the lines of communication open.
Talk regularly to care providers. They may notice things in your loved one's health or in your routines that you are not aware of. And keep them informed about changes in your loved one. Let them know what else is going on in his or her life.
3. Stay organized.
The transition to respite care will be easier if the details are looked after. And you'll be able to relax more if you know that you haven't forgotten anything. To stay organized, consider creating checklists of the things that happen in your caregiving routine in order to make sure nothing gets missed. And make sure that you have a backup plan for those times when respite care falls through.
Working in Respite Care
Are you interested in helping seniors live healthier, more fulfilling lives? Working in respite care can help you make a difference. Think about it: Not only can you help seniors who need care, you can also give their regular caregivers a well-deserved break.
Plus, you can enjoy the other perks of respite care work, which include:
Opportunities to work flexible hours
Plenty of job openings
A high rate of job satisfaction
And if you're a senior yourself, you can experience the many benefits of working after retirement, such as better health and more opportunities for social engagement.
Here are some steps to take toward working in respite care:
1. Start with a bit of self-evaluation.
Respite care is rewarding work. But it also takes certain personal qualities to succeed. So ask yourself a few questions such as:
Are you reliable and punctual? (Not showing up or being late for your shifts can really impact a regular caregiver's schedule.)
Do you enjoy spending time with seniors who may have at least one disability? Can you be patient with people who may move at a slower pace? (A client should be able to feel comfortable with you.)
Are you active and able to perform most daily living activities? (As a respite care worker, you may be asked to do simple housework and other tasks.)
Can you pass a criminal background check or drug screening? (These steps are often part of the hiring process in order to help protect seniors from possible elder abuse.)
You should also think about what kind of respite work interests you. Options can range from leading fun activities in an adult day care to providing nursing care in a senior's residence to working as a nursing assistant in a long-term care home. You can even specialize. For example, you could focus on providing respite care for adults with disabilities.
2. Pursue any required training.
When it comes to going after jobs as a respite care provider, qualifications vary a bit depending on the kind of work you want to do. But it's always a good idea to have cardiopulmonary resuscitation (CPR) and first aid certifications.
Many respite agencies hire workers who are trained as nursing assistants. As a nursing assistant in respite care, you provide basic health care services such as taking vital signs as part of your work. Becoming certified as a nursing assistant can broaden your employment possibilities. (For example, you must be certified in order to work for an agency that bills through Medicaid or Medicare.) Certification requirements vary by state, but most training programs can be completed in under six months.
Plus, as a nursing assistant, you have the potential to earn more money than home health aides. According to the U.S. Bureau of Labor Statistics, nursing assistants earn an average hourly wage of $14.57 (compared to $14.15 for home health aides).
3. Get your name out there.
Volunteering is a great way to get some experience that you can highlight on your resume and applications. It can also help you make connections that lead to job opportunities.
Registering with the AmeriCorps Seniors Senior Companion Program is a good starting point. (You'll receive a small stipend for your work, and AmeriCorps Seniors will cover your training, liability and accident insurance, and any food and transportation expenses you have while volunteering.)
You can find respite care jobs in your area by checking out online job boards or websites like Care.com.
Help Is Available
Respite care has many benefits for caregivers and the seniors they help. With a bit of advance planning, you can create a respite care strategy that works for you. Or you can play an important role in others' lives by providing this valuable service.