Companion Care for Seniors
Companion Care for Seniors: Essential Info About Services and Jobs
By Publisher
| Last updated
We all need to engage with other people in order to maintain our well-being, but that gets increasingly challenging as we get older. Companion care enriches the lives of seniors by providing them with regular opportunities to socialize and get assistance with basic household tasks.
Companion care for the elderly is about providing emotional support to older adults who are generally healthy but need a little extra help to remain independent or stay connected with people. Seniors benefit from having someone to talk to and share experiences with on a regular basis. Companions can also offer valuable household help that enables older adults to remain in their own homes as they age.
Did you know that being socially active can be good for an older adult's health? Evidence suggests that there is a strong connection between social interaction and seniors' well-being. In fact, the Blue Zones considers social connectedness to be one of the key principles that can promote health and longevity.
This article outlines the multifaceted role of senior companions and explains the typical costs involved in implementing such services. It also includes a detailed step-by-step process for finding and hiring a companion for your loved one. And if you're interested in becoming a senior companion, be sure to check out the section on how to find elderly companion jobs.
What Is a Senior Care Companion?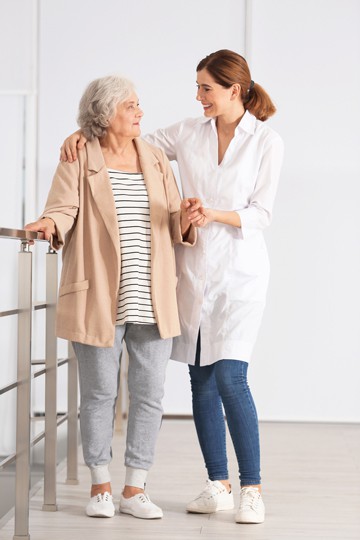 A companion caregiver is someone who makes a senior's life more manageable by providing household help and social interaction. Some older adults just need someone to hang out with to ease their loneliness, while others require assistance with tasks like cooking or washing clothes. An example of a companion service is when someone stops by a couple times a week to chat, go for a walk, play cards, and clean the kitchen. Some companions provide respite care—temporary help that enables spouses or other family caregivers to get a much-needed break.
Companions can perform a wide range of non-medical services, such as:
Shopping for groceries
Preparing meals
Providing transportation to appointments and social outings
Reminding seniors to take medications (but not actually administering them)
Helping seniors write letters or pay bills
Taking care of pets
Changing sheets and making beds
Washing and folding laundry
Watering plants
Making small repairs, such as changing lightbulbs
Planning social activities
Reading out loud to seniors
Participating in games and hobbies
Picking up prescriptions
Taking out garbage
Dusting and vacuuming
In some cases, depending on state regulations, companions can also assist with personal care activities such as bathing and grooming.
Essentially, a senior companion is an individual who connects seniors with their community, lifts the burden of everyday household tasks, and improves the quality of life for older adults.
What Do Senior Companion Services Cost?
How much you pay a companion depends on how much assistance a senior requires and how much education the companion has. (Companions generally don't require any formal training, but some are certified nursing assistants, personal care aides, or home health aides.) Going through a home care or companion care agency will generally cost more than hiring a companion privately, but each option has its pros and cons.
According to Genworth's 2021 cost of care survey, as a national median, in-home care costs $26 per hour for homemaker services (which includes companionship as well as assistance with shopping, cooking, transportation, and errands). So, typically, for one week, it costs $156 to hire a caregiver to come in for two three-hour visits. Keep in mind that some caregivers require a minimum number of hours or charge more for shorter visits. For 44 hours of service each week, companion care is about $4,000 a month. For live-in companion jobs, you can expect to pay anywhere between $120 and $250 a day.
Most people pay for companion care out of their own pockets. In some states, Medicaid benefits include homemaker services and companion care. In addition, some long-term care insurance policies cover this type of service, but they may require that the companion be hired through an agency or have specific credentials, such as proof of being a certified nursing assistant.
Keep in mind that companion care doesn't always cost money. Many seniors have family members or neighbors who come over periodically to visit and help with basic household chores. Others receive free services from volunteers in the AmeriCorps Seniors' Senior Companions program. Contact your local Area Agency on Aging to see what's available where you live.
How to Hire a Companion Caregiver
If an older adult in your life could use a bit of extra support to stay independent in his or her home, it may be time to consider companion care. Here are a few tips on hiring for home care companion jobs:
Determine what services are required.

Make a list of your loved one's needs. Does your senior just need someone to keep him or her company and watch out for his or her safety? Or does he or she require help with housecleaning or transportation? Come up with a list of duties that can be turned into a job description. Be as specific as possible. For instance, if you're looking for a companion to help with cooking, be sure to note any special dietary requirements. If the companion will be providing transportation, specify whose vehicle will be used.

You should be aware that some states require licensing, certification, or registration for agencies or caregivers that provide hands-on personal care services such as assistance with bathing and dressing. In most cases, companions do not need to be licensed to perform tasks like offering an arm to help a senior get out of a chair or helping an older adult put on socks and shoes. However, regulations vary from state to state. Be sure to check what the rules are in your area so that you know what type of training to look for in a provider.

Decide whether you want to work with an agency or go the private route.

Because everyone's situation is different, there isn't just one solution that works best for all. It's important to weigh the pros and cons of each option.

Working with an agency

Pros

The agency handles employee screening, payroll, taxes, and insurance.
There is a pool of caregivers with different skills that can be matched to your senior's needs.
Backup care is available if your scheduled companion gets sick or otherwise can't make a shift.
Agency employees are insured and bonded, which protects you against damages and theft.

Cons

The agency may send different caregivers at different times, requiring your loved one to adjust to new companions.
Agencies frequently charge more than private caregivers because they have costs associated with recruiting, hiring, and supervising employees.

Hiring privately

Pros

You have complete control of the selection process.
You have the flexibility to overlook formal credentials and hire based on experience.
Hiring a private caregiver is often cheaper than going through an agency.

Cons

You must put in the time to find caregivers, conduct interviews, and perform reference and background checks.
You will need to have a plan B for when the companion you hire gets sick or has time off.
You are an employer and are therefore responsible for all administrative tasks related to payroll, liability and workmen's compensation insurance, and Social Security and Medicare taxes.

If you need immediate help, working with an agency is likely best, since it usually takes less time than finding and hiring a caregiver on your own. If you're not in a rush and would like to hire privately but are put off by the tax and insurance responsibilities, think about hiring a bookkeeper to take care of those matters. (Keep in mind that acting as an employer and withholding taxes means your loved one would be eligible to deduct the companion's salary on his or her tax return, which can be a substantial benefit.)

Another option is to hire a private caregiver for part of the time and use an agency for the rest; that way, you can keep costs down while ensuring that your loved one receives full coverage of care.

Ask around for agency or caregiver recommendations.

Word of mouth is one of the best ways to find a reputable companion. Whether you opt to use an agency or find your own caregiver, it's wise to see what others have to say about their experiences. Check with friends, family members, colleagues, or neighbors who have used such services. Talk to social workers or healthcare providers, or contact organizations in your area that serve seniors. The more information you can gather, the easier it will be to make a decision.

Advertise (if going private).

Religious houses, senior centers, and retirement organizations often allow elderly care companion jobs to be advertised on their bulletin boards or in their newsletters, so those are good places to start. Place ads in local newspapers and on online job sites. You might also want to reach out to institutions that train nursing assistants or home health aides and ask if they can refer any students to you.

Meet with prospective providers.

Elderly companion care jobs involve close personal contact with vulnerable adults, so it's important to vet candidates carefully. Set up interviews with potential caregivers in the senior's home so that you can observe how they interact with the person they will be spending time with. Do they engage with your loved one, listen attentively, and smile? That can help you assess each candidate's character.

If you're working with an agency, a representative will probably sit down with you to determine your needs and match you up with an employee who is best suited to your situation. At that meeting (or before, over the phone), you will want to get answers to questions like:

How many years has the agency been operating?
Is the agency licensed? (Not all states require this, but some do.)
Do they have recommendations or references from a healthcare or social services professional?
Has the staff received training in specialized areas like dementia care?
Do all employees undergo criminal background checks?
Are all staff bonded and insured?
What kind of experience must employees have before being hired?
Are services available around the clock?
Will it always be the same caregiver? What is the procedure if he or she can't make a shift?
How are employees supervised?
Does the agency require a minimum number of visits or hours?
What costs are involved? Are there extra fees for holidays or weekends?

If you're looking to hire privately, here are some things to find out about potential candidates:

Are they trained in CPR and first aid? Do they have any other specialized credentials or skills?
How much experience do they have?
Can they provide references?
Are they OK with all the duties outlined in your job description?
Do they have reliable transportation and a valid license?
What is their schedule availability?
How much do they charge?
Do they require a minimum number of hours?
Are they willing to undergo a background check? (You will need their written permission to run one on them.)
Are they legally allowed to work in the U.S.?

It can be useful to have a third person sit in on the interview so that you can compare your thoughts and impressions.

Check references and run a background check.

This is essential if you're hiring privately. Talk to past employers to learn if the person was reliable and dependable. Did he or she have any complaints from clients? If at all possible, contact former clients to get their views. And be sure to conduct a background check—this can easily be done online for a small fee (ranging from $10 to $100).
How to Find Elderly Companion Jobs
Are you eager to provide support and friendship to older adults who need extra attention and a bit of assistance? Many retirees find that part-time home companion jobs are well suited to their schedules and offer a unique opportunity to make a difference in the lives of people in their communities.
To find companion caregiver jobs in your area, look in the classified section of your local newspaper or search online job sites. Prepare a resume that illustrates any experience you have that involves supporting elderly adults. It's a good idea to collect a few personal references from people who can vouch for your character.
You may also want to inquire about opportunities with local home care agencies. Many agencies provide all the training you need and do not require you to have any certifications. However, some agencies look for candidates who are certified nursing assistants or home health aides. (You can become a nursing assistant in a relatively short time by taking a one-to-three-month course and passing your state's certification exam.)
Generally speaking, in order to become a companion caregiver, you must:
Be dependable, trustworthy, and honest
Have an outgoing and upbeat personality
Have excellent interpersonal and conversation skills
Be physically active and able to walk, bend, kneel, and lift up to 25 pounds
Pass a criminal background check and/or drug screen
Depending on the position, you may also need:
A clean driving record and access to an insured vehicle
Experience in working with older adults
Certification in first aid or CPR
Some companion care jobs are volunteer positions that come with a stipend. The AmeriCorps Seniors' Senior Companions program matches active older adult volunteers with home-bound seniors in need of support. Volunteer companions must be at least 55 years old, have an income not greater than 200 percent of the poverty line in their state, and be willing to serve between 15 and 40 hours a week. In addition to a small tax-free hourly stipend, volunteers receive training, liability and accident insurance, annual physical exams, and reimbursements for costs related to transportation and meals while on duty. This can be an excellent way to earn a little cash while adding meaning to both your life and the life of a senior in your area.
Consider Your Options
Companion care offers numerous benefits to both the person receiving the care and the person providing assistance. Such symbiotic relationships can enrich the lives of all involved. By following the steps outlined above, you can find a suitable companion for a loved one—or take on this challenging and meaningful role for yourself.