Best Cars for Seniors
The Best Cars for Seniors in 2020: Terrific Options for Older Drivers
By Publisher
| Last updated
Every driver has different needs and preferences, so the best cars for seniors vary significantly across different categories. For instance, some older adults want something small and good on gas so that they can zip around town, whereas others want a more rugged vehicle that can handle weather extremes and carry more cargo. Fortunately, today's seniors have a wide range of suitable options.
One of the most basic decisions you'll have to make when car shopping is exactly what kind of vehicle you want. There are many different types, but the best cars for older drivers tend to fall into two categories: sedans and sport utility vehicles (SUVs). The list below includes many of each. It's even divided into sections for the best SUVs, sedans, budget-friendly vehicles, luxury cars, and vehicles for seniors with disabilities. (In this article, "car" refers to any passenger vehicle.)
Plus, you'll find information on the basic differences between sedans and SUVs and why you might choose one versus the other. You'll also read about several senior-friendly features you may want to look for in your next vehicle. And you'll even get some practical tips on how to buy a used car.
(All prices are based on manufacturer-suggested retail price ranges on 2020 models as reported by Edmunds. Within each section, vehicles are ordered from least expensive to most expensive.)
Choosing a Vehicle Type: Sedans vs. SUVs
Before you can decide on a vehicle type, you have to understand the differences between them.
Sedans have four doors and a separate, closed-off trunk. They are smaller than SUVs and are generally more stable, smoother-riding, and easier to maneuver and park. They also tend to be more fuel-efficient and come with a lower price tag. However, they are lower to the ground, so they aren't as easy to get in and out of, and visibility can be a challenge. They also offer less interior and cargo space.
SUVs are taller and heavier than sedans and are designed to handle mountainous or rugged terrain with ease, so they tend to have better traction control in wet or snowy conditions. Because they are higher off the ground, they typically offer easier entry and better visibility. They also provide roomier interior and storage spaces. However, they are not as good on gas as sedans, and they generally cost more to purchase and maintain.
Then there are the crossovers. In cars, "crossover" means an SUV that is built on a sedan platform. While traditional SUVs use a body-on-frame approach that joins two separate pieces together, crossovers have the body and the frame as a single unit (just like a sedan). That means crossovers are lighter, more agile, and more fuel-efficient than full-size SUVs, while still offering benefits like a higher seating position and greater cabin and cargo space.
For the purposes of this article, the term "SUV" encompasses both traditional SUVs and crossovers.
Senior-Friendly Features to Consider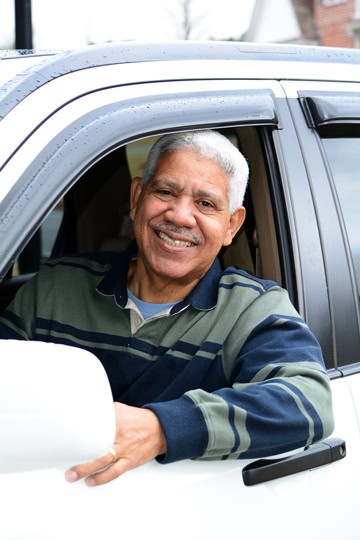 When buying any vehicle, you should always think about things like fuel economy, reliability, and price. But older drivers often have additional issues to consider, such as mobility or dexterity challenges. If you have specific concerns, it might be wise to consult an occupational therapist to find out what particular features would be the best fit for your situation.
Here are some things to look for in the best vehicles for seniors:
Accessibility
Many older adults find it difficult to squat and move sideways to get into a seat. You may want a vehicle with a low step-in height, a tall roof line, and wide-opening doors. Some seniors need to back up to a vehicle, put their rear ends on the seat, and then slide in. If that's the case for you, non-fabric seats may work best.
Thanks to their height, SUVs are easy to get in and out of. Low-slung sedans tend to be a little less accessible.
Visibility
Drivers need to be able to see from every angle: front, side, and back. Big windows and backup cameras are very helpful in that regard. Higher seats are also useful, which is why SUVs tend to offer better sightlines than sedans.
According to Consumer Reports, the Chevrolet Spark and Honda Clarity are cars that have the worst blind spots, while the Subaru Forester, Subaru Legacy, and Honda Pilot have the best visibility. And in case you're worried about not being able to see because you're vertically challenged, Consumer Reports notes that the cars that are best for short people include the Forester, Outback, Hyundai Sonata, and Toyota Highlander.
Controls
Large, easy-to-read dashboard controls are easier on aging eyes. Touchscreens can be confusing and difficult for older fingers to use, so make sure you test them out. The best ones have large fonts, intuitive graphics, and high-contrast displays. Voice controls are becoming more widespread and can be very helpful for seniors with dexterity challenges.
Safety features
Safety is a key concern for any driver, but especially for older adults, who tend to be more fragile and prone to injuries. The Insurance Institute for Highway Safety (IIHS) says that in 2020, the Kia Forte, Hyundai Sonata, Toyota Camry, Subaru Legacy, and Acura RDX are some of the safest cars to drive. That's because they perform well in crash tests, have good collision-avoidance systems, and feature powerful headlights.
Other safety features that senior drivers often appreciate include:
A backup camera that gives you a view of the area behind your vehicle that may not be visible through the rearview mirror. As of May 2018, such cameras are mandatory on all new cars in the U.S.
Automatic emergency braking that signals when a crash is imminent and slows or stops the vehicle if you don't react in time. U.S. automakers have agreed to make this a standard feature on almost all new cars by 2022.
Blind spot warning that lets you know when a vehicle is alongside yours in an area you can't readily see. This helps to prevent you from sideswiping another car when you're changing lanes.
Lane departure warning that sounds when you drift from your lane without signaling.
Lane keeping assist that automatically steers the car back into its own lane if you cross lane markers without signaling.
Rear cross-traffic alert that notifies you if vehicles are crossing behind you as you back up. This is especially useful when you are backing up in a busy parking lot or out of a driveway where your view is obscured by fences or bushes.
Adaptive cruise control that maintains a constant distance between your car and the vehicle ahead of you.
Driver attention warning that monitors your driving patterns and sounds an alert if it detects signs of drowsiness or fatigue.
Keep in mind that while such features can be helpful, they will not keep you safe if you rely on them to the extent that you don't pay careful attention to the road. It's still essential to be alert and aware of what's going on around you.
Cargo space
If you're going to be hauling stuff around (especially large items like walkers or scooters), you might want a vehicle with plenty of cargo space.
SUVs typically provide more room than sedans. However, sedans allow you to conceal your items from view in a trunk, whereas SUVs have open cargo spaces that are often accessible from the rear seats. Keep in mind that in some hybrid cars, the battery pack occupies trunk space and limits the amount of room you have for groceries and gear.
Comfort
A comfortable ride is important to keep you from getting sore or fatigued. Heated seats can be good for people with stiff hips, lower back pain, or cold sensitivity. Some models allow you to set the temperature of the seat bottom and seat back separately.
Power seats that adjust in multiple ways make it easy to accommodate different situations. For instance, perhaps you need to keep the seat further back to get in and out, but then move it closer to the wheel in order to drive. Or maybe your spouse needs different seat positioning. It's especially handy if the seats have memory settings so that you don't have to reconfigure them every time.
Adjustable pedals and steering columns can also be useful in ensuring that you get a good fit. And a power liftgate on an SUV can save you from having to manually open or close the heavy door; all you need to do is press a button or, in some cases, just wave your foot under the rear bumper.
Overall fit
Everyone's needs are different, and it's important to find the car that is best suited to you. CarFit is a program that allows seniors to have a trained technician or health professional evaluate how well their vehicles fit them. The process involves looking at factors like how you are positioned in relation to the steering wheel, seat belt, mirrors, pedals, and so on. Since the program's inception, surveys have revealed that 10 percent of participating seniors were sitting too close to the wheel, and 20 percent could not see at least three inches over it.
If you'd like to participate in the CarFit program, look for an event taking place in your area and call the contact person to reserve your spot.
9 of the Best SUVs for Seniors in 2020
If you're leaning toward the greater ruggedness and space of a sport utility vehicle, check out these top picks for seniors:
1. Kia Soul
This small SUV offers plenty of senior-friendly features at a budget-friendly price. The boxy-looking Soul has high seats, big windows, excellent visibility, and easy-to-use controls. Safety features like automatic emergency braking, lane departure warning, and adaptive cruise control are available, but are not included on the base model.
Base price: $17,490 to $27,490
2. Subaru Forester
By many measures, the Subaru Forester is the best SUV for seniors in 2020. It features outstanding visibility, simple controls, and a smooth ride. All-wheel drive and a slew of safety features come standard. Plus, with its spacious interior and just-right seat height, the Forester may also be the best SUV for seniors to get in and out of.
Base price: $24,495 to $34,595
3. Honda CR-V
Wide door openings, an exceptionally roomy interior, and one of the largest cargo areas among its competitors makes the CR-V a solid choice for older drivers. It also offers responsive handling, above-average visibility, and decent gas mileage. In fact, according to Edmunds, the Honda CR-V is the best-rated 2020 SUV in the compact class.
Base price: $25,050 to $34,750
4. Hyundai Santa Fe
It's no wonder the 2020 version of this midsize SUV is a top safety pick of the IIHS. Features like blind spot warning, rear cross-traffic alert, adaptive cruise control, and driver attention warning come standard. The Santa Fe is even equipped with sensors that prevent the rear door from opening if another vehicle is coming up from behind.
Base price: $25,900 to $39,200
5. Subaru Outback
The Outback is a midsize SUV that looks and drives more like a station wagon. It provides a roomy cabin, comfortable seats, fantastic visibility, and a smooth and quiet ride. The large front doors open wide for easy access, and the power seat can be easily adjusted. Safety features like adaptive cruise control, blind spot warning, and rear cross-traffic alert are included on all trims.
Base price: $26,645 to $39,695
6. Kia Sorento
The Sorento features a low step-in height, expansive windows, decent visibility, and user-friendly controls. It has three rows of seats and can hold up to seven passengers, although the pop-up third row is best suited to children (so feel free to bring the grandkids along). Advanced safety features are available on higher trim levels.
Base price: $26,990 to $41,890
7. Honda Pilot
Some people believe that the Honda Pilot is the most comfortable SUV in its class. It offers a spacious cabin, well-cushioned seats, adjustable armrests, and very good ride quality. Its three rows of seats can fit up to eight adults with no problems, and its cargo area offers plenty of storage space. Plus, all trims come loaded with the Honda Sensing package of driver-assistive technologies, which includes features like automatic emergency braking, adaptive cruise control, and lane keeping assist.
Base price: $31,550 to $49,620
8. Toyota Highlander
With the Highlander, you get a quiet, smooth, comfortable ride. Visibility is excellent, and the doors open almost a full 90 degrees. The three rows of seats can accommodate up to eight people, although the third row will only fit small kids. Lane keeping assist, automatic emergency braking, and adaptive cruise control are standard features. (For truly impressive fuel efficiency, consider the hybrid version, which starts at $38,200.)
Base price: $34,600 to $48,800
9. Hyundai Kona Electric
The Kona Electric is a small SUV that can go a staggering 258 miles without recharging. It's easy to get in and out of, it handles well, and its battery doesn't hog space in the cargo hold. It also comes with standard safety features like automatic emergency braking, adaptive cruise control, blind spot warning, and rear cross-traffic alert.
Base price: $37,190 to $45,400
6 of the Best Sedans for Seniors
Do you like the idea of a sleeker, more aerodynamic vehicle? Have a look at these options, which are some of the best cars for elderly passengers and older drivers:
1. Kia Forte
The Forte may well be the best small car for seniors. It offers supportive seats, well-thought-out controls, a roomy interior, an enormous trunk, and excellent gas mileage. It's also a top safety pick of the IIHS. Standard features include automatic emergency braking, lane departure warning, and lane keeping assist; additional ones like blind spot monitoring and rear cross-traffic alert are available on higher trim levels.
Base price: $17,890 to $23,090
2. Subaru Legacy
Like all Subarus (but unlike most midsize sedans), the Legacy comes with standard all-wheel drive that can make it easier to get through wet and snowy weather. The seats are comfortable, visibility is excellent, and included features like lane keeping assist and adaptive cruise control can help you stay safe on the road. The Legacy also earned top crash-test scores from the IIHS.
Base price: $22,745 to $35,895
3. Honda Insight
If you're looking for a hybrid sedan that offers outstanding fuel economy, zippy acceleration, and responsive handling, consider the Honda Insight. Built on the same platform as Honda's popular Civic sedan, the Insight provides a smooth, pleasant ride. It also features wide door openings, a roomy cabin, and well-marked controls. The Honda Sensing package of assistive technologies is included.
Base price: $22,930 to $28,340
4. Hyundai Sonata
With large door openings, a spacious cabin, and well-ventilated front seats, the redesigned 2020 Sonata makes getting in and out (and getting comfortable) a breeze. This car handles reasonably well and offers more trunk space than most other midsize sedans. It also offers a comprehensive suite of driver-assistive features, including remote parking assist that lets you park the car without even being inside it.
Base price: $23,600 to $33,500
5. Toyota Camry
There are many reasons why the Camry is consistently one of the best-selling midsize sedans in America. It provides comfy seats, easy-to-operate controls, decent visibility, excellent fuel economy, and a smooth ride. The sizeable trunk and low lift height mean you won't have to strain too much to load groceries or other items. Plus, automatic emergency braking, lane keeping assist, and adaptive cruise control come standard.
Base price: $24,425 to $35,130
6. Chevrolet Impala
Thanks to its quiet cabin, nicely padded seats, and smooth ride, some people say that the Chevrolet Impala is the most comfortable car for long trips. That's especially true if you're on the taller side, since the Impala offers more cabin space than most other sedans in its class, even in the back seat. It also features a massive trunk that dwarfs most of its rivals.
Base price: $31,620 to $36,720
6 of the Best Vehicles for Seniors on a Budget
Looking for a new car that won't break the bank? We've got you covered. All the vehicles listed in this section have entry-level base prices under $24,000. (Of course, you could score some even better deals by looking at used cars rather than brand new models.)
While some sedans and SUVs described above would certainly qualify for this category, here are a few more of the best new cars for seniors that come with a lower price tag:
1. Kia Rio
With the Rio, you get a well-built sedan at a wallet-friendly price. The front seats are decently roomy (but must be adjusted manually), it handles reasonably well, and it's noticeably quieter than many of its rivals. It also comes with an impressive warranty. However, the small doors and low height make entry and exit a bit challenging.
Base price: $15,850 to $16,490
2. Nissan Kicks
The Nissan Kicks is a small SUV that has a huge cargo area, is good on gas, and is cheaper than many of its competitors. Getting in and out is easy, though the seats are not especially comfortable. Automatic emergency braking, adaptive cruise control, blind spot warning, and rear cross-traffic alert are standard on all trims.
Base price: $18,870 to $21,210
3. Mazda CX-3
Its sharp steering and agile handling make the CX-3 a joy to drive. In fact, it delivers one of the most comfortable rides of any small SUV. It also offers a stylish and spacious cabin, good visibility, and decent fuel efficiency. Automatic emergency braking, blind spot warning, and rear cross-traffic alert come standard. There's not much passenger room in the rear seat or cargo capacity in the back, but those might not be deal-breakers for you.
Base price: $20,640 to $22,040
4. Subaru Crosstrek
If winter tends to be nasty where you live, the Crosstrek's higher ground clearance and standard all-wheel drive may be appealing. This small SUV provides a roomy interior, comfortable ride, and fantastic visibility. Its weak spot is performance; it's slow to accelerate, and it doesn't handle as well as some other SUVs in its class.
Base price: $22,145 to $35,145
5. Nissan Rogue Sport
With great visibility and plenty of cabin and cargo space, the Rogue Sport is a small SUV to consider. It comes with a tilt-and-telescoping wheel, and the driver's seat can be adjusted for height. Automatic emergency braking, blind-spot warning, and rear cross-traffic alert are standard even on the base model. Its small size makes it easy to maneuver in tight spaces, but its underpowered engine makes for slow acceleration.
Base price: $23,240 to $29,800
6. Hyundai Tucson
The Tucson offers a ton of value for an SUV in this price range. It has a spacious and comfy cabin, it handles well, and it provides a smooth, quiet ride. Automatic emergency braking, lane keeping assist, and a driver fatigue monitoring system are included on all trim levels. However, cargo space is a bit limited compared to many of its rivals.
Base price: $23,550 to $33,300
5 of the Best Luxury Cars for Seniors
If you have the means, why not enjoy some of the finer things in your retirement years? Some of the best 2020 luxury vehicles for seniors include:
1. Acura RDX
The Acura RDX is a luxury SUV that offers fantastic build quality, ample cabin space, power-adjustable (and heated) seats, and a tilt-and-telescoping steering wheel. It also boasts plenty of cargo space and above-average fuel economy along with automatic emergency braking, adaptive cruise control, lane departure warning, and lane keeping assist.
Base price: $37,600 to $47,700
2. Mercedes-Benz GLC
According to Edmunds, the Mercedes-Benz GLC is one of the best small luxury SUVs for 2020. It has an exceptionally plush interior, it's easy to maneuver, and it delivers a silky-smooth ride. It also features a low step-in height, generous interior space, and outstanding visibility. Automatic emergency braking and a driver attention warning system come standard on all trims.
Base price: $42,500 to $73,750
3. Lexus RX 350
Offering supremely comfortable seats and a smooth, quiet ride, the RX 350 is a solid option among midsize luxury SUVs. It comes with keyless entry and ignition, power-adjustable seats, and a range of senior-friendly safety features. Plus, getting in and out is a simple matter due to the wide door openings and elevated seat height.
Base price: $44,150 to $51,750
4. BMW 5 Series
This is one of the best midsize luxury sedans on the market. It offers a sumptuous interior, with heated and ventilated seats that can be easily adjusted. The doors open wide for easy access, all-around visibility is fantastic, and the trunk is one of the largest in this class. A full complement of advanced driver-assistive technologies come standard and work exceptionally well.
Base price: $53,900 to $76,650
5. Genesis G90
Few large luxury sedans offer more value than the G90. It provides upscale styling and a cushy ride, with a soft-yet-supportive driver's seat that can be adjusted 22 different ways. Both front seats automatically move back when the car doors open and return to their original position when the doors close, making it easier to get in and out. Its trunk area is smaller than most of its competitors, but its price tag is also thousands less.
Base price: $72,200 to $78,200
The Best Vehicles for Older Adults With Disabilities
The best car for a disabled person is the one that most closely matches his or her specific needs. If you are wheelchair-bound or have some other sort of mobility issue, the National Mobility Equipment Dealers Association (NMEDA) can help you select a vehicle and/or adaptive equipment that is appropriate for your situation. Use the NMEDA website to search for a member dealer in your area.
If you have physical challenges such as chronic pain or stiff joints, some vehicles will work better for you than others. For instance, the best cars for seniors with arthritis have keyless entry, push-button ignition, power seats, an easy-to-grip steering wheel, power mirrors, and voice controls. Heated seats can help keep you comfortable, and heated side mirrors can keep you from having to scrape ice off of them.
Many of the vehicles mentioned above, including the Subaru Forester, Hyundai Sonata, Honda CR-V, Acura RDX, and Kia Soul, could also be listed in this category. Here are a few more models to consider:
1. Ford Escape
The Escape combines the driveability of a sedan with the versatility of an SUV. Its ideal seat height makes it easy to get in and out of, and all models except the base one come with keyless entry and ignition as well as heated and power-adjustable seats. Heated side mirrors and a power liftgate are available on higher trims.
Base price: $24,885 to $36,835
2. Honda Odyssey
This article focuses on sedans and SUVs, but the top-rated Odyssey is a minivan worth mentioning. All trim levels except the base one boast keyless entry and ignition, power-sliding doors, heated front seats, and a full suite of safety features. The second-row seats can even slide apart laterally for easier access to the third row or be removed for additional space. Plus, the Odyssey can easily be modified with wheelchair ramps and other mobility aids.
Base price: $30,690 to $47,320
3. Mazda CX-9
Here's another SUV that drives more like a sedan. The CX-9 offers a powerful engine, nimble handling, supportive seats, and a comfortable ride. The cabin is roomy, and the doors open wide for easier entry. Blind spot warning, rear cross-traffic alert, adaptive cruise control, lane keeping assist, and automatic emergency braking come standard.
Base price: $33,890 to $46,215
Tips on Buying a Used Car
Buying a used vehicle can be a great way to get a set of wheels for less money, but you still want to make sure you're getting some bang for your buck. Here are a few tips to help you:
1. Research reliability.
The best car for seniors is one that is less likely to break down. A good way to find such a model is by checking out the vehicles on Consumer Reports' best used cars lists. These vehicles have shown to be consistently reliable over several years, so you can be reasonably sure they'll hold up well. The lists include everything from small cars and midsize sedans to luxury vehicles and SUVs.
If your friends, neighbors, or family members have the kind of car you're interested in, get their opinions about the pros and cons. Also, read online reviews to see what other vehicle owners have to say.
2. Decide whether to buy from a dealer or a private seller.
Auto dealerships typically have a broad selection of pre-owned vehicles from which to choose. In some cases, dealerships offer certified used cars that have undergone an inspection and come with a limited warranty.
By law, all used vehicles offered for sale by dealers must display a Buyer's Guide that includes information such as whether the vehicle comes with a warranty or is being sold as is. If a warranty is included, the Buyer's Guide will also specify what percentage of the repair costs the dealer will cover.
If it's an as-is situation, you need to thoroughly check the vehicle's condition, since you will be responsible for any maintenance or repair issues that come up after purchase. Keep in mind that some states do not allow dealers to offer as-is sales on used vehicles.
Private sellers will generally offer better prices than dealers, but private sales are as-is, so you need to be cautious. Even if the vehicle is under a manufacturer's warranty, the warranty may not be transferable. That's why it's important to have the car checked out by a qualified mechanic.
3. Get a vehicle history report.
A vehicle history report can give you key information such as the car's repair records and odometer history and whether it has ever been involved in an accident or declared as salvage. The National Motor Vehicle Title Information System offers links to a number of approved companies that provide such reports. Most providers charge a fee for this service. You'll need to enter the 17-digit vehicle identification number (VIN), which can be found where the dashboard meets the windshield on the driver's side.
You can also enter the VIN into this tool from the National Highway Traffic Safety Administration to see if the vehicle has any recalls on it that have not yet been addressed.
4. Inspect the car and check service records.
Before you even think about driving anywhere in the vehicle, perform a visual inspection that covers the following:
Look closely for scratches, dents, cracks, and chips.
Make sure the seat belt is not frayed.
Check that all lights (turn signals, headlights, brake lights, reverse lights, and hazards) are functioning.
Look for signs of rust or corrosion on the engine, battery, and radiator.
Check that the engine oil, transmission fluid, engine coolant, and brake fluid are filled to the appropriate levels and are not leaking.
Ensure that the tires are evenly worn on both sides of the vehicle.
Make sure all doors and windows open and close properly.
If the dealer or private owner has maintenance records on the vehicle, be sure to review them. Also, it's a good idea to have a look at the manufacturer's maintenance schedule to see if any costly repairs are coming up soon based on the vehicle's mileage.
5. Take a test drive.
You should always take a vehicle out for a spin so that you can properly evaluate its performance. Spend at least half an hour driving around testing out the engine, brakes, suspension, and ease of handling. If possible, take it on the highway as well as on bumpy roads. Get answers to questions like:
Do you fit comfortably behind the wheel?
Are the pedals within easy reach?
Do the brakes rattle, bang, or make a grinding sound?
Is it quiet in the cabin?
Do the heater and air conditioner work properly?
Does the steering wheel vibrate?
Does the car tend to veer to one side?
6. Have a pro look at it.
Take the vehicle to a qualified technician who has experience with automotive diagnostic work. He or she will be able to assess the car's mechanical condition and identify any necessary repairs. This will generally cost you around $100 to $120. If you don't have a mechanic you regularly use, ask around for referrals. (But don't take recommendations from whoever is selling the vehicle.)
An independent inspection is highly recommended even if you are buying from a dealer. Many dealers will allow you to borrow the car for such a purpose provided you leave identification. If insurance restrictions don't allow for that, see if you can find a mobile inspection service that can do the assessment on-site at the dealership.
Get on the Road
As you can see, the best cars for seniors span a wide range of makes and models. With the tips provided above, you can evaluate your needs and find the vehicle that is best suited to you.