Senior Discounts 2023
Senior Discounts 2023: How to Keep More Cash in Your Pockets
By Publisher
| Last updated
Senior discounts are some of the perks that come with crossing the half-century mark. Many retailers, restaurants, hotels, transportation companies, and insurance firms cater to older adults by offering discounted prices on everything from the food they eat to the clothes they wear.
From a marketing standpoint, this makes total sense. After all, as a group, seniors have enormous spending power. According to an AARP analysis, adults age 50 and older made up half of the global consumer spending, in 2020 equal to $35 trillion. Savvy marketers know that the best senior discounts can turn older adults into loyal customers — and pay huge dividends.
Your senior status can be an economic advantage. However, while senior discounts are commonly available, they aren't always clearly advertised. The best strategy is to always ask. Many clerks are reluctant to apply a discount based on age for fear of offending customers, but it's worth your while to speak up and see if you can save a few dollars.
The Pros and Cons of Joining AARP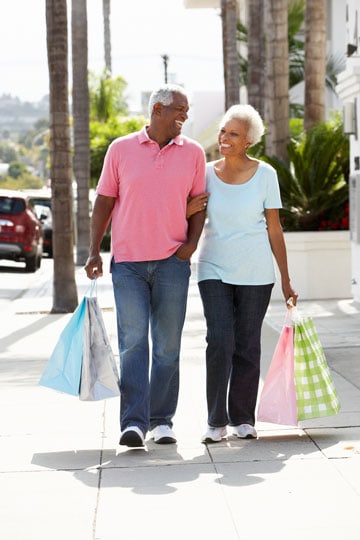 AARP (formerly known as the American Association of Retired Persons) is a lobbying organization for people age 50 and up. For a yearly fee, members get access to discounts on food, entertainment, travel, insurance, and more. The AARP discount list even includes things like glasses and hearing aids. Spouses are included for free on a membership.
Is AARP worth it? That depends. Many places offer discounts for seniors without requiring AARP membership. If you're a member of an auto club, you may find that the discounts available to you are just as good as the ones through AARP. And some people disagree with AARP's politics and choose not to support the organization. (Remember: It's primarily a lobby group.)
On the other hand, being a member of AARP can lower the age for senior discounts. At many places, discounts don't begin until at least age 55, but you can become an AARP member at 50 and take advantage of some savings. The association also offers its members access to health insurance, which can be a big bonus if you're too young for Medicare.
It's important to do your research and make the decision that's right for you.
Senior Discounts at Restaurants
According to a report, American adults over the age of 55 eat somewhere other than their homes three to five times a week. A number of eating establishments offer discounts to older adults to help bring those costs down.
Restaurants that offer senior discounts
Many restaurants offer lower prices to older adults on the basis of age. While the qualifying age varies from place to place, most of the deals on this list are discounts for seniors 55 and older. Keep in mind that many of these discounts are not advertised and can change at any time. Following is a partial list of restaurants that offer discounts to seniors.
IHOP
Diners over the age of 55 can take advantage of the IHOP senior discount, which comes in the form of a special menu with reduced prices.
Denny's
If you are an AARP member, at participating locations you can enjoy 15% off your bill.
McDonald's
McDonald's may offer a senior discount depending on location. Check with your local restaurant for age requirements and availability.
Chick-fil-A
Anyone who joins Chick-fil-A's rewards program can accumulate points that can be used for free food.
El Pollo Loco
There is a 10 percent discount offered to diners 60 or older at participating restaurant locations.
Outback Steakhouse
AARP members can receive 10% off their bill at participating restaurants.
Senior Discounts on Clothing
Retirees may not need to spend money on work clothes, but not all seniors are retired. Plus, everyone needs new threads now and then, and getting them for less is a nice perk. There are many stores that offer senior citizen discounts on apparel.
Kohl's
Shoppers over age 60 get 15 percent off in-store purchases every Wednesday. You'll need to bring proof of age to receive the price reduction. The discount is not valid on gift cards, sporting goods, or some clothing brands.
Bealls Outlet
All shoppers can sign up for the MORE rewards program that nets a 10 percent discount in Bealls Outlet stores every Monday.
Goodwill
Discounts and senior discount age vary by location. Check with your local Goodwill store for details.
Senior Discounts at Grocery, Drug, and Other Retail Stores
The world's biggest retailer unfortunately does not offer any special deals for senior citizens. (It's sad but true: There is no Walmart senior discount.) However, plenty of other retail stores do offer discounts. Depending on your age, your location, and the day of the week, you could save anywhere from five to 20 percent. Remember that these promotions can change at any time, so be sure to contact your local store to verify what's available.
Walgreens
AARP members, as well as anyone over 55, can get up to 20 percent off at Walgreens on the first Tuesday of the month when they use their Balance Rewards card. Note that you can't use the discount for prescriptions.
Fred Meyer
Seniors who are 55-plus can get a 10 percent discount on clothing, shoes, sporting goods, and other items on the first Tuesday of each month. Some restrictions apply.
Home Depot
There is no Home Depot senior discount per se, but the retailer does offer a 10 percent discount (up to $500) to veterans, which would apply to some seniors. You need proof of military service to get this deal.
Harris Teeter
If you're over 60, you can save five percent every Thursday at Harris Teeter stores. The discount does not apply to pharmacy purchases.
Rite Aid Pharmacy
Seniors over 65 can join Rite Aid's Rewards 65+ program and receive 5x Rite Aid Reward points on purchases the first Wednesday of every month, featured products, and more.
Senior Discounts on Hotels
An AARP travel survey found that, despite concerns regarding the pandemic, 54% of baby boomers expected to travel in 2021. While Covid-19 put a damper on many travel plans in 2020, there are still plenty of hotels offering discounts on accommodations to older adults when they are ready to travel.
AARP hotel discounts
When it comes to AARP discounts, hotels are a key perk. Members are entitled to the following special deals:
Choice Hotels: Members get up to 10 percent off at Ascend Hotels, Cambria Hotels, Comfort Inn, Comfort Suites, Quality Inn, Sleep Inn, Econo Lodge, Clarion, Mainstay Suites, Rodeway Inn, and Suburban Extended Stay.
Hilton: Members receive five percent off and late checkout at Curio, DoubleTree, Embassy Suites, Hilton Grand Vacations, Hilton Hotels & Resorts, and Waldorf Astoria Hotels & Resorts. Members get up to 10 percent off and late checkout at Hampton, Hilton Garden Inn, Home2 Suites, and Homewood Suites.
Wyndham: Members get a 10 percent discount at Travelodge, Howard Johnson, Ramada, Super 8, Baymont Inn & Suites, Days Inn, AmericInn, Esplendor Boutique Hotels, Hawthorn Suites, Dazzler, Dolce, TRYP, La Quinta, Microtel Inn & Suites, Trademark Collection, Wingate, and Wyndham Hotels & Resorts.
Best Western: AARP members get five to 15 percent off at all Best Western-branded hotels in the U.S. and Canada.
InterContinental Hotels Group: Seniors over 62 who are members of a retired-persons organization can get a Senior Discount Rate at Staybridge Suites, Crowne Plaza, Candlewood Suites, InterContinental, Hotel Indigo, Holiday Inn Express, and Holiday Inn.
You will typically need to show your membership card to get the discount, but not all places ask for it. It's a good idea to carry it with you just in case.
Hotels that offer senior discounts to the general public
In many cases, you don't need to be a member of a particular group to get a reduced price on hotel accommodations. Most of the following deals are available to seniors over 60, though a few will give discounts to people as young as 55.
Best Western
Seniors 55 and older can get up to 15 percent or more off the cost of their room. Proof of age is required at check-in.
Choice Hotels
If you're 60-plus, you can save up to 10 percent if you book in advance.
Wyndham
Anyone over the age of 60 can get up to 10 percent off at most hotels in the Wyndham family, including Baymont Inn & Suites, Hawthorn Suites by Wyndham, Howard Johnson, Ramada, Super 8 and La Quinta.
Marriott
At most Marriott hotels, a discount rate is available to senior travelers who are over 62.
Omni Hotels & Resorts
Seniors can get special rates on accommodations at Omni Hotels.
Travel Discounts for Seniors
Are you looking for discounts that will help you see the world? You can get out and about for less with these deals from travel providers.
National Park Service
Seniors over the age of 62 get 75 percent off the cost of an annual pass. In fact, seniors can get a lifetime pass for $80, which is what most adults must pay for a single year.
State parks
State park discounts for seniors vary in terms of both cost and age requirements. California, Colorado, Indiana, Kansas, and Louisiana are just a few of the states that offer special deals on park passes for senior citizens. Look into the details where you live.
Amtrak
If you're 65 or older, you can get a 10 percent discount on fares on most Amtrak trains. For those routes that cross the Canadian border and are operated jointly with VIA Rail Canada, travelers over 60 can get a 10 percent discount.
Trailways
Anyone 65 or older can get 10 percent off the adult fare. Valid ID is required.
Carnival Cruise Line
Special discounts on select sailings are available to those over 55.
Royal Caribbean International
Royal Caribbean offers special rates on certain sailings to anyone over the age of 55.
Avis Rent a Car and Budget Rent a Car
AARP members get up to 35 percent off at both of these companies. Members also do not have to pay the fee for one additional driver.
Hertz
Drivers over age 50 can get special rates on car rentals from Hertz.
United Airlines
Special senior fares on select routes are available to people 65 and older.
Grand Canyon Railway
Anyone 50 or over can receive 15 percent off both train travel and accommodations at the Grand Canyon Railway Hotel.
Senior Discounts on Insurance
Even if you have one of the best cars for seniors, operating and maintaining a vehicle can be hugely expensive. That's particularly true for older adults on fixed incomes. Fortunately, there are plenty of insurance companies that recognize that reality and offer reduced rates for senior citizens.
AARP insurance discounts
AARP partners with insurance companies to offer members-only rates on auto, life, vision, health, home, and dental insurance for seniors. Whether these are the best deals for you depends on your individual situation, so be sure to shop around.
State Farm
While it's not specifically a discount for seniors, State Farm's Drive Safe & Save program can cut some drivers' insurance bills by up to 30 percent. Using data from your vehicle's OnStar system, State Farm looks at your mileage and driving patterns to calculate how much you can save on your premium. Seniors who don't typically drive very much could save big.
GEICO
GEICO offers a range of car insurance discounts for the 50-plus crowd. In some states, it also offers a guaranteed renewal contract to seniors who have been accident-free for three years and do not have any drivers under 25 in their households.