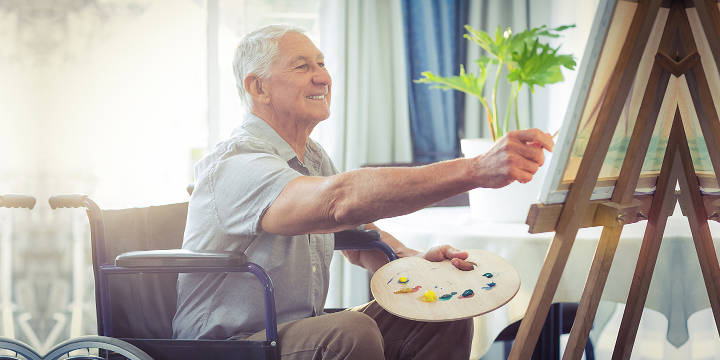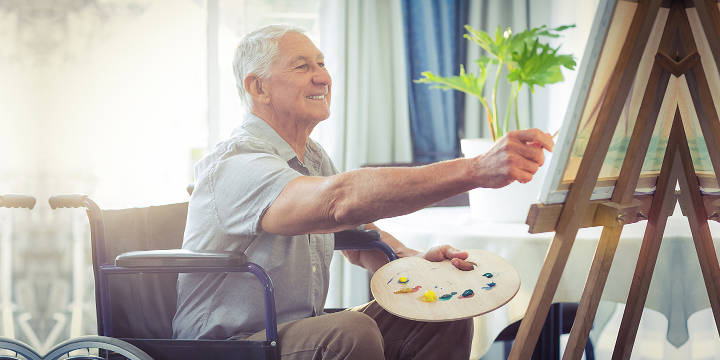 Assisted Living Facility FAQs
Assisted Living Facilities: Find Answers to Your Questions and Make an Informed Decision
By Publisher
| Last updated
Are you trying to figure out which assisted living facilities (ALFs) are right for you or your loved one? Do you have a lot of questions but few answers? Maybe you need answers to questions like "How does assisted living work?" or "Who pays for assisted living?" Well, you'll find answers to those questions and many more right here. We want to help you make the transition from home to assisted living as easy as possible.
People are living longer than ever and discovering ways to extend their healthy years so that they can truly enjoy their retirements. By finding a great retirement community that makes you feel at home and meets all of your care needs, you or your family member can be one of those people.
With a growing senior population, it's more important than ever to find an assisted living facility that's a good match and offers high-quality care. By doing your research up front, you'll help ensure that the right choice is made before you or your loved one commits to moving in. You may even want to visit many different care facilities and evaluate each one on a variety of essential aspects.
So take a moment right now to explore some of the most common questions and answers about assisted living facilities. Here are the top questions that can start pointing you in the right direction:
What Is Assisted Living?
There isn't just one standard definition of assisted living. However, assisted living generally refers to senior care facilities that offer some personal care services, 24-hour emergency assistance, and social support. They often provide meal preparation and housekeeping services as well as assistance with other daily living activities. The common goal of assisted living facilities (ALFs) is to meet their residents' needs while trying to help them maintain as much independence as possible.
ALFs are often split into two major categories: continuing care retirement communities and homes for the elderly. The primary difference between those two categories is whether or not nursing care is offered. Continuing care retirement communities typically offer on-site nursing care, whereas homes for the elderly often don't. Assisted living homes for the elderly tend to be facilities for semi-independent living and serve seniors who need some assistance but don't have very demanding medical needs.
The levels of care are often different from one ALF to another. Even the look and feel of various facilities can be quite different. Some assisted living residences appear more traditional and institutional, whereas others feel more comfortable and homelike. Some facilities are more basic, whereas others are more luxurious. The number of residents in a facility or community can also vary substantially. One ALF could have 50 residents while another could have hundreds.
So, as you explore all of the available options, you'll probably find many differences between individual facilities—even between facilities within the same neighborhoods. In fact, even the types of buildings are frequently varied. For example, assisted living apartments and condos are quite common. But some places also have large homes or institutional buildings (such as former schools) that have been converted into assisted living facilities.
Ultimately, assisted living facilities are mostly for seniors who want to continue living as independently as possible but need assistance with some of their daily activities. Staff and management work to make their residents feel at home as much as possible. They also aim to extend their residents' independence in order to delay any necessary moves into dependent-care facilities such as nursing homes.
What's the Difference Between Assisted Living and Nursing Home Care?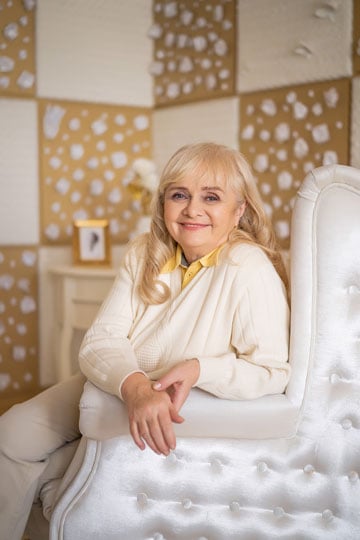 When it comes to assisted living vs. nursing home care, how do you know which option is best for you or your loved one? Simply put, assisted living residents tend to be more independent and don't require a high level of care day and night. Seniors in assisted living facilities are often more mobile and, typically, not bed-ridden. They usually have their own private apartments or living quarters.
In contrast, nursing home residents usually have smaller rooms that are either private or shared with a roommate. They also tend to need more frequent nursing and medical care. Additionally, nursing homes are usually a lot more expensive than assisted living facilities.
Learn more about the differences between assisted living facilities and nursing homes.
When Can Seniors Go Into Assisted Living Facilities?
A lot of seniors (and families of seniors) have the same question: "When is it time for assisted living?" The answer isn't always straightforward. That's because it depends more on your care requirements than on your age. Even so, the 2014 CDC report noted that the age of residents in assisted living facilities broke down as follows:
65 to 74 years old: 10.4 percent
75 to 84 years old: 29.9 percent
85 and older: 52.6 percent
Prior to entering an assisted living facility, most seniors have a caregiver, or multiple caregivers, helping them out in their homes. Those caregivers can include home health aides, spouses, family members, or friends. So discussions about moving into an ALF may need to begin when the home care of you or your loved one becomes too demanding. The need may also arise if you or your loved one's safety or well-being is clearly at risk when alone.
When deciding whether it's time for you or a family member to move into an ALF, here are some points to consider:
Home safety: Are there concerns like stovetops being left on? Or are you or your loved one having more frequent and serious falls or accidents?
Worsening personal health: Is it harder for you or your loved one to recover from colds and flus? Are any chronic diseases or conditions worsening?
Growing care needs: Do you or your family member need daily assistance with activities like getting dressed, taking medications, or getting to and from appointments and social outings?
Declining cognitive abilities: Are you or your loved one unable to make decisions or having a hard time following instructions or directions? Are constant reminders needed?
Inadequate nutrition: Are you or your family member losing weight because of an inability to buy groceries or prepare meals? Or is weight being gained due to eating too many unhealthy foods or improperly managing diseases such as diabetes?
Lack of personal hygiene: Are you or your loved one no longer bathing or brushing teeth on a regular basis? Are dirty clothes regularly being worn?
Lack of social interaction: Are you or your family member no longer getting out of the house to interact with friends or social groups?
Inability to manage finances: Do you or your loved one have a large amount of unopened mail, bills, collection letters, or unusual thank you letters from charities around the house?
Poor driving abilities: If you or your loved one still drives, have you noticed an increasing number of close calls, fender benders, or traffic violations? If you've ridden with your loved one, have you noticed things like failure to wear a seatbelt or driving too fast or too slow?
Inability to manage the household: When you look around your house or your loved one's house, are you regularly finding things like rotten food in the fridge or on the counters, garbage that needs to be taken out, spills that need to be cleaned up, increasing piles of clutter, dead plants, malnourished pets, an overgrown yard, or neglected home repairs?
When the staff at an ALF go through the criteria for assisted living at their facility, they will often refer to many of the points mentioned above. Additionally, a final important consideration is whether you or your loved one has dementia or Alzheimer's. As seniors with dementia age, they often start wandering, become increasingly confused, and display more agitated or aggressive behavior. Changes such as those often highlight the need to move into an ALF or nursing home.
A growing number of ALFs and nursing homes have special units for dementia patients. According to the Alzheimer's Association, that's due to these facts: As of 2019, about 5.8 million Americans live with Alzheimer's, which is the most common cause of dementia. It is projected that, by 2050, almost 14 million Americans will have Alzheimer's, the large majority of them being seniors.
As you assess the care needs of you or your loved one, it's important to remember that, as they age and their care needs change, they may need to move from an ALF to a nursing home. Some elderly residents will need to move to nursing homes when their cognitive or physical impairments become more severe and they require constant supervision or around-the-clock care.
What Are the Differences Between Various Assisted Living Facilities?
Assisted living facility requirements are mostly regulated at the state level rather than at the federal level. So some of the care and services that are available at licensed ALFs vary from state to state. (Just keep in mind that not all assisted living facilities are state licensed.) You can check with your state's Department of Human Services to find out which services are mandated in a licensed facility. You can also find out how many nurses and full-time staff members are required to be on-shift per resident. Your state should also be able to identify its quality standards for care as well as the processes for monitoring and enforcing regulations.
That said, all ALFs in the country must adhere to the Americans with Disabilities Act as well as the Fair Housing Act. Assisted living facilities also must meet basic fire and safety regulations. Other than that, you will find that the services and amenities at various elderly assisted living facilities are often substantially different.
Some assisted living communities are situated near bodies of water, making many of their activities water-based. Others may center around activities such as golf. There are communities that are pet-friendly and others that are focused on specific cultures, languages, religions, or even dietary needs. A community's amenities can include:
Commercial kitchens
Dining rooms
Bistros, restaurants, and coffee shops
Spas and salons
Swimming pools
When considering assisted living, levels of care are also important to look at. As mentioned above, assisted living dementia care is becoming increasingly important. ALFs that offer dementia care often have special care units (SCUs). The building of such a facility will usually have a specific floor or wing where residents with dementia live. You'll often find features like automatically locking doors, motion sensors and alarms, extra staff, and different types of programs and activities. One ALF may provide care for any stage of dementia, whereas another may be set up only for residents who are in the early stages of the disorder.
So it's really important to be clear about the types and levels of services that different ALFs offer. You want to be sure that you or your loved one will enjoy the facility and get appropriate care. To give you an idea of what is out there, the CDC report looked at ALFs and the types of care they offered. Take a look at the findings from 2014, which include the percentages of ALFs in the country that offered the specific services covered in the study:
Dementia care: 12 percent
Social work services: 48 percent
Mental health or counseling services: 52 percent
Dental services: 54 percent
Skilled nursing or nursing services: 59 percent
Hospice services: 62 percent
Therapeutic services: 62 percent
Podiatry services: 74 percent
Pharmacy or pharmacist services: 82 percent
Depression screening: 83 percent
How Much Does Assisted Living Cost?
Although assisted living costs can vary substantially, ALFs are often less expensive than in-home or nursing home services that are located in the same geographic area. How much you will pay depends on where the facility is located, the type of accommodations that are included, and the services that are offered. When interviewing ALFs, be sure to ask about exactly what is included so that you don't end up with surprise expenses.
You may be quoted a base rate, which will often include one or two daily meals. But it may not include services like laundry or housekeeping. Many facilities have a points system that is based on a resident's needs and is used to determine what his or her monthly fee will be. Other ALFs have a multi-level (or tiered) pricing system. Still others may have all-inclusive pricing. Some ALFs also offer pricing on a fee-per-service basis or a la carte (i.e., a fee is added to your bill each time a service is used).
In 2016, the national median price for a private, one-bedroom unit in an ALF was $3,268 per month, according to Genworth. The state of Missouri offered the lowest rates. The median there was $2,357 per month. In contrast, the District of Columbia had the highest monthly rates with a median of $6,700.
Many people wonder if non-profit assisted living facilities offer lower rates. According to the CDC report, the reality is that almost 82 percent of ALFs are for-profit, so non-profit facilities can be hard to find. Even when you do find them, there is no assurance that their rates will be any lower. Additionally, non-profit ALFs are more likely to be affiliated with specific groups or associations such as ethnic, professional, or religious organizations.
According to SBDCNet, almost 70 percent of seniors who are living in assisted living facilities rely on their personal and family wealth to pay their costs. Seniors typically pay for assisted living with funds from their:
Investment portfolios
Savings accounts
Home sale proceeds
Children or families
It's important to note that some ALFs are willing to negotiate their prices. They may offer a lower base rate if their occupancy rates are low. Or they may be willing to include a clause in your contract that guarantees that your rates will stay the same for a set period of time. Don't be afraid to negotiate in order to make assisted living more affordable for you or your loved one.
Does Medicaid Cover Assisted Living? Are There Other Funding Options?
Historically, Medicaid only provided assistance for nursing homes and didn't cover expenses for assisted living facilities. But many states are enacting changes so that Medicaid will cover ALF expenses. However, in the states and regions where Medicaid can be used, it doesn't typically cover all of the costs associated with assisted living.
According to the American Council on Aging, as of 2019, the District of Columbia and 40 states offer some level of assistance through Home and Community Based Services (HCBS) Medicaid waivers. Some state Medicaid plans themselves also offer help with ALF costs. Availability varies by each state and district, and there are several types of plans and waivers that can be used. Waivers frequently offer higher payments, but they are typically enrollment-capped and require residents to have high-level care needs. State Medicaid plans may be lower-paying than waivers, but there are no enrollment caps, and the care requirements usually aren't as restrictive.
You will definitely need to look into the regulations for your specific area of residence. What qualifies as assisted living (and which services are paid for) changes between states and regions. Plus, although Medicaid may be used in certain areas, not all ALFs will accept it. So, whether Medicaid is an option needs to be assessed on an individual basis because there are many factors to consider. It isn't always available, or even the best option.
That said, with regard to Medicaid coverage, great progress has been made in recent years. And it is expected to keep improving. That's good because, until Medicaid expands or more public funding options become available, getting assisted living with no money or limited funds can be hard to achieve. It's important for government agencies, businesses, and organizations to work together to continue creating affordable senior living options.
So, as you sort out how to pay for assisted living, you may want to explore a variety of financing and funding options. Other federal, state, non-profit, and private funding options that may be available to you include:
What Kinds of Questions Should Be Asked When Picking an Assisted Living Facility?
When coming up with assisted living questions to ask, you will probably find that your list is quite long. After all, this is a huge decision for you or your loved one. It is a life-changing choice, and you want to be sure that you or your loved one will be comfortable and well cared for in a place that really feels like home.
You'll want to be clear about the different levels of care that are offered. Make sure you look to the future too. For example, is there a point when you or your loved one will have to be transferred to a nursing home? It's important to anticipate future needs and assess how quickly those needs may change. You may also want to find out about some of the most common reasons why residents are asked to leave a particular assisted living community.
Although first impressions are important, be sure to look deeper when you first visit a community that you're considering. Before you even arrive, make up your list of questions. Think about the services and features that are important to you or your loved one. How would you or your loved one define a high quality of living? It's also helpful to talk to several current residents and their families. What do they like or dislike about the community?
To help you start devising your questions, here are six key areas to consider, along with possible questions that you may want to ask.
1. Affordability
Are the rates affordable now, and will they still be affordable in the future?
Is Medicaid accepted?
Are there any programs that can help you cover the cost of services?
Do the agreements disclose all of the services and fees?
Are there different fee structures based on the changing needs of residents?
What are the refund and transfer policies?
Is personal renter's insurance required?
2. Staffing and Care
Do residents have written care plans, and are those plans reviewed and updated regularly?
How do the facility's staff assess residents' needs?
What are the policies for the storage and distribution of medication?
Are residents allowed to self-administer medication?
Are there staff members who help coordinate home health care visits, appointments, etc.?
How are medical emergencies handled?
What personal care services are available?
What kind of transportation is available, and how is it scheduled?
Does the community run criminal record and background checks on their staff?
Is it easy for you to speak to management?
How well are the staff trained? What are their education requirements?
Are nurses available daily and on-call through the night?
Are you able to speak to other families and residents to ask about their experiences?
Can you drop in unannounced to observe the staff and residents?
Is there a dementia care or Alzheimer's unit?
3. Safety
Are there appropriate safety features installed in the living units, such as grab bars in the tub?
Is it easy to call a staff member from the living unit?
Are the doors and property secure?
Are there any public complaints about the community?
Are there any abuse allegations against staff members at the facility?
Have any of the staff members been criminally charged?
4. Living Quarters and Facility
Does the facility feel welcoming, comfortable, and homelike?
Are the staff and managers friendly with residents and visitors?
Do the residents appear to be happy?
Do the residents appear to be well cared for?
Can residents maintain a certain level of privacy and independence?
Who is allowed in the personal living quarters?
Are there different types of apartments or studios available?
Are the living quarters furnished?
What items are allowed or prohibited within the community and in the living quarters?
Can residents have food and cook in their apartments?
Are there certain schedules that need to be followed?
Is the community well laid out and easy to navigate?
Is the community equipped with appropriate safety features, such as handrails, no-skid flooring, smoke detectors, and tall toilets for elderly people?
What are the smoking policies?
Do the menus change daily?
How many meals and snacks are included in the quoted rate?
Can special meal requests and specific dietary needs be met?
Can residents eat whenever and wherever they like, including in their own living quarters?
Is the building clean and well maintained?
5. Communication
Are families kept informed on a regular basis?
Is it easy for families to contact facility staff?
Are families notified of any changes in a resident's care?
How are families informed of medical emergencies?
Is there an appeal process for a dissatisfied resident or family member?
6. Personal Enjoyment
Do you feel that you or your loved one is going to be happy living there?
Can you view any resident satisfaction surveys?
Are you able to eat a couple of meals there to see what the food is like?
Are there events and organized activities available to residents, including outside of the community?
Are residents encouraged to participate in events and activities?
Are pets allowed in the facility and within private living quarters?
Can family members spend the night in the residents' private living quarters?