Gone But Not Forgotten
Gone But Not Forgotten
Photoshopping Deceased Celebrities Into The Future
By Publisher
| Last updated
Watching someone pass before their time — perhaps before the pinnacle of their work — can make you wonder, "What if?" Whether they were presidents, princesses, political activists, or performers, it's intriguing to ponder how they would have continued to shape the world.
But how would the world and time have changed their appearance? We looked at several larger-than-life individuals who had a profound impact in several fields to see what they could have continued to accomplish had they lived on and how they may have looked while doing it.
This article contains affiliate links. We are compensated with a small commission, at no extra cost to you, for sales made through the links.
Amelia Earhart
The first female aviator to fly solo across the Atlantic Ocean
Disappeared while flying over the Pacific Ocean in 1937
Declared dead in absentia at age 41 in 1939 (though more recent research suggests Earhart died as a castaway)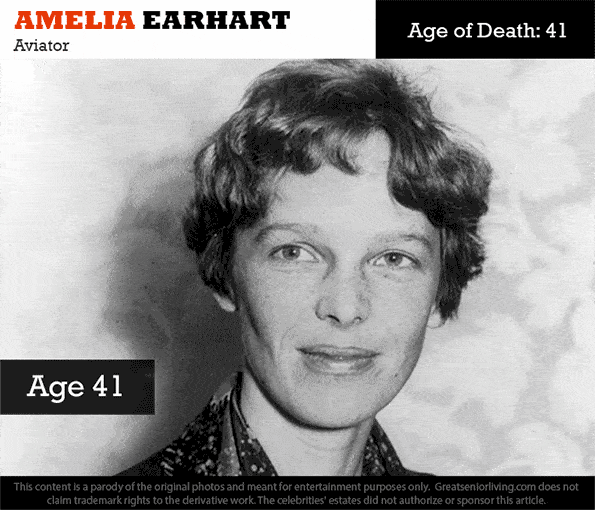 How would the world possibly be different if she had lived to an old age?
Earhart's infamous flight had an air of opportunity for women: Although she wasn't the first female pilot, she was the first to undertake such a major trip. Earhart's trip came at a time when women were often criticized for being part of the workforce. The career women of the time predominantly held roles that are still stereotypically feminine today (e.g., schoolteachers and nurses).
According to literature on the subject, World War II — which came directly after Earhart's death — only reinforced male domination of the field. The government subsidized the aviation training of male troops. Civilian women who were hobbyists or professionals were kept from aviation due to fuel costs. Interestingly, many women with pilot's licenses became teachers instead.
One could speculate that Earhart's perceived failure was a blow to women of the time.
It affirmed the idea that women couldn't hold jobs in male-dominated fields. If Earhart had survived (and successfully completed her journey), she may have encouraged more women to become pilots, and the government may have seen female pilots as valuable wartime resources. As she aged, she may have even inspired Americans to pay greater attention to the health and well-being of women.
The number of female pilots overall has remained historically low.
Heath Ledger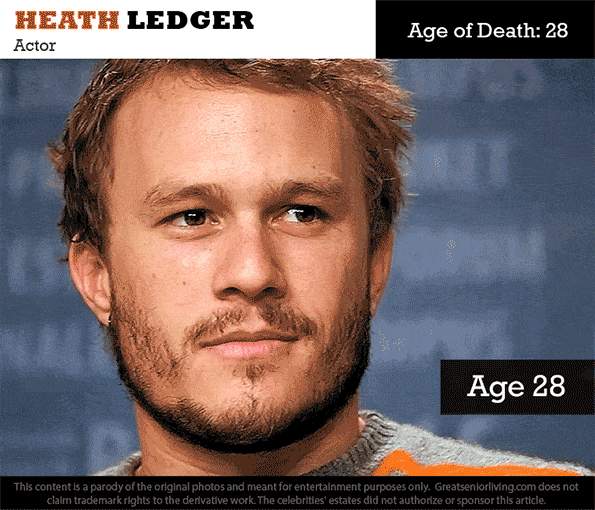 How would the world possibly be different if he were still alive?
While Ledger may have arrived in Hollywood as a teenage heartthrob — cast in popcorn flicks such as "10 Things I Hate About You" and "A Knight's Tale" — he quickly began a career renaissance. After joining projects like "The Brothers Grimm" and "Casanova," Ledger received a Best Performance by an Actor in a Leading Role award nomination for his work in "Brokeback Mountain." This led to his role as Batman's biggest villain, the Joker, in "The Dark Knight."
It's possible we would have seen Ledger reprise this role at least once, as director Christopher Nolan concluded his caped crusader trilogy in the next film. We would have also continued to see the talented actor develop — one who was capable of making us believe in one moment that someone exists without any hope for redemption, and at the next, that love is always possible.
Malcolm X
Born in 1925 in Omaha, Nebraska
Minister and human rights activist during the Civil Rights Movement
Assassinated at age 39 in 1965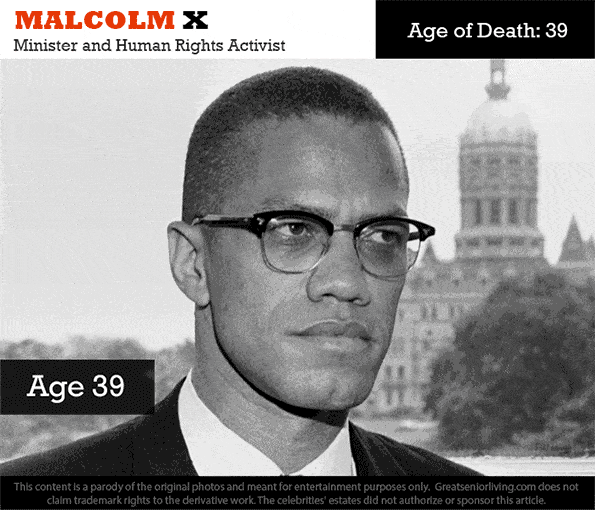 How would the world possibly be different if he were still alive?
Three members of the Nation of Islam murdered Malcolm X, perhaps because of his expressed philosophical differences with the organization's leader Elijah Muhammad. It's possible he would have continued redefining his beliefs (as he did after his first pilgrimage to Mecca, the Muslim holy city). It was there that Malcolm X's message softened from the hardened, militant approach he once advocated.
Without his assassination, it's possible that others of a different color or creed would have been more comfortable to pursue advocacy for their causes. It's also possible that Malcolm X would have inherited Martin Luther King Jr.'s followers, who were frustrated and upset at the failings of America to band together for change.
Princess Diana
Born in 1961; married to Prince Charles of Wales at age 20
Died as a result of injuries sustained in a car accident in 1997 in Paris, France
Used her status as British nobility and marriage into the royal family to advance philanthropic efforts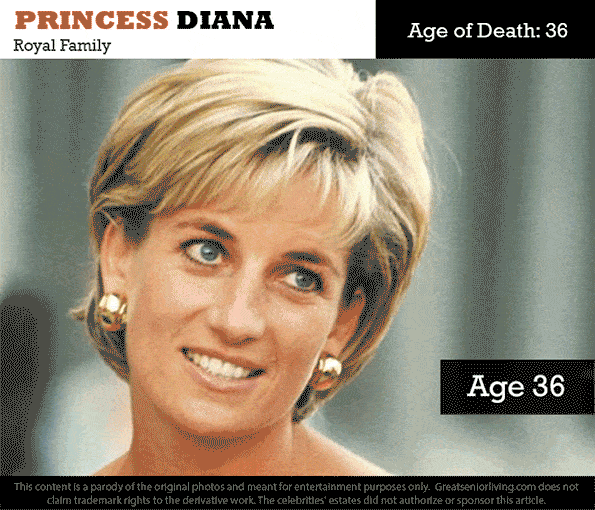 How would the world possibly be different if she were still alive?
Though divorced from Prince Charles, Princess Diana continued to shine a light on causes she believed needed attention. Landmines, leprosy, and HIV/AIDS were just a few of the topics she may have poured more of her time and attention into as she aged. She may have even become an advocate for seniors and lobbied for more personalized living options, including better memory care, home care, assisted living, and nursing home care.
Topics that may have drawn her attention today include the plight of immigrant refugees, who are fleeing war-torn countries in hope of salvation. Princess Diana would have been able to help humanize these individuals, much as she did by being seen holding the hands of people with AIDS.
It's also possible we would have seen her assume the role of Queen Mother at some point, even as Queen Elizabeth II celebrated her 90th birthday. After Queen Elizabeth II's passing, Princess Diana's son, Prince William of Wales, could have been anointed and crowned King of England.
Michael Jackson
Born in 1958 in Gary, Indiana; began performing at age 5
Recorded and released the best-selling album of all time, "Thriller," with 33 million copies sold
Died at age 50 in 2009 as a result of cardiac arrest from a prescription drug overdose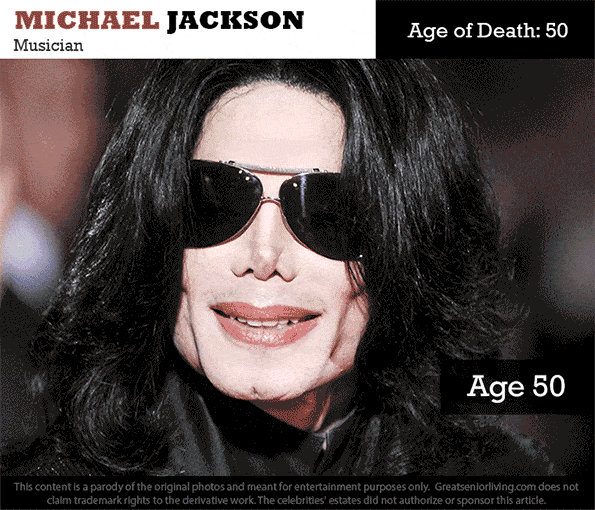 How would the world possibly be different if he were still alive?
It's highly likely we would have been treated to more music from the King of Pop. Jackson had been working toward his next tour, "This Is It," prior to his death. It's possible this would have put him back in the recording studio, producing new music. When you think of some of the most popular artists today — Lady Gaga, The Weeknd — it's easy to imagine some amazing musical collaborations, which, sadly, will never come to pass.
Named "Artist of the Decade" by former President George H.W. Bush in 1990, it is also easy to imagine that Jackson would have continued his significant philanthropic efforts. He could have continued the work he started with his organization, the Heal The World Foundation, which was named after one of his songs.
Whether it would have been with his voice or heart, Jackson likely would have continued to shape the world in a positive way.
Selena
Born in 1971 in Lake Jackson, Texas; began performing at age 10
Died in 1995 of cardiac arrest as a result of being shot by the founder of her fan club
Climbed the charts as a songstress, leaving a female imprint on Tejano music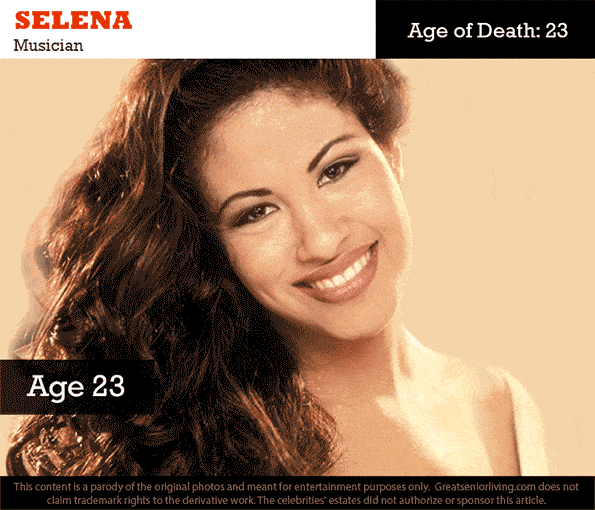 How would the world possibly be different if she were still alive?
Selena would have the chance to witness her fifth studio album, "Dreaming of You," debut at No. 1 on the Billboard 200, a first for a predominantly Spanish-language album. This would have paved the way for even more albums and recording opportunities, as well as more potential musical award wins. It would have been interesting to see her music evolve as she found success with a wider audience.
Selena would have been a cultural icon for women, specifically for those like her who were third-generation Mexican-American or of Hispanic heritage. Given today's political climate, it's unlikely Selena would have sat back and stayed quiet about immigration.
It's possible Selena would have been able to parlay her music success into a career in film or TV. Perhaps she would have been a celebrity judge on a singing competition, such as "America's Got Talent" or "The Voice," where she could maintain her status as a star.
President John F. Kennedy
Assassinated enroute to a campaign appearance in Dallas, Texas, on Nov. 22, 1963
Second youngest president ever elected into office
Responsible for sending the first American to the moon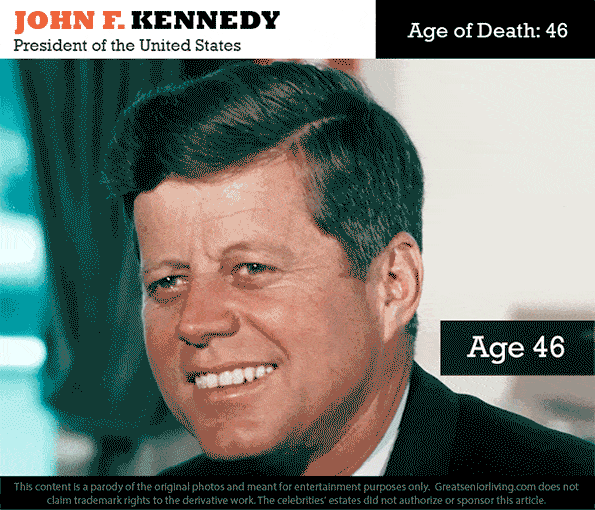 How would the world possibly be different if he were still alive?
Several authors and historians have tried to determine how the death of President John F. Kennedy has impacted the U.S. and, ultimately, the world. In a novel by Stephen King, "11/22/63," altering the past so the assassination attempt failed meant the Civil Rights Movement stalled, the Vietnam War became a point of embarrassment, and further destabilization of the U.S. occurred due to a nuclear reactor irradiating New England.
It's likely we would have seen a second term in office, given his popularity at the time, but he would have faced challenges passing Civil Rights legislation and dealing with the Vietnam conflict. Historians believe he would have waited until after the election to focus on rallying his allies in Congress for passing new laws and would have sought a diplomatic solution rather than committing more troops to the contentious Vietnam conflict.
We certainly wouldn't have had any debates delving into the conspiracy theories around whether Lee Harvey Oswald shot the president or not.
Abraham Lincoln
Born in 1809; 16th president of the United States
Abolished slavery during his time in office; known for his Gettysburg Address
Assassinated at age 56 in 1865 while attending a play with his wife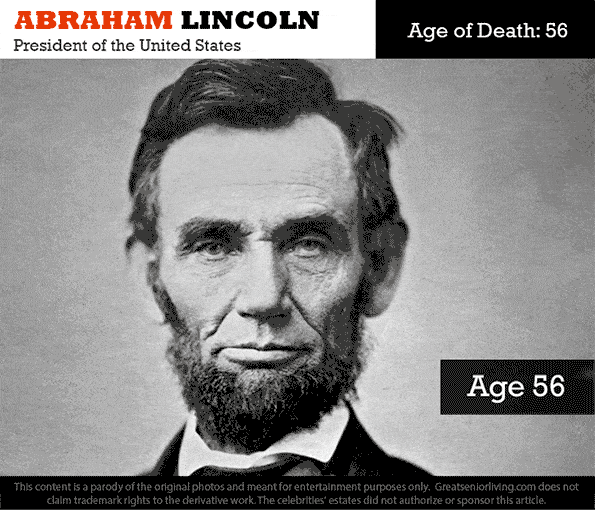 How would the world possibly be different if he had lived to an old age?
As Lincoln reaffirmed in the Gettysburg Address — "all men are created equal" — it's believed the president would have continued to work toward racial equality after the South admitted defeat in the Civil War. Instead of Congress having to work to impeach President Andrew Johnson — and only failing by a single vote — they would have been able to work with the Lincoln administration reshaping the Union.
Lincoln would have pushed forward the black suffrage movement with the help of Frederick Douglass, and made African-American voting rights a central point of order in his second term.
His party believed, however, that Lincoln would have been too soft on the South in the hopes of quickly helping a nation heal. It's likely the South, with the redistribution of wealth, would have looked much different today, possibly with a more developed and interconnected black bourgeoisie class.
Conclusion
While many of history's greats tragically saw their life cut short, the rest of us are fortunate enough to be able to continue to achieve personal greatness. Greatness is never a solo effort, and each of these historical figures had a professional team of support around them as they accomplished some of their most memorable achievements.
GreatSeniorLiving.com is where you'll find a wealth of information about housing, care, retirement, and lifestyle options for older adults. You'll also discover helpful and inspiring articles about healthy aging, wellness, and many other vital topics related to seniors and their families or caregivers.
Methodology
We asked graphic designers to apply digital aging effects and depict their interpretations of what several popular figures would look like if they had lived to a more advanced age.
Fair Use Statement
Life is too short not to share this content with your readers. If you choose to do so, please use it for noncommercial purposes only and link back to this page so readers young and old can discover more about the subject if they so desire.