The Best Pill Dispensers for Seniors
The Best Pill Dispenser for Seniors: 8 of the Top Contenders
By Publisher
| Last updated
Are you struggling to take your medication as directed? Are you caring for someone who is? If so, the solution may be a basic or automatic pill dispenser. For seniors who have complicated drug regimens, dispensers that help them organize and manage their meds can have an enormous impact on their well-being.
It's common for older adults to have to take multiple doses of multiple pills every day. A Consumer Reports survey of Americans over age 55 revealed that more than one-third of them were on five or more prescription medications, and some were regularly taking more than 10. Staying on top of such a routine can be a huge challenge. That's where pill dispensers come in.
By reading the information below, you will learn about the different types of pill dispensers that are available and what factors you should think about before buying one. You'll also get details on eight of the best devices you may want to consider, from basic organizers to fully automated systems. And you will even find out how a pharmacist can make it easier for you or your loved one to organize medications.
The Importance of Proper Medication Management
It's crucial to take all medications exactly as prescribed in order to treat temporary illnesses, manage chronic conditions, and maintain your overall well-being. However, an article in Today's Geriatric Medicine showed that roughly half of all prescription medicines are not taken as instructed. And up to 30 percent of prescriptions never actually get filled.
Seniors fail to take their meds properly for a variety of reasons:
They find the regimen too onerous or complicated.
They don't fully understand why the medication is needed, so they stop taking it.
They have difficulty remembering if or when they took their pills.
They find the pill bottles too hard to open.
They can't read the prescription labels or don't understand the directions.
They forget to renew their prescriptions on time.
Sometimes people's best intentions get derailed by circumstances. For instance, in one survey, an older woman noted a time when she accidentally knocked over multiple open pill bottles and didn't know which pills came from which bottles, so she didn't take any.
But not taking the right doses of the right medicines at the right times can have serious consequences for your health. Over- or under-medicating can raise your risk of requiring emergency medical attention. In fact, the article in Today's Geriatric Medicine noted that every year, roughly 125,000 people die as a result of not adhering to their medication routines.
Pill dispensers can make the job of managing medications much easier.
Types of Pill Dispensers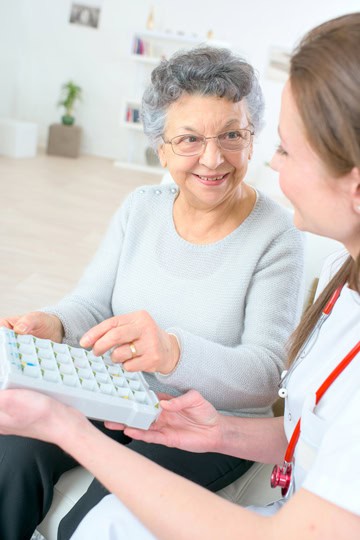 You have a range of options when it comes to pill dispensers. Here are the basic types:
Pill organizers: These are usually plastic containers that are divided into different compartments for different days. Some have compartments for multiple times in a single day, such as morning, noon, evening, and night. You can choose a simple one-week model or a monthly pill organizer. For elderly folks who are good at remembering to take their medicines but need some help keeping track of doses, a basic pill organizer can be a straightforward, inexpensive solution.
Pill boxes with alarms: These are similar to basic pill organizers, except that they enable older adults or their caregivers to set visual or audible reminders to take the medications. Typically, alarms can be programmed to go off up to four or six times per day. Some models have the alarm and the organizer integrated as a single unit, while others have the alarm as a removable piece.
Automatic pill dispensers: These offer the most high-tech way to manage medications and minimize errors. An automatic pill dispenser is a locked system that is digitally programmed to notify the user and release exactly the right amount of medication at exactly the right times. More advanced models also function like medical alert systems: They send a text, phone call, or other notification to the patient or the caregiver if a person misses a dose.
Incidentally, a growing number of pharmacies use enterprise-grade automated medication dispensing systems, which are basically computerized vending machines for storing, dispensing, and tracking medications. Omnicell Automated Dispensing Cabinets and Pyxis MedStation are two common examples. Medications are secured within the machine, and everything that gets dispensed is counted and tracked by sophisticated software. Some experts believe that automated dispensing machines improve patient safety by reducing medication errors.
What to Consider When Choosing a Pill Dispenser
When it comes to selecting a device, price is certainly a key factor. (Medicare does not pay for pill dispensers, although Medicaid does cover medication management services in some states.) However, cost is not all you need to think about. Here are some questions to consider when you compare different models:
Ease of use
How simple is it to load the pills?
If it's an electronic pill dispenser, how easy is it to set the clock and program the alarm?
Does the clock have a large, clear display?
Are all buttons clearly labeled and intuitive to use?
How are the pills actually dispensed? Does the person have to press a button, open a lid, or flip the dispenser upside down?
Capacity
How many pills can the medication dispenser hold?
Can it accommodate larger pills or tablets?
Can it handle multiple doses per day?
Alarms
Do the alarms use visual cues like flashing lights and/or audible reminders like voices or beeps?
Can you record a familiar voice to use as the alarm?
Are the reminders likely to get the person's attention without scaring him or her?
Are there different volume settings?
Can the alarms be turned off?
Locks
Can the dispenser be locked to prevent a person from taking too many pills or taking pills at the wrong times?
How easy is it for someone to break into the locked pill dispenser? (For addicts and those with cognitive impairments, it can be tempting to try.)
Connectivity
Can the device alert the patient or a caregiver when a dose is due or when one gets missed?
Does it require a phone line or Internet connection?
What is the monthly fee for such a service?
Is a contract required?
Portability
Is the medicine dispenser designed to sit on a counter or be carried around?
How heavy is it?
Can it be taken along on outings, errands, or trips?
This article contains affiliate links. We are compensated with a small commission, at no extra cost to you, for sales made through the links.
8 of the Best Pill Dispensers and Organizers
Whether you're looking for a simple organizer or an automatic pill dispenser with a lock and remote monitoring capability, you will likely find something suitable in this list.
1. Sagely Smart Weekly Pill Organizer
This may be the best pill organizer for seniors whose medication routine includes many oversized pills such as vitamins or fish oil capsules. Its seven containers each have two larger-than-average compartments that are color-coded; you can use them for morning and afternoon doses or for two different weeks' worth of meds.
The containers attach to a tray with magnets for stability but can be lifted out and taken on errands as needed. Plus, the rubberized lids have perforated holes for simple loading and are flexible enough for dexterity-challenged seniors to open easily.
This organizer does not have a physical alarm. However, if the user has a smartphone, he or she can connect to the free Sagely app that can be set to send notifications when it's time to take a dose.
Buy on Amazon
2. MedCenter System Monthly Pill Organizer
Here's a pillbox caddy system with an alarm that can organize a whole month's worth of medications. It's comprised of 31 individual pillboxes with four compartments each, and each compartment can hold about 16 aspirin-sized pills. One end of each box has a red label, and the other end has a green label. When they're full, place them with the green end facing up; when they're empty, flip them to red for easy tracking.
The talking alarm clock has two volume settings and a very large display, and it can be set to use either a beeping sound or a voice reminder. When the person takes his or her pills, he or she presses the large red button to confirm it's done and turn off the alarm. The alarm is even detachable (though a bit large), so the user could theoretically take it and the appropriate pillboxes on a weekend getaway.
However, while the MedCenter System is simple to use, it's arduous to load. Opening and filling 124 separate compartments is a time-consuming chore. This unit also takes up a fair bit of counter space.
Buy on Amazon
3. MedELert Automatic Pill Dispenser
This auto pill dispenser is a round disc comprised of 28 separate slots that can each fit up to 18 aspirin-type pills. It comes with six different dose rings to let you customize the scheduling (i.e., from one dose a day up to six doses a day). You can choose to have the alarm as a flashing light, an audible beep, or both. When the alarm goes off, the user tips the dispenser upside down and pours the pills into his or her hand; doing so turns off both the light and the sound.
Because it can be locked to prevent a person from accidentally overmedicating, it's a good, inexpensive automatic pill dispenser for Alzheimer's patients or anyone with memory issues. It even offers a choice of a transparent or solid cover, so people who prefer to see what's inside or get agitated by seeing too many pills at once can both be accommodated.
Buy on Amazon
4. MedReady 1700 Medication Dispenser
The MedReady pill dispenser is another automated round disc with 28 slots for medication. The lid is lockable, it comes with two keys (so a family member and a nurse could each have one), and the audible alarm can be set for as many as four times daily. The slots hold about half as much as the MedELert, but this device can run on battery or AC power, whereas the MedELert is battery-only.
This dispenser is durable, tamper-resistant, and easy to load. For an additional fee, you can get an extra tray that can be pre-filled with medication and easily switched out with the empty tray in the dispenser.
Buy on Amazon
5. MedMinder
A MedMinder is an electronic pill dispenser that is extremely easy to use. It looks a lot like a standard pill organizer, with a rectangular tray and 28 separate compartments. At the designated time, the alarm sounds and the appropriate compartment lights up to indicate it should be opened. (The compartments are locked down and only the appropriate one can be opened at the programmed time.) A custom message in a familiar voice can be recorded to use as the alarm. If the person doesn't take the meds out of the tray, he or she can receive a reminder phone call. Caregivers can also receive a phone call, email, or text message if a dose is missed.
MedMinder is a subscription-based service (with no contract). The device connects to MedMinder's central monitoring center through a built-in cellular modem. This allows the caregiver to remotely program the dispensing times, set up the preferred reminders, and monitor dose activity. The user only needs to plug the device in; no phone line, computer, or Internet access is required.
Refilling is a straightforward process. Lifting the main lid allows all compartments to be loaded at once. MedMinder also offers a mail-order pharmacy service. For the cost of a copay, the person can receive a tray pre-filled with the appropriate medications that can easily be loaded into the machine.
6. Hero Automatic Medication Dispenser
This locked, timed pill dispenser sits on a counter and strongly resembles a coffee machine or soda fountain. When you first plug it in, you (or a loved one) must connect it to a Wi-Fi network and create an online account to input and manage your medication schedule. You can also add caregivers, who can receive notifications about completed or missed doses.
Hero can hold up to 10 different medications, and you don't have to sort them into individual doses. To load the machine, dump each medication type into a separate Hero container and insert the container into the device when prompted by the display screen.
When it's time for pills, the device beeps and a button flashes. The user simply presses a button and Hero dispenses all of the appropriate pills into a cup. If the cup is not removed from the machine within 15 minutes, the user and any caregivers can receive text reminders on their phones.
The display screen and the app will both warn when supplies are running low. If you use Hero's mail-order refill service, your medications will automatically be delivered to your door when needed. You can also access round-the-clock support whenever you need help using the dispenser.
7. Livi Smart Pill Dispenser
It can hold a 90-day supply of as many as 15 different medicines and dole out pills every hour if needed. That's why many people believe that the Livi is the best automatic pill dispenser for elderly folks with complex medication regimens. It can even dispense special travel packs if users are going to be away from home for a while.
Like the Hero, Livi resembles a kitchen appliance and is designed to sit on a counter. Loading involves pouring each type of medication into a separate container and placing it in the machine. When a dose is ready, the button glows green and the machine beeps. When the user presses the button, the appropriate pills quickly and quietly fall into the tray.
Unlike the Hero, Livi does not require Wi-Fi. Instead, it relies on an AT&T cellular connection for its notification and remote management functions. Users and caregivers can get emails or text messages when it's time for meds, and caregivers can also be alerted when the medication compartment (which locks with a key) is opened unexpectedly.
8. MedaCube
The MedaCube is an automatic pill dispenser that looks like it belongs in a home office. It can store 90 days' worth of up to 16 different medications (though by default it only comes with 12 pill bins). The bins allow for quick and easy bulk loading, and up to 20 doses can be scheduled in a day. If the pill bottles from your pharmacy come with QR codes, you can even use MedaCube's barcode reader to scan the codes and automatically upload the dosing information into the machine.
The device provides both visual and audible alerts when it comes time for meds. Caregivers can record personal voice prompts, and users can receive phone call reminders. When pills are ready, the user touches the screen and a drawer pops open with the appropriate pills.
Caregivers receive electronic notifications of missed doses and low supplies, and they can view a complete online record of patient activity. Plus, if the device is tilted, dropped, or otherwise tampered with, it automatically locks down and caregivers receive an immediate alert.
You can use MedaCube on a Wi-Fi network or pay an extra fee per month for cellular connectivity.
Organizing Your Meds: How a Pharmacist Can Help
Pharmacists are a valuable resource for older adults who need a bit of extra assistance to follow their medication regimens. It's wise to get all of your medicines from the same pharmacy so that the pharmacist has a complete record of everything you're taking and can advise you about the best way to manage your prescriptions.
Many pharmacists will sort your medications into pill boxes or organizers for you on request. You can also ask to receive your meds in convenient blister packs, where each dose is packed in a plastic bubble with foil backing. That gives you a visual indicator of which pills you've already taken and how many doses you still have left.
Pharmacists are usually happy to place your medications in easy-open containers or use large-print labels if you need them. So if you struggle to open pill bottles or have trouble reading the writing on them, let your pharmacist know.
In addition, pharmacies commonly offer automatic refills and will alert you via phone call or text message when your prescriptions are ready (some will even deliver them to you). For added convenience, you could also take advantage of mail-order services like the ones available from MedMinder and Hero. That helps ensure that you won't run out of necessary medicines.
Manage Your Medications
Now you know that ease of use, capacity, security, and connectivity are key factors to consider when shopping for a pill dispenser. For seniors who need to take multiple pills at multiple times each day, choosing the right dispensing device can make the daily routine a whole lot easier.