Tall Toilets for Elderly People
Tall Toilets for Elderly People: A Buyer's Guide for Comfort and Safety
By Publisher
| Last updated
Squatting down on a toilet and getting up again becomes increasingly difficult as aging muscles lose strength or become injured. Fortunately, products are available that can help: tall toilets. For elderly people with mobility limitations, toilets with seats that are higher off the floor can be essential tools for maintaining safety and independence.
A tall toilet height means that users can exert less effort getting on and off the seat, which can be greatly beneficial for seniors with leg, hip, knee, joint, or back problems. The extra inches also make these toilets a good choice for taller people who find standard toilets uncomfortably low.
This article outlines the basic facts about tall toilets (commonly known as comfort height toilets) and describes eight of the best models you may want to purchase. It also explains what factors you should think about when shopping for a toilet and what's involved in having one installed.
Keep in mind that you don't necessarily have to replace your toilet with a taller unit. You might choose to adapt your existing toilet with a raised seat or other accessory. That's why we've also included information on elevated seats, commode chairs, and other products that can make going to the bathroom a more comfortable experience for an older adult.
The Basics of Comfort Height Toilets
A comfort height toilet is slightly taller than a traditional model in order to ease the process of sitting down and standing up again. The idea is to emulate the average height of a typical dining room chair. (Chair height is the same as comfort height.) It can be a bit confusing because such toilets are known by different names depending on the manufacturer. So a universal height toilet is a comfort height toilet, and a right height toilet is a comfort height toilet. The various terms all mean the same thing.
The difference between standard and comfort height toilets is generally two to four inches. While a standard toilet typically measures 15 or 16 inches from the floor to the top of the seat, comfort toilet heights are 17 to 19 inches. The Americans with Disabilities Act (ADA) specifies that the height of a disabled toilet must be within this range.
Keep in mind that if you're prone to constipation, comfort height toilets might be bad for you. That's because it's easiest to move your bowels when you're in a squat position with your hips slightly lower than your knees. However, resting your feet on a step stool that fits around the base of the toilet can help.
Also, comfort height toilets might not be the best choice for a shorter person. If your feet dangle while you're seated, you could experience pain, tingling, or even numbness in your legs. To alleviate that, you could try using a step stool. Another option is to forego the comfort height toilet and install toilet rails on a standard toilet instead.
Factors to Weigh When Choosing a Toilet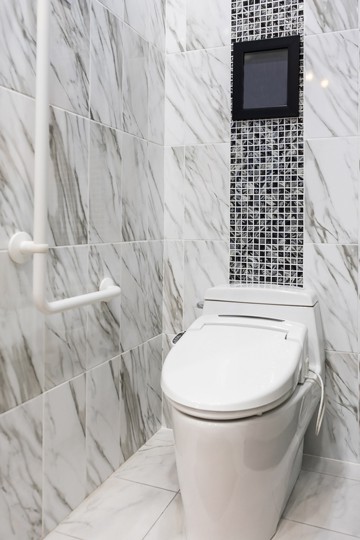 A toilet is an essential household device. So how can you ensure that you get the right one? Here's what to think about when shopping for a toilet for elderly folks:
Height
A toilet seat should be high enough off the floor that you are able to sit down on it and stand up again easily. It's also important to be able to rest both feet flat on the floor.
If you use a wheelchair, look for a toilet with a seat height that closely matches your wheelchair seat's height. That makes for an easier lateral-slide transfer to the toilet seat. Bear in mind that an ADA toilet is 17 to 19 inches high, but that doesn't necessarily mean that height will work for you. If you need something taller, wall-mounted toilets might be worth considering. With those types of units, the highest toilet height is about 28 inches.
Note that many manufacturers only specify the height of a toilet from the floor to the rim of the bowl, not to the top of the seat. That's because the seat is often sold separately. It generally adds about an inch to the total height.
Bowl shape
Most toilet bowls and seats are either round or elongated. A round bowl is somewhat circular and is often found in older bathrooms. An elongated toilet seat is more oval and is becoming much more common. You will know if you have a round or elongated toilet by measuring from the seat mounting bolts to the very front of the bowl. For a round toilet, this measurement will be about 16.5 inches; for an elongated toilet, it will be about 18.5 inches.
So, which is better: a round or elongated toilet? That depends. Elongated toilets offer more sitting surface and tend to be more comfortable for adults. However, they also take up more space. As you can see from the measurements above, they generally extend an additional couple inches into the room. Since a round toilet can fit into a smaller space, it might be a better choice if you have a tiny bathroom or need extra room for a walker, wheelchair, or scooter.
Style
There are two basic styles of toilets: one-piece and two-piece.
With one-piece toilets, the tank and bowl are integrated as a single seamless unit. They generally take up less space than two-piece toilets and are easier to clean because they have fewer crevices in which bacteria can hide. They can also be simpler to install because they don't have to be assembled. However, they typically cost more. It's also worth noting that some models have a bit of a ridge between the seat and the tank that can make it difficult or impossible to add accessories like a raised toilet seat if you want to do so later.
With two-piece toilets, the tank is a separate unit that bolts to the top of the bowl. They tend to be more common and less expensive than one-piece toilets. They are easier for one person working alone to install because each piece can be lifted separately; they can also be less expensive to repair, since the tank and bowl can be switched out independently. However, they have more potential for leaks and are more difficult to keep clean.
Wall-hung toilets are a special type of two-piece toilet in which the bowl is mounted on the bathroom wall while the tank is concealed behind the wall. They can be installed at a wide range of custom heights and can save as much as 12 inches of floor space in front of the bowl. However, they are extremely expensive because they involve buying a special carrier system and opening up the bathroom wall. They also require moving the drainpipes from the floor to the wall.
Flushing technology
The vast majority of American homes use gravity-feed toilets. When you press the flush button or handle, water falls from the tank to the bowl and harnesses the force of gravity to push waste through the drain. (In fact, some toilets flush twice because too much tank water is dropping into the bowl.) These toilets tend to be affordable, effective, and fairly easy to repair. However, they can be prone to clogging. And if your home has low water pressure, you may have to flush the toilet twice in order to clear all the waste.
Gravity-feed toilets also use a lot of water. Decades ago, such toilets commonly used five or six gallons per flush (GPF), but since 1994, federal law has mandated that toilets must use 1.6 GPF or less. Some states, such as California, set the maximum at 1.28 GPF. If you're concerned about water use, the best GPF for a toilet is about 0.9. Toilets that are designated as WaterSense-certified meet Environmental Protection Agency (EPA) standards for low water consumption and high performance.
Some gravity-feed toilets are dual-flush models, with one flushing option for removing solid waste and one water-reduced option for clearing away liquids. Such units typically have a two-position flush handle or two buttons on top of the tank. These types of toilets can be more eco-friendly because they allow you to use less water when appropriate. However, they can also be more difficult for some older people to operate because they require you to press a button or pull a lever rather than simply push a lever. They also tend to cost more than standard gravity-feed toilets.
Pressure-assisted toilets have a special plastic tank within the toilet tank that holds a combination of water and air under pressure. When you flush, the pressurized air forcefully expels the water into the toilet bowl in order to clear the contents. These types of toilets use less water than gravity-feed models and are much less likely to clog. They also don't sweat because the water does not sit directly against the porcelain tank.
However, pressure-assisted toilets tend to be very loud when they flush. In addition, they typically cost more than gravity-feed toilets and are more difficult to repair. You should also be aware that your home needs to have a minimum of 25 pounds per square inch (psi) of water pressure in order for this type of toilet to work.
Installation Costs and Considerations
Putting in a toilet requires setting a wax ring around the waste pipe, positioning the toilet, bolting it down, and hooking up the supply lines. It's generally a one- to two-hour job. Independent plumbers and places like Lowe's charge somewhere between $200 and $500 to install a toilet. Special types of labor-intensive installations, such as for wall-mounted toilets, can cost $2,000 or more. If leaks, cracks, or other problems are discovered during installation, you could end up with a higher bill.
Keep in mind that those figures do not include the actual cost of the toilet. If a seat does not come with your toilet, you will have to pay about $10 to $50 to get one. Also, homeowners are typically responsible for buying the wax ring, mounting bolts, and water supply lines (each of which costs less than $15 and can be found at any home improvement store). It's important to note that you will likely need an extra long supply line if you're putting in a taller toilet.
Before you purchase any toilet, check the rough-in size. The rough-in size for a toilet is the distance from the bathroom wall (not the baseboard) to the middle of the sewer drain. This measurement is typically 12 inches, but sometimes it can be 10 or 14. Choosing a toilet with the appropriate rough-in size will make for a much easier installation.
You should also ensure that whatever model you buy will fit in your bathroom with enough clearance for doors, drawers, and cabinets. So if you're thinking about changing from a round bowl to an elongated one, measure carefully.
8 of The Best Tall Toilets for Elderly People
The best toilet for elderly individuals is the one that allows them to take care of their biological functions safely and comfortably. For many people, that means a model with a higher seat. Most toilets on the list below measure 16 or 17 inches from the floor to the rim of the bowl; the tallest toilet is 20 inches tall. Remember that the seat will add another inch or so to the overall height of the toilet.
Here are eight good options you may want to consider for an elderly person's bathroom:
5 Raised Toilet Seats and Other Accessories
Do you need a high toilet seat for a brief time while you recover from surgery? Does one person in your household need an elevated seat while another prefers a standard height? Are you looking for a way to add height to your toilet without actually replacing the whole thing?
If you answered yes to any of the above questions, here's the good news: You can raise the height of a toilet by installing special accessories such as a toilet pedestal, toilet seat riser, or elevated toilet seat. These are available for both round and elongated toilets and can add anywhere from two to six inches of height. Some bolt directly to the toilet, while others have locking brackets or clamps to help with stability. And some provide extra support in the form of attached arms or handles.
Check out a few of the best options:
6 Commode Chairs to Consider
For adults who find it difficult to make the trip to a regular bathroom, a medical toilet chair can be an essential aid to independent living. A portable commode for elderly people consists of a chair-like frame with a removable bucket beneath the seat to collect waste. It can be placed next to your bed or in any area where you would otherwise have to travel a long way or climb a set of stairs to get to a bathroom. Once the bucket is removed, the commode chair can be positioned over a regular toilet as a support aid. It can usually be adjusted for a range of heights.
If you're in the market for a potty chair for adults, have a look at these options:
Make Bathroom Functions Easier
Tall toilets for elderly people promote comfort and enhance independence. By taking note of the information above, you can learn how to focus your search and find the toilet that will best meet your needs.