The Best Walkers for Seniors
The Best Walkers for Seniors: 20 Great Options to Keep You Moving
By Publisher
| Last updated
The best walkers for seniors enhance mobility and independence. They can make a world of difference, such as allowing you to get out and engage in enjoyable activities rather than being confined in a chair at home. When used correctly, walkers can also reduce the risk of falls.
Plus, did you know that a growing number of older adults are choosing walkers to help them stay active and safe? A study in the Journal of the American Geriatrics Society revealed that the use of mobility aids among Americans over the age of 65 jumped 50 percent between 2004 and 2012. Overall, around 12 percent of seniors use walkers.
Walkers come in a wide variety of sizes and styles. But it's crucial to choose the best model for your particular needs. So don't simply borrow one from a friend or family member and assume it will work for you. (It's best to ask an occupational or physical therapist for guidance on what kind of walker would benefit you the most.)
This article will help you understand the different types of walkers that are available as well as the pros and cons of each type. You'll learn what factors to consider when shopping for a walker. And you'll read about nearly two dozen of the best walkers for seniors who need various levels of support.
3 Main Types of Walkers
For older adults who need a bit of assistance with mobility but don't require the full support of a wheelchair, medical walkers can provide the necessary balance and stability. Choosing the right one requires understanding the various options. Generally speaking, the different types of walkers are standard walkers, front-wheeled walkers, and rollator walkers.
1. Standard walkers
A standard walker is a simple frame with four rubber-tipped legs that a person can lean on for support. These types of walkers are made of aluminum to keep them lightweight. Of all the options, standard walkers offer the steadiest support. They are the best choice for people who tend to fall or cannot place weight on a leg due to injury. However, standard walkers only allow for fairly slow movement, and they are not suitable for uneven surfaces. They are also not good for people who lack upper body strength.
To properly use a walker, you lift it off the ground, set it down a few inches ahead of you, and step toward it. The following video illustrates the technique:
In some cases, a walker can even help you go up and down stairs. You use a walker on stairs by turning it sideways and placing one hand on the walker handle and one hand on the stair railing. The key thing to remember is that you lead with your stronger leg when going up and with your weaker leg when going down. To see this technique in action, check out the video below:
2. Front-wheeled walkers
A front-wheeled walker is just like a standard walker, except that it has non-swiveling wheels on the front legs. The two wheels make it easier to maneuver over rougher surfaces. Because front-wheeled walkers are designed to be pushed forward rather than lifted, they take less of a toll on your upper body. However, they do not provide as much stability as a standard walker. Some models have removable wheels, allowing them to be converted into standard walkers.
This video demonstrates how to use a front-wheeled walker:
3. Rollator walkers
Known as a rollator, a "rolling walker" is a type of walker that has either three or four wheels along with hand-operated brakes. The difference between a rollator and a walker is that all of the legs on a rollator have wheels, some of which swivel to make turning easier. Rollators are designed for people who have relatively good balance and only require light support. Most models come with a storage basket or pouch, and four-wheeled ones also have a built-in seat to allow for rest breaks. Rollators are well-suited for outdoor use and can also be used indoors. However, they are heavier than traditional walkers and are harder to fold up to put in a vehicle.
Here's a video that shows you how to use a rollator:
What to Look For in the Best Senior Walkers
The best walker is the one that fits both your body and your specific needs. Walkers come in different sizes, and the features can vary from model to model. So it's important to think about what will best suit your situation.
Here are some factors to consider when choosing a walker: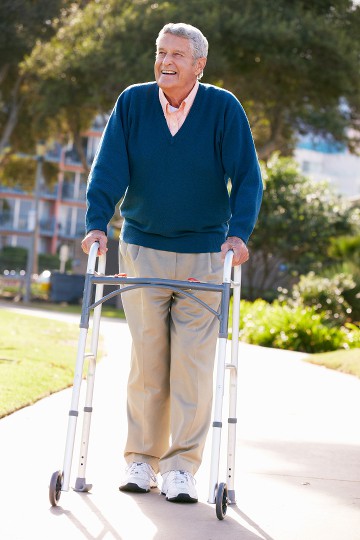 Width: A walker that will be used indoors needs to fit through your home's doorways. Some bathroom doors are only 22 inches wide (or even less), so be sure to check yours. Most walkers are 22 to 27 inches wide at the base, but some models are extra narrow. The width between the handles is also important. Your hips should fit comfortably inside the walker; if it has a seat, you should have about an inch of clearance on each side when sitting down.
Weight: You don't want a walker that's too heavy for you. This is particularly important if you're looking at a standard model, since you must be able to lift it off the ground with each step. But weight can also be a factor with a wheeled walker if you will be loading it into a vehicle or carrying it up a front stoop.
Handle height: If a walker's handles are too low, you'll be forced to hunch over. If they are too high, you'll have trouble transferring your weight to your arms. Fortunately, most walkers can be adjusted for different heights. You measure for a rollator or walker by asking a friend to measure the distance from the crease in your wrist to the floor while you are standing straight with your arms hanging loosely at your sides. The proper height for a walker is where the handles line up with the bend in your wrists. Ideally, you should look for a walker that can be adjusted at least an inch lower and higher than that so that you can adapt it for different shoe heights or floor surfaces.
Seat height: Four-wheeled rollators have built-in seats, so if you're considering that type of walker, you should make sure the height of the seat will work for you. Measure the height of a chair that you are able to get in and out of easily and keep this figure handy when comparing rollators. On some models, you can adjust the height of the seat.
Brake type: Most rollators come with loop brakes in the handles that engage when you squeeze the levers. If you have issues with arthritis or hand dexterity, you may find such brakes too difficult to use. Alternatively, some models have push-down brakes that are weight activated. (Standard and front-wheeled walkers do not have brakes.)
Capacity: All walkers have a weight limit, so look for one that's appropriate for your size. Most are designed to hold people who weigh up to 250 or 300 pounds, although some models can support up to 600 pounds.
Foldability: Many walkers fold for storage or transport, but the process of doing so can be easier for some models than others. For instance, some walkers have baskets that must be removed before folding. If storage space in your home is an issue or if you need to lift the walker in and out of a car, you will probably want a model that easily folds down to a manageable size.
Price: A walker typically costs between $99 and $299*. Depending on the type you choose, the price can vary even more. Standard walkers are the least expensive, and rollators are the most expensive. Walkers are covered by Medicare Part B as long as a healthcare provider deems them medically necessary. If you have coverage under Part B, you will typically have to pay your deductible plus 20 percent of the cost of your walker. It is important to note that your Medicare claim will not be approved unless you purchase the walker from an approved supplier. If that is a concern, be sure to buy your walker from a medical supply company enrolled in Medicare.
8 of the Best Standard and Front-Wheeled Walkers for Elderly People
If you're looking for an economical way to get the extra assistance you need to move around independently, check out this list of the best walkers for elderly people:
9 of the Best Rollator Walkers for Seniors
Also called rolling walkers or just rollators, these wheeled devices can be good mobility aids for people who need more support than is offered by a cane and don't like the slow pace of a traditional walker.
Rollators come with either three or four wheels. Triangular-shaped three-wheeled models have a tighter turning radius and are easier to maneuver, but four-wheeled models come with seats and provide more stability. If you find that you need to take periodic rest breaks while you're out and about, you will probably want a model with a seat.
For help with your choice, have a look at our top 10 picks for the best rollator walkers for seniors (with seats and without):
3 of the Best Knee Walkers (for Special Situations)
If you have an injured foot or ankle and cannot place any weight on it for a period of time, a knee walker might be a good mobility aid for you. A knee walker is a wheeled scooter that is often used as an alternative to crutches. It lets you move about quickly and easily by leaning one knee on the walker while using your good leg to propel yourself.
Here are a few of the best knee walkers for seniors:
1. All Terrain KneeRover Knee Scooter
This may be the best walker for seniors who have lower leg injuries but still want to explore the outdoors. The 12-inch air-filled tires can easily handle all types of terrain (including gravel and sand), and the adjustable knee rest is made of contoured foam for comfort. Durable and rugged, this scooter can hold up to 350 pounds and is height-adjustable for adults up to 6'6". It also comes with a detachable storage basket. However, it's not suitable for seniors under 5'6".
Buy on Amazon
2. KneeRover Deluxe Knee Walker
A less expensive alternative to the All-Terrain KneeRover, this deluxe model is designed for individuals between 4'9" and 6'6" who weigh up to 300 pounds. It features the same cushioned knee rest and detachable storage basket, but this model has 7.5-inch rubber tires rather than 12. Still, it provides a smooth ride both indoors and outdoors.
Buy on Amazon
3. ELENKER Knee Walker
The knee rest of this scooter is contoured with padded ridges to cushion your knee and help keep it stable as you move. Both the knee rest and the handlebars are fully adjustable, though this model was not meant for petite seniors. This walker also comes with a large attached basket, so you can carry all of your essentials with you.
Buy on Amazon
Get the Support You Need
Maintaining your mobility is a big part of remaining independent, and the right walker can go a long way toward achieving that goal. By using the information above as guidance, you will be better prepared to find the device that is just right for you.
*(Pricing current as of March 3, 2023.)