The Best Front Closure Bras for Seniors
The Best Front Closure Bras for Seniors
By Publisher
| Last updated
Why Consider Front Closure Bras?
Front closure bras for older women are ideal, especially ladies with limited mobility or arthritis. They should feel effortless to put on and take off. Another big plus is there are no random back pinches from rogue hooks and eyes or nasty stabs from underwires.
There are many options when it comes to front closure bras for seniors, including bras with slight padding or molding (like a t-shirt bra) and exercise bras. Another positive feature of front closure bras is that they provide a smooth silhouette when wearing clingy jerseys or other knits. Many older ladies choose this type of bra for comfort and convenience.
How to Choose the Right Front Closure Bras for Older Women
Finding the ideal front closure bras for seniors starts with determining what's most important to people like you: all-day comfort, support, or ease of getting your bra on and off. Once you've narrowed down your answers, you can start bra shopping.
Did you know wearing a bra that's not the right size can impact health? As we age, our skin tends to become thinner. A bra that's constantly chafing can break down that thin skin, and that's especially dangerous for people with diabetes. An ill-fitting bra can also cause aching shoulders, irritation of sensitive skin, a sore neck, headaches, dented shoulders, chaffed nipples, folliculitis, or heat rash. Take these issues into consideration when shopping for bras for older women.
If you or your loved one is experiencing discomfort from a bra, it's probably because the bra doesn't fit properly. So, how do you figure out your correct bra size? If possible, get a professional bra fitting before shopping online. You can find bra fitters at specialty lingerie boutiques, as well as some of the most well-known department stores. Keep in mind that different brands have different sizing protocols. For instance, if you typically wear a 36C, you may find a 38C is suitable for you in another brand.
Or fit at home using a tape measure. First, measure around the rib cage right where the bra's band will sit. The resulting numeric value is the size of the bra. Next, to find the correct cup size, measure the breasts at nipple level. Compare that to the bra size, for instance, 38. So a 38A would mean the nipple measure is one inch larger than the band size, or 39 inches. Plus, two inches equals a B cup, plus three a C cup, and so on. Remember, different brands can have different sizing. And, while shopping for front closure bras for seniors online, read some of the user reviews. Buyers often mention if the bra or other garment is true to size—or not. If your new purchase isn't what you expected, be sure the item has an easy, money-back return policy.
It's also a good idea to take into considerations what other factors tend to bother you when you wear different bras. Fabric choice can make a huge impact on the comfort, breathability, and structure. Someone who values support more than softness may prefer a more structured and thicker fabric, while someone with very sensitive skin may prefer a thin, soft, stretchy material. And women with big breasts may prefer a bra with wide straps and cushioning for the shoulders.
If you tend to have hot flashes or sweat a lot, a more athletic, moisture-wicking fabric blend might be a smart choice. And if you place a lot of value how the bra makes you look you may want to prioritize the level of padding, cup shape, and coverage.
Top Ten Front Closure Bras for Seniors
We hope this article has been helpful and informative as you shop for the best bras for older women. Please check out our FAQs below.
FAQs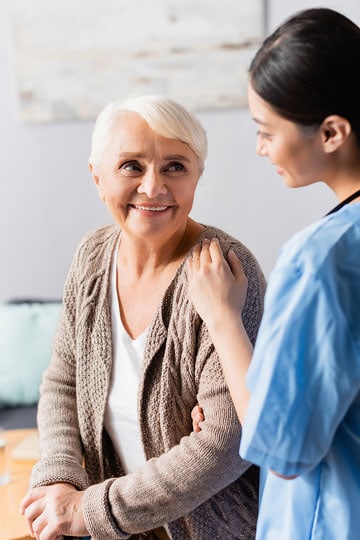 Are Front Closure Bras Good for Large Breasts?
It's a myth that bra straps and underwires support breasts. Instead, most of the support is provided by the bra's band. So, yes, a properly fitting front closure bra can be perfect for an older, large-busted woman. Front closure bras provide excellent support, great comfort, and coverage. Plus, most front closure bras don't have underwires—let's break the myth of underwires providing support. They don't. They enhance cleavage, but ditch the underwire if you're looking for comfort.
Why Are Bras So Uncomfortable As You Get Older?
It's true: bras do become less comfortable as we age: Here's why:
People assume their bra size doesn't change throughout life. What may have fit you at age 32 is probably not going to be your size when you're 68.
Thinner, aging skin is more easily irritated.
Menopause causes breast tissue to become fattier and less glandular, leading to sagging. Gravity also plays a part, as do breast ligaments, which stretch as a woman ages.
Breasts also change shape as part of the aging process—this can change the cup size.
A lifetime of cigarette smoking can also be partially to blame. The carcinogens in tobacco smoke cause elastin to break down in the body. Less elastin means less skin elasticity and more sagging. This can also impact band or cup size, making a bra that once fit uncomfortable.
How Do You Put on a Bra with a Front Closure?
Take your unfastened bra and place an arm through each strap, with the open part on the front of your body. Fasten the bra over your chest and ensure the portion that goes across your back is flat, level and in a comfortable position. Then lean forward and adjust your breasts within the cups to get the right positioning.
Most of these types of bras are designed for ease of use, so the closures should be uncomplicated and require little physical effort. Look for a front closure bra for seniors that closes with hooks and eyes. These tend to be the most comfortable and subtle. Zipper closures may be cold or scratchy, depending on the quality and fit. And if you've struggled to figure out how to close a front snap bra, you may want to bypass that type altogether to avoid any "wardrobe malfunctions."
How Many Bras Should a Woman Own?
Lingerie experts recommend every bra should be washed after three or so wears. Given that rule of thumb, three to four bras should be the right number for most senior women who do weekly laundry. Choose three in a neutral color like beige or white if you're light-skinned or cocoa if you're a person of color. Include at least one in a dark color like black. Of course, that number is just for everyday bras. Also, consider how often a sports bra is worn for exercise—they should be washed after every wear to remove sweat and odors.
How Do I Know My Cup Size Without Measuring?
It's possible to "guesstimate" bra size without a tape measure. Here are some questions to ask yourself:
First, what size is your current favorite bra?
Is it comfortable?
Is the band too tight? If so, go up one band size. If it's too loose, try adjusting the back of the bra to the middle or last fastenings.
How is the bra cup? If there's a little gap, then go down a cup size. If there's an over-spill of breast tissue from the top or the sides of the cup, go up a cup size.
Again, we recommend a professional fitting.