Senior Travel
Senior Travel Tips: How to Have Great Adventures as an Older Adult
By Crystal Lee
| Last updated
For a senior, travel can be an excellent way to stimulate the mind, connect with a wider community, and just have fun. Exploring new environments and meeting new people can help older adults stay both physically active and socially engaged. Whether the idea is to experience more of the world, spend time with loved ones, or just take a break from the everyday routine, travel can bring enormous rewards.
Getting older certainly doesn't have to keep anyone from having new adventures. An AARP survey of adults between the ages of 54 and 72 found that virtually all of them planned to take at least one domestic trip in 2019, and nearly a third anticipated taking four or more trips. What's more, almost half said they expected to travel both within the U.S. and internationally.
Check out the information below to discover more than two dozen practical tips related to navigating air travel, organizing a trip either for or with an elderly parent, and traveling as an older adult. Explore a list of tour companies and cruise lines that cater to the needs of seniors. And learn about 10 budget-friendly destinations within the U.S. that offer good value for older travelers.
Air Travel Tips and Tricks
Flying is often the quickest and most convenient way to travel, but it can be stressful and confusing. Here are a few things you can do to make the experience easier and more pleasant:
Some airlines offer reduced fares for older adults, although such fares may not be widely advertised. For instance, Delta has a senior discount in some markets, but it's not available online; you can only get it by calling the reservations department. United Airlines offers special senior fares on some routes, but you may need to call and ask what's available (and be sure to check if it's any cheaper than the normal adult rate). Notably, Southwest Airlines has a senior discount in the form of reduced Anytime fares for adults over age 65; these senior fares are refundable and can be booked either online or by phone.
2. Check in online if possible.
Most airlines allow you to check in for your flight through their websites or mobile apps up to 24 hours in advance. In most cases, it's better to check in online rather than at the airport. Some budget airlines, such as Spirit, charge a fee to check in at the airline counter. Plus, checking in from your computer or phone allows you to save time at the airport, especially if you only have carry-on luggage; you can bypass the ticket counter and go straight through security to your departure gate. (However, you might have to check in at the airport counter if you are requesting a wheelchair or other assistance from airline personnel.)
One of the biggest advantages of checking in online is being able to select your seat. To take full advantage of this, you should check in early for your flight. That's because the earlier you check in, the more seats you will have to choose from. So if you're hoping to sit near the front of the plane or avoid the middle seat, it's a good idea to check in online as early as you can.
Keep in mind that Southwest Airlines does things a little differently. It assigns boarding positions rather than specific seats. Depending on what type of fare you purchase and when you check in, you will be assigned to A, B, or C zone, with a number between 1 and 60 (where A1 gets on first and C60 gets on last). Your place in the queue determines when you get to board; once you are on the plane, you are free to choose any available seat. So on Southwest, checking in sooner will not get you a specific seat, but it will get you a better boarding position.
3. Print your boarding pass.
Technically, if you check in online and have a smartphone, you don't need to print a boarding pass in most cases. You can simply show the agent the electronic boarding pass that was sent to you when you checked in. (Note that an e-ticket is not the same as a boarding pass.) However, it's wise to have a paper copy of your travel documents in case your device runs out of power or there is some other type of technical problem.
You can print your pass on your home computer when you check in online, at the self-serve check-in kiosks in the airport terminal, or at the airline's ticket counter. The good news is that you do not have to check in twice on connecting flights on Southwest or most other airlines; you should receive all of your boarding passes at once.
4. Get to the airport early.
Even if you have checked in online, you should be at the airport at least two hours before your flight is scheduled to take off. (Allow at least three hours for an international flight.) That's especially important if you are checking baggage, since you will need to drop off your luggage at a designated counter by a certain time.
If you are traveling domestically and only have hand luggage, things are a bit simpler. In such a case, if you check in online, all you have to do at the airport is go through security and find your departure gate. However, you never know how long the security line will be, so it's still wise to arrive early. And if you have mobility issues, be sure to allow for extra time so that you're not rushed.
5. Speed through security.
Older travelers can get a bit of a break when it comes to security screening. For instance, if they're over 75, seniors do not have to take shoes off at airport security (though the shoes must still be swabbed for traces of explosives). They can also leave light jackets on.
Medically required liquids and gels are not subject to the same size restrictions as other carry-on liquids. However, they will have to be screened separately, so you can speed things up by packing them all together in one Ziploc bag (but separate from your other liquids). Keep the medications in an easily accessible part of your carry-on bag and make sure you tell the Transportation Security Administration (TSA) officer about them when you get to the checkpoint.
If you have some sort of disability or medical issue, you may want to fill out a TSA Notification Card so that you can communicate your condition in a clear and discreet manner. For example, if you have a metal hip implant, you can note it on the card so that the officer will know that you are likely to set off the metal detector. In that case, you would be subject to a pat-down or screening via full-body scanner.
Travelers of any age are eligible for TSA PreCheck, which gives them the privilege of not removing their shoes, belts, jackets, laptops, or liquids during screening at participating airports. To get TSA PreCheck, you must apply online, go through a short in-person appointment involving fingerprinting and a background check, and pay the $85 fee. (Some credit cards cover this fee or allow you to use frequent flyer points to pay for it; check with your credit card issuer.) If approved, you will be covered for five years.
If you travel internationally, Global Entry works just like TSA PreCheck, with the added benefit of expedited lines for customs and immigration upon re-entering the U.S. It costs $100 for five years.
6. Try to get expedited boarding.
Being one of the first to board a plane allows you to get settled in your seat sooner and avoid being shuffled along in a long lineup of people. It also gives you a better chance of finding space for your bag in the overhead compartment. In some cases, boarding earlier can also mean securing a better seat.
Here's how you can try to make sure you take your seat early, depending on the airline you use:
United
Older adults with disabilities can get on the plane during preboarding. If you do not have a disability, elite status, or a United-affiliated credit card, you can still avoid long lines by purchasing Priority Boarding. Starting at $15 per flight segment, Priority Boarding allows you to board ahead of the rest of the economy passengers. However, you cannot buy Priority Boarding if you purchase a Basic Economy fare (i.e., the cheapest one).
American
If you need assistance due to a mobility challenge or other type of disability, you can ask to be part of the preboarding group. American divides its regular boarding into nine different groups. First class, business class, and elite status customers get on first. However, you can opt to pay for Priority boarding, which gets you on with group four. As with United, Priority is not available to passengers on Basic Economy tickets.
Delta
On Delta, seniors who need extra time or help to board can take their seats during preboarding. Otherwise, you can pay $15 per flight to ensure your spot in the Main Cabin 1 group. Main Cabin 1 boards after families with young children, upper-level elite passengers, and Delta-branded credit card holders, but before most economy customers.
JetBlue
Passengers with disabilities are eligible to get on the plane during preboarding. Alternatively, you can choose to pay for an Even More Space seat, which comes with a few inches of extra leg room and enables you to get on board even before families with small kids. Even More Space also allows you to use special security screening lines in participating airports. It costs anywhere from $15 to $65 each way.
Southwest
Seniors can board early on Southwest in certain cases. For instance, if you need a particular type of seat due to a disability or if you need someone to assist you during boarding, you may get on the plane during the preboarding process. If you just need a bit of extra time to get settled, you will be permitted to board between the A and B groups.
You can also pay for Early Bird Check In to have Southwest automatically reserve a boarding position for you 36 hours prior to departure. While you do not have to check in yourself with Early Bird Check In, you can get your boarding pass by going online no sooner than 24 hours before your flight leaves, clicking "check in," and printing your pass. It's not quite so crucial to do this at a certain time, since your spot in the queue will have already been assigned. Early Bird Check In does not guarantee A group boarding, but it does boost your chance of securing a better boarding position. It costs $15 to $25 per direction. Some people believe Early Bird Check In is worth it if you have strong feelings about where you sit and don't want to stress about having to check in exactly 24 hours before your flight.
7. Don't be afraid to bring a mobility device.
Most airlines allow you to bring canes, walkers, wheelchairs, and even electric scooters along for no extra cost. If you can't walk to your seat, you can transfer from a wheelchair into a special aisle chair that is narrow enough to fit down the aisle of the aircraft.
Depending on the size of your device, you can bring it right into the cabin and store it in an overhead bin, under the seat in front of you, or in a separate storage area. If it won't fit in any of these places, the airline will check it as cargo for no additional fee. When you reach your destination, the device will be brought to the aircraft door for you unless you request to pick it up at baggage claim.
How to Arrange a Trip for an Elderly Parent
Whether you would like to bring Mom across the country to your house for a visit or send Dad to see your sister in the next state, it can be challenging to work out the travel details for an aging parent. There is no age limit for flying alone, but it can be dangerous for elderly people to fly by themselves if they aren't prepared. Here are some tips to help you get your elderly mom or dad from Point A to Point B safely and comfortably:
1. Choose travel times and routes carefully.
It's best to go for the shortest and most direct route, even if it costs a little more. Your goal should be to keep things as simple as possible, so the fewer connections, the better. And pay attention to the type of aircraft your mom or dad will be on: Some airports do not use jetways for smaller planes and instead require passengers to climb a set of stairs to board. (However, federal law stipulates that planes that have at least 19 seats must have mechanical ramps to assist with boarding.)
Also, try to arrange travel times for when your parent is most alert and energetic. That might mean avoiding early morning or late afternoon departures if possible.
2. Make special requests by phone (and follow up).
While you can book the trip online, it's sometimes easier to make special requests like wheelchair assistance, bulkhead seats with extra leg room, or expedited boarding if you speak to a human being. This can be especially important if your parent will need help getting all the way to his or her seat rather than just to the door of the plane.
Airlines are required by law to provide wheelchair service for free to any traveler who requests it. If your loved one has challenges with walking but doesn't actually need a wheelchair, ask if he or she can ride on an electric cart through the airport.
If your mom or dad uses portable oxygen, find out if the airline requires any medical documentation in order to transport it. Also, be sure to let the airline know of any special dietary restrictions your loved one has.
Don't forget to reconfirm all arrangements as you get closer to the travel date. The extra effort is worth it for your peace of mind.
3. Pack appropriately.
It's a good idea to encourage your parent to pack as light as possible. If everything can fit in one carry-on-sized roller bag, your loved one may be able to avoid checking in luggage and having to wait for it at the baggage carousel at the destination airport. If he or she does check a bag, remind him or her not to put any important documents or medications in that bag; those should go in hand luggage. Also, all liquids should be easily accessible for security screening.
If your senior has a cell phone, make sure it's programmed with your contact info as well as any emergency contact numbers he or she may need. If your parent does not have a cell phone, consider getting a pre-paid one for the trip. If necessary, show him or her how to place and answer a call. You might also want to write down the steps he or she should follow to get in touch with you.
4. Arrange transportation to the airport.
If you aren't able to drive your parent to the airport yourself, you could book a taxi or arrange a ride with a service like Uber or Lyft. Organizations like ITN America and Papa offer transportation services specifically for seniors. Another option is to contact a volunteer driving program in your parent's local area.
5. Get your parent to the gate.
Did you know that you can accompany your elderly parent to the gate if you obtain an escort pass? To request a pass, go to the airline check-in counter with your parent and present a government-issued photo ID. (It sometimes helps to call about a pass a day or two before the flight.) An escort pass allows you to take your parent through security and all the way to his or her departure gate.
If you can't be at the airport with your parent, talk to the airline about arranging free assistance. You could also choose to hire a concierge service like MUrgency or Royal Airport Concierge Service to help your senior manage luggage, check in, and get through security screening. And if you're willing to spend more for a dedicated escort, Flying Companions can provide full-service travel assistance, including a companion who will accompany your parent right from his or her home to his or her final destination.
6. Coordinate arrival.
Make sure a family member or friend will meet your parent at the destination airport. Many airlines will provide an escort pass to allow you to meet a disabled passenger at the arrival gate. However, that only works for domestic flights. Because of customs and immigration rules, you are not permitted to go to the gate of an incoming international flight. If your mom or dad needs help to clear customs, talk to the airline about having a wheelchair attendant meet him or her at the gate.
How to Travel With an Aging Relative
Shared travel is a fantastic way to create lasting family memories. However, traveling with an older parent does require careful planning. Start by reviewing the above tips about choosing travel times and routes, making requests for assistance, and packing appropriately. Then read the following tips to learn how you travel with an elderly parent:
1. Select a destination.
Try to pick somewhere that appeals to both of you. What's on your mom or dad's bucket list? How can you make that happen?
Keep in mind that if your senior has mobility issues, you may want to avoid cobblestone streets and hotels with no elevators. It's also a good idea to research the whereabouts of hospitals and pharmacies at your destination so that you can be prepared in the event of a medical emergency.
2. Check with the doctor.
Before planning any trip, find out if your parent is physically capable of handling it. Get advice about how to manage his or her medical conditions during travel. Learn how to adapt the medication regimen for a different time zone. Find out if vaccinations are necessary. Get a signed note from the doctor that details all of your mom or dad's prescriptions. You might also want to ask the doctor to provide a statement about things like knee or hip implants your parent has that could set off security alarms.
When it comes to senior travel, tours can be an excellent choice because they offer convenient ways to get around unfamiliar areas. Many are geared to the needs of older adults but also accommodate younger travelers. For instance, Accessible Journeys offers group vacations for wheelchair-bound seniors and their families. All itineraries feature fully accessible hotels and modes of travel.
Cruises are also very popular multigenerational trips because they are virtually all-inclusive vacations. Seniors and their families can unpack once, see many different ports, and take advantage of unlimited dining and entertainment. Plus, many shore excursions are organized with the mobility-challenged in mind. And most ships have wheelchair-accessible public areas and staterooms as well as onboard doctors and medical facilities.
4. Get travel insurance.
This is essential if you plan to leave the country. Most health insurance plans, including Medicare, will not cover your elderly parent outside of the U.S. (although a few Medicare Advantage plans will). So you should definitely look for a policy that covers him or her in case of a medical emergency abroad.
You should also consider insurance if your trip involves high prepaid non-refundable costs, such as a cruise or bus tour. If you or your parent gets seriously ill and can't travel, or if a hurricane disrupts your cruise plans, insurance may allow you to get some of that money back.
According to the AARP, travel insurance is best purchased from a broker rather than directly from a tour operator or cruise line. You can research costs and coverage at sites like SquareMouth and InsureMyTrip.
However, if you are traveling domestically and all you have reserved are airfare and hotel rooms, you may be able to cancel without penalty or get some kind of credit. In a case like that, insurance might not be needed. And check the benefits on your credit card before purchasing any insurance; you may have enough protection that an insurance policy is unnecessary.
5. Plan to take it easy.
Don't pack too much into your itinerary. Rest time is important for everyone, but especially for older adults. Allow for afternoon naps if your parent is used to taking them. Try to limit excessive walking and be prepared to take more breaks than you normally would. Also, be sure to budget extra time to navigate attractions, especially if you must search for elevators or ramps as alternatives to stairs. Patience is key.
6. Maintain a routine.
Some seniors are adventurous, but others find comfort in the familiar. If your mom or dad has dementia or some sort of cognitive impairment, it's wise to stick to a predictable schedule as much as possible. Eating and resting at the usual times can lower your elderly parent's stress level and help keep him or her from becoming agitated.
7. Set aside time for yourself.
Try to plan activities that you can do with your parent as well as a few that you can each enjoy on your own. When booking accommodations, consider getting separate rooms so that you can each have some private time apart. Or choose a type of vacation that allows you to pursue different activities and then get together for meals. After all, there's no rule that says you have to do everything together. Giving each other some space can go a long way toward the success of a holiday.
How to Travel as an Older Adult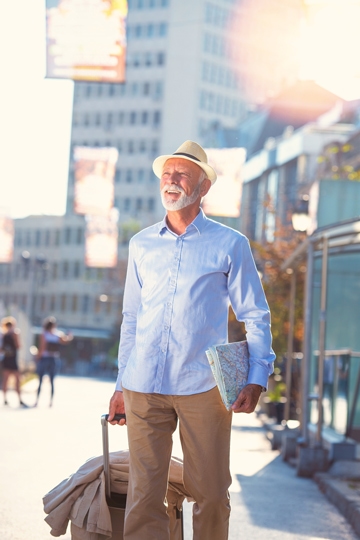 You travel as a senior by assessing your needs, wants, and priorities (and taking advantage of discounts whenever possible). Read through all the tips in the above sections, then have a look at these travel suggestions for older adults:
1. Always ask about senior discounts.
It never hurts to ask, and it could score you some good deals that aren't even advertised. You may also want to think about joining organizations like the AARP, American Seniors Association, or Association of Mature American Citizens, all of which offer travel-related discounts to their members. (But keep in mind that each is a lobbying group that takes specific stands on political issues; if you disagree with a group's viewpoint, you might want to pass on becoming a member.)
2. Go in off-peak seasons.
You probably have the flexibility to travel when it suits you, and avoiding the prime tourist season can help you save money and avoid crowds. But make sure you pack for unpredictable weather and research some indoor activities so that you can stay out of the cold or rain. Also, be aware that some museums and other tourist sites have limited hours or are completely closed in the off season.
3. Get insurance.
If your trip involves a lot of prepaid non-refundable expenses, travel insurance can save you a bundle of money if something goes sideways either before or during your holiday. Travel medical insurance is crucial if you plan on leaving the U.S., since Medicare and most other health insurance plans do not apply outside the country. You might also need medical coverage if you will be traveling domestically but outside of your approved network of healthcare providers. But make sure to study each insurance policy carefully; most do not provide coverage for pre-existing medical conditions.
4. Pack light, but bring the essentials.
Limit the amount of clothes you bring and plan to do laundry frequently. (You can always wash items in a hotel room sink and hang them to dry.) The less you have to lug around, the more mobile you will be.
That said, you should definitely throw in a few items to make your trip easier. If your eyesight isn't what it used to be, bring a magnifying glass to help you read small print. If you use a hearing aid, bring an extra set of batteries. And if you're going abroad, compile a list of the generic names of all your medications in case you need to get a refill from a pharmacist who doesn't recognize American brand names.
5. Think about security.
If possible, arrange to have someone check on your home periodically while you're out of town. And don't tempt burglars by announcing your travel plans on social media. To avoid becoming a target for thieves during your trip, leave the gold watch and fancy jewelry at home and don't flash too much cash around. You might want to wear a money belt under your clothes to help keep your valuables secure.
Here's another tip: Don't hang the "please make up my room" sign on the door of your hotel room, since that signals to potential thieves that you're not there. Instead, inform the front desk that you're going out and that housekeeping is welcome to clean the room.
6. Minimize the moving and unpacking.
The best senior vacations are often those that don't try to cover too many sites in too little time. Think about basing yourself in a central hub and taking short day trips to surrounding areas. Or take a cruise that allows you to explore a variety of destinations without having to change accommodations.
7. Choose centrally located hotels.
Staying near the major attractions (or at least close to public transit options) makes it easier to get back to your room to relax at the end of a long day. If you have mobility issues, ask for a ground-floor room and find out if the hallways or doorways can fit a walker or wheelchair. Also, check whether the hotel is built on top of a steep hill or in an area that might be unsafe at night.
8. Consider staying in hostels.
Did you know that hostels are not just for 20-something backpackers? Independent-minded travelers of all ages can take advantage of cheap, no-frills lodging all over the world. Many hostels offer private rooms with en-suite bathrooms, and there is usually a shared kitchen where you can prepare your own meals. Sometimes a simple breakfast is even included in the rate.
9. Swap houses.
Exchanging houses with other travelers for a few days, weeks, or even months is a great way to save money on accommodations and immerse yourself in the local culture at the same time. Sites like HomeExchange and Home Exchange 50plus can help you arrange the details.
10. Go sightseeing early or late in the day.
Getting to an attraction right at opening or just before closing helps you avoid extreme temperatures and large crowds. If you're in an unfamiliar city, starting with a one- or two-hour bus or boat tour can orient you to the area's attractions and help you determine what you'd like to explore in more depth.
11. Consider a guided tour.
Bus tours and cruises can be excellent ways to travel for seniors. Everything is planned, organized, and coordinated by someone else, so you don't need to worry about logistics. But it's still important to find the tour or cruise that suits you best. If you are considering senior travel groups, here are a few questions you should get answers to:
For a bus tour, how much time will you spend on the bus each day? For a cruise, how many days will the ship be at sea as opposed to in port?
Will headsets be used to make it easier for passengers to hear the guides when touring museums and other sites?
Can the bus or ship accommodate wheelchairs, walkers, or scooters?
On a bus tour, will there be enough time at each stop to use the restroom and still explore the sites?
What is the activity level of the tour?
How much free time will you have?
How early must you get going in the morning?
How centrally located are the hotels or cruise ports?
Travel Tour Companies for Seniors
Organized tours are popular among older adults who want to let someone else take care of the details of a holiday. And with some companies offering discounts to members of organizations like the AARP, senior travel tours can offer great value.
Land tours
Whether you want to explore a destination by bus, by train, or even on foot, there are plenty of companies that can help you maximize your vacation enjoyment. Here are a few that are aimed specifically at seniors:
Many other tour companies don't have age restrictions but tend to appeal to an older demographic. Here are a few options you may want to consider:
Cruises
Want a relaxing way to see the world and meet new people? Check out cruises. For senior singles and couples who are eager to enjoy a wide range of activities and connect with other mature travelers, cruising can be a great option. Many ships offer activities like trivia games and dance classes that allow you to mingle with people who share your interests. And some ships organize get-togethers and social activities specifically for solo travelers.
Here are a few cruise lines that cater to older adults:
10 Good Budget Destinations for Seniors
Are you yearning to get away from the everyday? Check out a few senior-friendly travel destinations here in the U.S. that don't have to break the bank:
1. San Antonio, Texas
Older adults looking for history, culture, and Tex-Mex cuisine can find good deals in San Antonio. Admission to the Alamo and the homes of the San Antonio Missions is free. Plus, you can stroll the River Walk, visit the Japanese tea garden, or browse through the biggest Mexican market in America without spending a dime. The city is also easy to navigate by streetcar or bus.
2. Memphis, Tennessee
Famous for barbecue and blues music, Memphis is both an affordable and appealing vacation destination. Explore the neon and nightclubs of the Beale Street Entertainment District or catch free outdoor concerts at the Levitt Shell. You could also hop on a free shuttle for the journey to Graceland (and if you get there between 7:30 and 8:30 a.m., you can visit the meditation garden and see Elvis's grave for no charge).
3. Phoenix, Arizona
With year-round sun and more than 180 golf courses, Phoenix has established itself as a haven for retirees seeking warmth and relaxation. There's plenty to do if you're on a budget: Explore dozens of mountain and desert trails, learn about American Indian culture at the Heard Museum (free on certain days each month), or take a free city-wide art walk on the first Friday of every month.
4. Las Vegas, Nevada
Older adults can score some great deals in Sin City. Casinos like Silverton and Station offer special senior deals on dining and gaming on certain days. And outside of the casinos, you'll find an abundance of free attractions: You can tour the Ethel M Chocolate Factory (and maybe get some free samples), check out the floral creations at the Bellagio Conservatory and Botanical Garden, or catch the street performers at the Venetian.
5. Branson, Missouri
This cozy town in the Ozark Mountains is a fantastic low-cost destination for seniors who want a relaxing getaway. Miles and miles of woodland trails can be explored for free. You could also take in a country music show or live theater performance, play a round at one of Branson's many golf courses, or ride an old-fashioned paddle-wheeler, all for a reasonable cost. And senior discounts are widely available at area hotels and resorts.
6. Albuquerque, New Mexico
Albuquerque offers plenty of affordable fun for older adults. Explore the Old Town, drive along historic Route 66, go on a free winery tour and tasting, or check out the ancient stone images of the Petroglyph National Monument. If you visit in October, you can catch the world-famous International Balloon Fiesta.
7. Pensacola, Florida
Pensacola is a small city with a huge number of inexpensive activities for older travelers. It costs nothing to tour the National Naval Aviation Museum, watch the Blue Angels soar through the skies, browse the fresh produce and fine art of the Palafox Market, or go birdwatching on numerous nature trails. You can even rent a special type of wheelchair to help you enjoy the area's white sand beaches.
8. The Grand Canyon
You can experience the awesome majesty of one of the world's most stunning natural attractions for surprisingly little cost, especially if you have a camper or RV. Seniors can get a lifetime national parks pass for $80 or pay $35 per vehicle to enter the park for a week. If funds are super tight, try visiting on one of the free-entrance days.
9. San Diego, California
Sunny San Diego is an excellent vacation destination for older adults. Hotels are relatively inexpensive, and the downtown trolley offers an easy and affordable way to get around. Explore the historic buildings of the Old Town, tour a WWII-era aircraft carrier, or check out the many museums of Balboa Park. You could even take a short ferry ride over to the island of Coronado for only $5 each way and explore a multitude of unique restaurants and shops.
10. Charleston, South Carolina
For some Southern charm at a reasonable price, consider a trip to Charleston. You can stroll past beautiful antebellum mansions, take a carriage ride through the downtown area, or wander through historic churches and burial grounds. Take a free tour of the Charleston Tea Plantation, explore Fort Sumter, or just relax on the beach. There are endless options.
Keep Exploring
Senior travel can be immensely rewarding. So read through the list of tips above—and start planning your next adventure!