Crafts for Seniors
Crafts for Seniors: 52 Fun and Simple Ideas That Inspire
By Publisher
| Last updated
Looking for an inventive and enjoyable way to spend your free time? Check out our extensive list of crafts for seniors. It encompasses a wide range of craft activities, from painting and knitting to woodworking and scrapbooking. Whatever your interests or skill level, there are dozens of ways to have fun while keeping your hands occupied and your creativity flourishing.
Did you know that crafting offers numerous benefits for older people? Being engaged in hands-on creative activities can improve motor skills, strengthen social connections, reduce stress, and alleviate anxiety. It can also be good for the brain. A research study in the Journal of Neuropsychiatry and Clinical Neurosciences found that seniors who participated in crafts like pottery and knitting had a lower risk of developing mild cognitive impairment. And in a Psychological Science study, seniors who learned how to quilt or do digital photography showed improved memory function. So making crafts may be a great way to keep your brain stimulated and enhance your cognitive abilities.
Plus, many seniors who have physical limitations can still experience the joys of crafting by adapting the activities or using special equipment. For example, older adults who like to knit can use larger needles and heavier gauge yarn. Those who enjoy woodworking but have difficulty standing or using power tools can sit at a table and assemble projects from kits. And older crafters with vision challenges can use magnifying stands for assistance.
We've rounded up more than 50 of the best craft ideas for seniors and grouped them into straightforward categories to help you quickly find what you're interested in:
This article contains affiliate links. We are compensated with a small commission, at no extra cost to you, for sales made through the links.
General Craft Ideas
Are you ready to get crafting? Whether you're looking for projects that use paper, glass, wood, flowers, or beads, you're sure to be inspired by this list. Check out these simple craft ideas for older adults:
Suncatchers: Make your home sparkle by crafting a suncatcher to hang in your window. You can create a lightweight suncatcher out of mason jar lids and coloring sheets or go a little heavier and use glass stones. You can even create one using melted beads.
Scrap-fabric magnets: Want a cute way to use up those old bits of fabric? Add a bit of felt and turn them into adorable ladybug magnets.
Clay jewelry charms: Create some one-of-a-kind jewelry pieces by shaping your own unique charms out of polymer clay. Adding a toggle clasp to your necklace will make it easier to put on and take off.
Pressed flowers: Gather some flowers and arrange them creatively between two sheets of wax paper. Place a heavy book on top to weigh the flowers down and let it sit overnight. Once the flowers are totally flat, you can laminate them or use them to decorate greeting cards, bookmarks, coasters, photo frames, and more.
Birdhouses: Constructing things out of wood can be deeply satisfying. If you have the appropriate tools and know-how, you can build a birdhouse from scratch. Another option is to assemble one from a store-bought kit.
Beaded bracelets: Using safety pins and brightly colored beads, you can create some customized bling and wear it with pride.
Wind chimes: Wind chimes can be a colorful and charming addition to a garden. How about a simple design that uses clay pots with pre-existing holes?
Paper flowers: Brighten up any room with flowers that you make yourself. You can create beautiful blooms out of tissue paper or coffee filters.
Sewing, Knitting, and Crocheting Crafts
Needlecrafts like knitting and crocheting are some of the most popular activities among older adults. That's partly because they require minimal equipment and can often be done from the comfort of an armchair. You can enjoy these types of activities well into your golden years. In fact, British charity Knit for Peace surveyed more than 1,000 knitters and found that more than two-thirds of them were over the age of 60, and many were in their 80s and 90s.
Here are a few ideas for fun needlecraft projects:
Painting and Coloring Crafts
Many seniors enjoy expressing themselves with markers and paintbrushes. Focusing on patterns and colors calms the mind and allows the brain to take a break from daily worries. In fact, some research suggests that coloring can have the same soothing effect on the body as meditation. With that in mind, check out these examples of painting and coloring projects for seniors: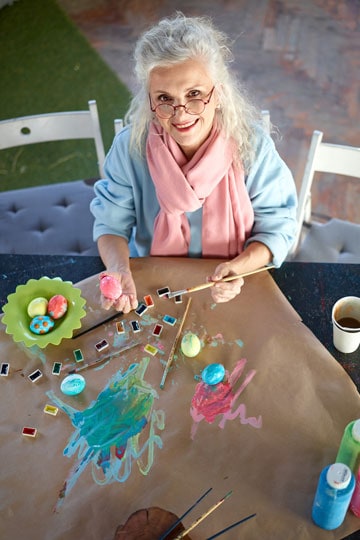 Photo Crafts
Incorporating photos into crafts is the ultimate way to personalize a project. Many seniors enjoy taking pictures, and some have boxes of photos gathering dust in a closet somewhere that could be put to good use. If you have digital photos on a memory card, smartphone, or computer, you can print them out yourself or have them printed fairly inexpensively at places like Costco or Walmart.
Photo crafts make extremely good gifts because they are so personal. Consider these ideas:
Christmas Crafts for Seniors
Crafting is one of the best ways to show your holiday spirit and add a festive touch to your surroundings. Try your hand at one of these Christmas crafts for seniors:
Other Holiday Crafts
From Halloween and Thanksgiving to Valentine's Day and Easter, special occasions deserve special craft ideas. Have a look at these examples:
Fall leaf candleholders: Scoop up some of those beautiful fall leaves, pick up a couple glass jars, and create glass candleholders for your Thanksgiving centerpiece.
Paper plate holder jack-o'-lantern: Spray paint and felt is all it takes to turn a woven paper plate holder into a classic Halloween character. You can use it on your table or hang it on a wall.
Pom-pom pumpkins: Celebrate the fall by creating these funky pumpkins out of yarn and a few embellishments.
Heart felt ornament: If you're good with a needle and thread, try recycling some old wool sweaters into these simple embroidered heart ornaments.
Felt fortune cookies: Treat your loved ones to a homemade fortune cookie this Valentine's Day. No baking required!
Easter egg spoon planter: Plastic spoons make great Easter eggs. Paint them in your favorite patterns and glue them around a plastic container for a pretty spring planter.
Easter egg button craft: Here's a creative (and cute) way to use all those old buttons: Glue them into the shape of an Easter egg and frame the result.
Easy Crafts to Do With Grandchildren
Making crafts is an excellent way to bring the generations together. Here are some simple projects that you can create with young ones:
Stick bracelets: Wooden craft sticks can make fantastic bracelets, but this craft does require a bit of prep work: You need to boil the sticks, shape them, and let them dry overnight before you can decorate them.
Tissue paper stained glass: With a simple kit, you and the young ones can make beautiful stained glass designs using only tissue paper and glue. Another option is to create the templates yourself out of black cardstock.
Clothespin car: Colorful cars made of clothespins and buttons are easy to put together and are an awesome way to keep little hands busy.
Terrarium: Create a decorative garden in a glass container. For extra fun, let the kids add plastic dinosaurs, gnomes, or fairies.
Picture frame: There are countless ways to decorate wooden picture frames. Experiment with buttons, beads, ribbons, paint, stickers, or glitter. When your creation is complete, add a photo of you and the kids as a memento of your time together.
Crayon hearts: A silicone mold can give new life to old crayon bits that would otherwise get tossed out. Many kids love using the new shapes in their art projects.
Coffee can drum: Old coffee cans make natural musical instruments. You can help your grandkids decorate the drums with paper, paint, stickers, foam, or whatever else you have on hand. If you don't have lids, balloons stretched across the top of the can will also work.
Sailboat: It's super easy to create sailboats out of plastic trays, wooden sticks, and paper. Encourage the kids to be creative when decorating their flags. Then try racing them in a local stream!
Indoor boomerang: You can make lightweight boomerangs out of paper, so they won't damage anything. Try different designs to see which one flies the best.
Finger puppets: These can be as much fun to play with as they are to make. You can create cute designs out of paper, felt, or even rubber gloves.
Get Crafty
Any age is a good age for crafting. With inexpensive supplies and a little imagination, you can de-stress, have fun, and be proud of what you create. So go ahead and get started!