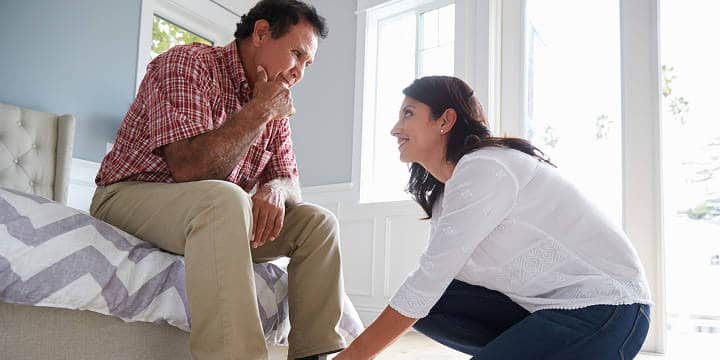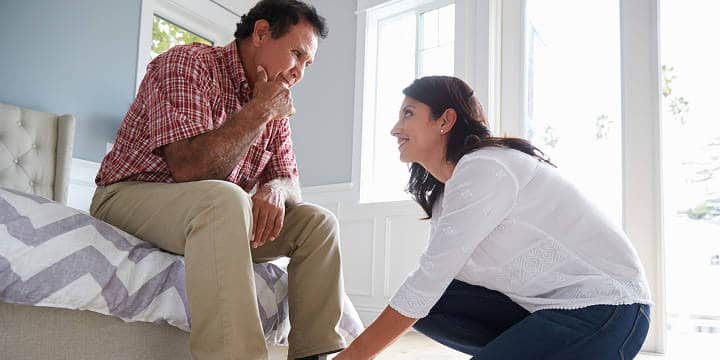 Memory Care
Memory Care: Finding the Right Home for You or Your Loved One
By Publisher
| Last updated
Memory care facilities and units are often ideal homes for people with Alzheimer's, dementia, or other cognitive conditions or diseases. After all, such conditions can impair people's memory functions so much that they negatively affect their everyday lives. When you or your loved one can no longer remain at home, a memory care facility can provide a safe and supportive environment in which to receive individualized care.
It's critical to keep engaging dementia patients' cognitive abilities through meaningful activities and social connections. That's what memory care staff aim to do. They work to make sure that residents don't feel isolated since it can make their conditions advance more quickly. Going into memory care can actually result in slowing down the progress of dementia and restoring a positive outlook on life.
If dementia is affecting you or someone you love to the point of no longer getting out of the house, socializing, or doing enjoyable activities, then it may be time to consider a memory care facility. Read through the following sections to get a better understanding of what memory care entails, and discover the possibilities in your area.
What Are the Signs of Dementia?
Dementia is a condition that results in the decline of memory, language, and other cognitive abilities. Several different diseases cause dementia, but Alzheimer's disease is the most common. In fact, according to an Alzheimer's Association report, Alzheimer's accounts for 60 to 80 percent of all dementia cases. It's important to recognize the signs of dementia as early as possible because early detection is key for slowing down the progression of the condition.
Early detection is also becoming increasingly important due to the prevalence of dementia among the older population. The Alzheimer's Association report notes that:
As of 2018, about 5.7 million Americans live with Alzheimer's, and it's estimated that about one in 10 adults above the age of 65 have the disease.
By 2025, more than seven million Americans could have dementia, and that number could reach almost 14 million by 2050.
Some experts say that those numbers should be even higher because Alzheimer's is still commonly underdiagnosed and underreported.
So, when it comes to dementia, you need to take all concerns seriously. However, it can be hard to tell whether you or your family member is actually experiencing dementia. You may be unclear about the differences between normal aging and abnormal symptoms. If you have any questions or doubts, then it's important to see a physician and receive an assessment.
One of the main reasons why recognizing dementia can be difficult is that forgetfulness is common in old age. Occasionally forgetting things isn't necessarily a sign of dementia. But if the forgetfulness or memory loss gets to the extent that it's affecting you or your loved one's daily life, then you may have some cause for concern. If any of the following behaviors occur on a regular basis, then you may want to book an appointment with the doctor:
Forgetting what common items are used for
Losing interest in hobbies and activities
Putting items away in the wrong spot, such as perishables in the cupboard or silverware in the fridge
Repeating daily activities such as bathing or shaving
Misplacing items, or even accusing people of stealing them
Regularly becoming lost in familiar places, such as forgetting how to get home from the grocery store
Forgetting where you are or how you got there
Losing the ability to recall family members, friends, and colleagues
Struggling to find the right word when speaking, or calling items by the wrong name
Having trouble with carrying out tasks like paying bills or cooking meals
Losing track of time and forgetting events
Repeating the same words, sentences, or actions over and over
Having frequent changes in mood and becoming angry or frustrated more often
Wandering and straying from familiar surroundings, then becoming lost and disoriented.
Keep in mind that the list above is not comprehensive. There are many different signs and symptoms of dementia, so trust your instincts and follow-up with healthcare professionals about any behaviors that seem unusual.
Where Can I Find a Memory Care Facility?
Stand-alone facilities exist, but most memory care units are part of larger assisted living or nursing home facilities. Such units are usually referred to as special care units (SCUs). Assisted living facilities are typically only equipped to take in dementia patients who are in the early stages of the condition. Those residents have the opportunity to retain some of their independence while living in a safe setting.
As their dementia progresses, patients are often moved into higher-level care facilities like nursing homes. Such facilities are better equipped to meet the care needs of later-stage dementia patients. Most nursing homes create individual care plans that are suited to each resident's needs. They can include dietary and medical requirements as well as physical and mental health programs. Some homes may even offer a variety of specialized programs, treatments, and therapies that are designed to help slow the onset or progression of dementia.
You'll likely find a lot of variation in the types of memory care services that are offered between different facilities. So it's important to do lots of research in order to find the best option for you or your loved one.
How Much Does Memory Care Cost?
Since memory care units usually exist within assisted living facilities and nursing homes, you can get an idea of the cost by looking at those facilities' rates. For instance, according to a 2016 survey by Genworth, the national median rate for nursing home care was $6,844 per month for a shared room and $7,698 per month for a private room.
Although the national median gives you a rough idea of cost, you may find that your state's rates are quite different. For example, the survey noted above found that Oklahoma is one of the most affordable states for nursing home care. The median rate for a shared room there was $4,410 per month. On the other end of the spectrum, the median rate for a shared room in Alaska was $24,333 per month.
In addition to location, specific care requirements affect the monthly cost. Memory care tends to be more intensive than a lot of other nursing home care. Most residents require 24-hour supervision and have high-level needs. So memory care units typically have higher staff-to-patient ratios, and the staff usually have greater training requirements than staff in other units. All of those factors, combined, often result in higher rates being charged to residents.
What Kinds of Activities Take Place in Memory Care Units?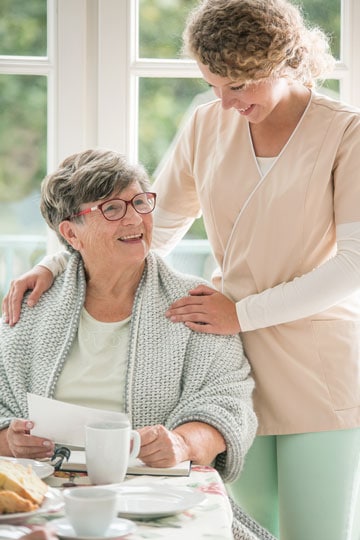 When you're looking into care options, you'll want to be sure to ask about the types of activities that are offered to residents. It's important for dementia patients to have meaning and purpose in their lives because it helps them feel connected. Plus, giving them opportunities to pursue their interests and hobbies helps them retain their individuality for as long as possible.
It's best to take part in stimulating and engaging activities every day. Dementia patients who are able to do that often have an easier time recalling past memories, experience more joy for life, and have fewer feelings of frustration, confusion, anxiety, and irritability. At the most basic level, you can expect memory care units to offer the following:
24-hour supervised care
Daily personal assistance
Daily meals
Healthcare management and medication assistance
Physical therapy
Exercise programs
Social activities
If more meaningful activities are important to you, then you may want to ask more specific questions or request the unit's daily schedules. Check to see if there are memory care activities that can offer a connection to things that have provided enjoyment or a sense of purpose before. For example, maybe those would include a mix of both fun and practical activities, such as cooking, cleaning, fixing items, and doing crafts.
Here's a list of some of the specific activities that memory care units may offer to their residents:
Brain games and other cognitive activities
Card and board games
Walking and dancing programs
Music therapy
Pet therapy
Journaling life stories
Storytelling
Arts and crafts
Bingo
Computer and technology programs
Gardening
Cooking
Handyman work
Field trips
Some memory care facilities also have Snoezelen rooms, which are special rooms designed by psychologists that have a calming effect for dementia patients. They are often equipped with comfortable chairs, couches, pillows, and blankets. Special attention is paid to the colors, sounds, textures, and scents within the rooms to make them as calming and peaceful as possible.
Due to the variation of what's offered at different memory care facilities, you'll want to assess what's important to you or your loved one so that you're able to pick the best possible home.
What Kinds of Questions Should I Ask Dementia Care Homes?
You'll want to be sure to ask a lot of questions when interviewing memory care facilities so that you can feel confident that the care provided matches your needs or those of your family member. You'll want to assess certain things prior to meeting with administrators. For example, you'll want to consider your or your loved one's:
Mobility requirements
Behavioral issues
Daily assistance requirements
Medical care needs
Supervisory needs
Ultimately, you need to be sure that a facility's top priorities include meeting residents' daily care needs and ensuring their safety and security. Here are some additional questions you can ask:
How do you secure the memory care community, home, or unit to prevent unsafe wandering?
How are the staff trained?
What is the staffing ratio during the day and night?
Are nurses always available?
Do you create individual care plans for each resident?
What medical services are offered?
Is the facility equipped to care for patients with little or no mobility, or for patients who are aggressive, disruptive, or violent?
Can they provide care for all stages of dementia?
How do they keep family up to date about the resident's care needs?
What types of treatments, therapies, and activities are offered?
When you visit a facility, you should also take note of how you feel while you're there. How are the staff? Do they seem friendly, caring, and helpful? Do you feel good about the facility's care philosophy? Is the facility easy to get around? Paying attention to how you feel about a place is just as important as having all of your questions answered appropriately.
Are There Alzheimer's and Dementia Support Groups?
Dementia is hard on both the person who's experiencing it and his or her closest family members and friends. It can feel comforting to know that you're not alone on this journey. Support groups can help you realize that. They can help you obtain the most current information about dementia, and they give you an opportunity to share experiences and learn from other people who are going through similar situations.
The good news is that support groups are available for patients, caregivers, and family members. Here are some places to begin looking: