Gifts for Elderly People
Christmas Gifts for Seniors: 68 Great Ideas
By Publisher
| Last updated
Finding good Christmas gifts for seniors can sometimes be a considerable challenge. After all, many seniors have very particular tastes or more stuff than they know what to do with. How do you find a gift they'll appreciate? It can be even harder if they insist they don't need anything.
But there are plenty of ways you can make them feel special. For many seniors, the key elements of a gift are practicality and functionality. (And sentimentality still plays a role in Christmas gifts for parents and grandparents.) If you can give them something that will make their lives easier, healthier, or more fun, you can bring a smile to their faces.
This guide includes plenty of thoughtful ideas for older men and women, elderly parents and grandparents, and even those hard-to-buy-for people who already have everything. It also features dozens of ideas for older adults with various health challenges or conditions, plus some fun fitness and health-promoting options. Read on to discover how you can add a magic touch to a senior's day!
In a hurry? These are our 10 most popular gifts for seniors on this list:
This article contains affiliate links. We are compensated with a small commission, at no extra cost to you, for sales made through the links.
Fun & Practical Christmas Gifts for Elderly People
Are you stumped for gift ideas for the senior citizens in your life? Whether you're searching for a fun present for an older neighbor or a practical gift for an aging relative, you'll get some inspiration from this list. Check out these gift ideas for elderly people:
Christmas Gifts for Parents
Gift ideas for parents can be hard to come by, particularly when they claim that they don't want or need anything (yet you still want to bring them a bit of cheer). Here are a few suggestions for gifts for parents like that:
Christmas Ideas for Grandparents
Does trying to think of gift ideas for the grandparents in your life have you scratching your head? We've got you covered. Here are some suggestions for gifts that Grandma or Grandpa may appreciate:
Christmas Gifts for Health and Fitness
You can show you care with a gift that encourages and builds fitness, health, and wellness. Plus, many of these gifts are portable and easy to use, making it simpler for your friend or loved one to optimize their quality of life from home or on-the-go. Check out the following gift ideas for senior fitness and health:
Gifts for People With Alzheimer's or Dementia
Some of the best Christmas gifts for Alzheimer's patients and people with dementia are those that help ease their anxiety, soothe their agitation, or stimulate their minds. Check out the following suggestions:
Christmas Gifts for Visually Impaired People
Does an older adult on your list struggle with low vision? Here are a few products for the blind and visually impaired that make excellent holiday gifts:
Christmas Gifts for People Who Are Deaf and Hard of Hearing
Are you trying to come up with something special for an elderly friend or family member who is hard of hearing, deaf, or dealing with another type of hearing impairment? Gifts that may bring a smile to their face include:
Christmas Gifts for People With Arthritis
For people with arthritis, gifts that ease pain and promote comfort are usually high on the wish list. Check out these suggestions for gifts for people living with arthritis:
Christmas Gifts for People Who Have Everything
When it comes to people who have everything, the best gifts often focus on experiences and services or unique do-it-yourself items that they can't get anywhere else. Here are a few ideas that may help inspire you: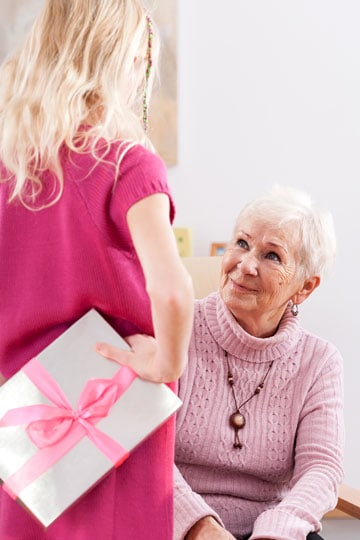 An old photo you've restored: Many elderly people have decades-old photos that could use sprucing up. An old photo that's been restored is a great gift for grandparents who have everything. You can check out tips on how to restore it yourself using Photoshop, or you can have places like Costco do it.
Monthly club delivery: Why not surprise the senior in your life with a subscription service that delivers wine, gourmet chocolate, beer, cheese, or flowers to their door each month?
Order from MonthlyClubs
Gift cards for experiences: One way to bring a little cheer to your loved ones is to treat them to an outing you know they'd love but normally wouldn't do. Spas, cinemas, and restaurants are just a few of the places that offer gift cards your elderly loved ones might enjoy.
Housecleaning or yard-care service: Many elderly people who still live in their own homes appreciate having someone else take care of scrubbing floors, cleaning bathrooms, mowing lawns, and raking leaves. You could arrange these services for them as a one-time deal or on an ongoing basis.
Charitable donation in their name: For people who really don't need any more stuff, a donation in their name to a charity you know they support can be the most meaningful gift they receive. You could also donate your time to the charity instead of your money and tell the gift recipient that your labors were done in their honor.

Cooking lesson: Learning a new skill is a good way to keep the brain sharp. If any of your senior citizen friends have a culinary bent, why not pay for a cooking lesson that teaches them how to prepare different kinds of foods they may not have tried before?
Theater, concert, or sports event tickets: Give your loved ones an evening out to indulge their interests and enjoy their favorite performers. A pair of tickets to a music concert, theatrical performance, or live sporting event would surely be appreciated.
Ancestry.com membership: Many elderly people are interested in documenting their family histories. A membership to an online service like Ancestry.com can guide your gift recipient through their genealogy research and help them fill out the branches in their family tree.
Spread Some Cheer
Selecting the perfect gifts for elderly friends and family members doesn't have to be difficult. Use the list of ideas above for inspiration and make a senior feel special!
*There is an additional fee for RAZ Emergency Service.