Gifts for Elderly People
Gifts for Elderly Friends & Loved Ones: 70+ Great Ideas
By Publisher
| Last updated
Coming up with good gifts for elderly people can sometimes be a huge challenge. After all, many seniors have particular tastes or more stuff than they know what to do with. How do you find a gift they'll appreciate? It can be even harder if they insist that they don't need anything (as so many older people do when they don't wish to be a burden).
But there are plenty of ways you can make them feel special. For many seniors, the key elements of a gift are practicality and functionality. (And when it comes to gifts for parents and grandparents, sentimentality still plays a role.) If you can come up with something that will make their lives easier, healthier, or more fun, you can bring a smile to their faces.
This gift guide includes plenty of ideas for older men and women, elderly parents and grandparents, and even those hard-to-buy-for people who already have everything. It also features dozens of ideas for older adults who are dealing with a variety of health challenges or conditions. Read on to discover how you can add a magic touch to a senior's day!
This article contains affiliate links. We are compensated with a small commission, at no extra cost to you, for sales made through the links.
Fun & Practical Gifts for Elderly People
Are you stumped when it comes to gift ideas for the senior citizens in your life? Whether you're searching for a fun present for an older neighbor or a practical gift for an aging relative, you'll get some inspiration from this list. Check out these gift ideas for elderly people:
Brain games: Puzzles and games that engage the brain offer numerous health benefits for elderly men and women. Crossword puzzles, word searches, and sudoku books make great gifts for seniors who enjoy a mental challenge. You could even include a personalized pencil for an extra special touch.
Pill organizer with reminder alarm: Keeping track of medications and when to take them gets increasingly difficult as people age, but pill organizers can help. You can sort out a day's, week's, or month's worth of medications and set automatic alarms to alert your loved one when it's time to take their pills. Be sure to look for a model that has easy-to-open compartments.
Non-slip socks: How about a gift that combines fashion and function? Socks with rubber grips on the bottom can keep an older person's feet toasty warm while also preventing falls. You have your choice of a huge range of colors and styles, including some aimed at men.
Boot jack: Anyone who trudges through muddy fields or putters in the garden (or anyone who struggles with bending over) may appreciate a boot jack that makes it easy to take off boots and other footwear when coming into the house.
Key finder: This is one of the most useful gifts for the elderly people in your life who constantly misplace their house keys. Ranges vary, but some models work up to 300 feet away. Seniors who have smartphones may appreciate a finder that uses Bluetooth technology; those who are more old school may prefer the radio-frequency-based devices.
Homemade gift basket: When it comes to gift baskets, senior citizens often appreciate special treats or useful items that can make their lives more stimulating. Depending on your loved one's interests, good things to include might be books, games, puzzles, snacks, or specialty teas.
Massage pillow: Nothing soothes an aching back or neck like a warm massage. A heated massage pillow that attaches to an armchair can bring welcome relief to an elderly family member or friend who experiences the normal aches and pains that come with getting older.
Sleep sound machine: Sleep issues are a common complaint among elderly people, but a sleep sound machine may be a good solution. These devices generate calming white noise or nature sounds to help people relax and fall asleep faster. Some models even adjust the sound level based on the surrounding noise.
Portable induction cooktop: Do you worry about the safety of your loved one in the kitchen? Induction cooktops can be good gifts for elderly women and men because they only heat the pot, not the stovetop, which means there is less chance of setting anything on fire. Note that only certain kinds of pots will work on these cooktops, so be sure to check into that before you buy.
Light therapy lamp: The dark days of winter can be enough to drag anyone down, but a lamp that mimics natural outdoor light can help brighten your loved one's day. Light therapy lamps can also be ideal for mobility-challenged seniors who find it hard to get outdoors.
Earthly's Unpaper Towels: Reusable Unpaper Towels are washable and can be used in place of paper towels for napkins, cleaning up spills, and wiping grandchildren's sticky hands and faces. The unbleached fabric is absorbent, durable and environmentally friendly. The cute, bright lemon design will look great on your kitchen counter.
Gifts for Parents
Gift ideas for parents can be hard to come by, particularly when those parents claim that they don't want or need anything (yet you still want to bring them a bit of cheer). Here are a few suggestions for gifts for parents like that:
Gift Ideas for Grandparents
Does trying to think of gift ideas for the grandparents in your life have you scratching your head? We've got you covered. Here are some suggestions for gifts that Grandma or Grandpa may appreciate: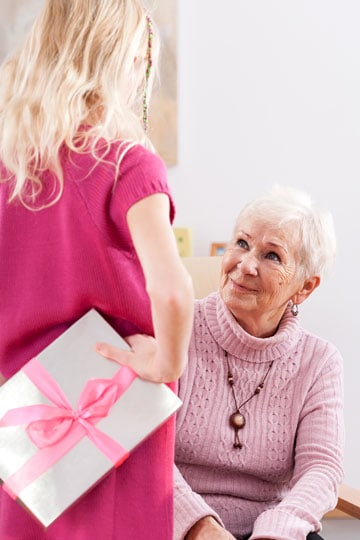 Gifts for People Who Have Everything
When it comes to people who have everything, the best gifts often focus on experiences and services or unique do-it-yourself items that they can't get anywhere else. Here are a few ideas that may help inspire you:
An old photo that you've restored: Many elderly people have decades-old photos that could use a bit of sprucing up. An old photo that's been restored is a great gift for grandparents who have everything. You can check out tips on how to restore it yourself using Photoshop, or you can have places like Costco do it.
Memory quilt: If you're a whiz with a needle and thread, you could create a customized memory quilt that incorporates materials that have special meaning for your loved one, such as favorite shirts, a wedding dress, or a military uniform. You could even use transfer fabric sheets to add photos to the quilt.
Home-cooked meals frozen in portions: Who wouldn't love a good home-cooked meal that doesn't require making it yourself? Cooking and freezing your elderly friend's favorite foods in meal-sized portions that are easy to reheat can be a thoughtful way to brighten up their days.
Coffee of the month club: If any of the senior citizens on your list are coffee connoisseurs, why not surprise them with a subscription to a coffee club that delivers exotic new roasts from different countries to their door each month?
Gift cards for experiences: One way to bring a little cheer to your loved ones is to treat them to an outing you know they'd love but normally wouldn't do. Spas, cinemas, and restaurants are just a few of the places that offer gift cards your elderly loved ones might enjoy.
Housecleaning or yard-care service: Many elderly people who still live in their own homes appreciate having someone else take care of scrubbing floors, cleaning bathrooms, mowing lawns, and raking leaves. You could arrange these services for them as a one-time deal or on an ongoing basis.
Grocery delivery service: Shopping for groceries is another one of those household chores that get harder as we get older. Services like Instacart can save your loved ones time and effort by bringing fresh food from local stores right to their doorstep.
Charitable donation in their name: For people who really don't need any more stuff, a donation in their name to a charity you know they support can be the most meaningful gift they receive. (For example, many seniors would feel honored to support the American Red Cross.) You could also donate your time to the charity instead of your money and tell the gift recipient that your labors were done in their honor.

Cooking lesson: Learning a new skill is a good way to keep the brain sharp. If any of your senior-citizen friends have a culinary bent, why not pay for a cooking lesson that teaches them how to prepare different kinds of foods they may not have tried before?
Theater, concert, or sports event tickets: Give your loved ones an evening out so that they can indulge their interests and enjoy their favorite performers. A pair of tickets to a music concert, theatrical performance, or live sporting event would surely be appreciated.
Ancestry.com membership: Many elderly people are very interested in documenting their family histories. A membership to an online service like Ancestry.com can guide your gift recipient through their genealogy research and help them fill out the branches in their family tree.
Gifts for People With Alzheimer's or Dementia
Some of the best gifts for Alzheimer's patients and people with dementia are those that help ease their anxiety, soothe their agitation, or stimulate their minds. Check out the following suggestions:
Gifts for Visually Impaired People
Does an older adult on your list struggle with low vision? Here are a few products for the blind and visually impaired that make excellent holiday gifts:
Gifts for People With Hearing Impairments
Are you trying to come up with something special for an elderly friend or family member who is partially or completely deaf? Gifts that may bring a smile to their face include:
Gifts for People With Arthritis
For people who live with arthritis, gifts that ease pain and promote comfort are usually high on the wish list. Check out these suggestions for gifts for arthritis sufferers:
Spread Some Cheer
Selecting the perfect gifts for elderly friends and family members doesn't have to be difficult. Use the list of ideas above for inspiration—and make a senior feel special!