Gifts for Elderly People
Gifts for Elderly Friends & Loved Ones: 74 Great Ideas
By Crystal Lee
| Published
| Last updated
Coming up with good gifts for elderly people can sometimes be a huge challenge. After all, many seniors have particular tastes or more stuff than they know what to do with. How do you find a gift they'll appreciate? It can be even harder if they insist that they don't need anything (as so many older people do when they don't wish to be a burden).
But there are plenty of ways you can make them feel special. For many seniors, the key elements of a gift are practicality and functionality. (And when it comes to gifts for parents and grandparents, sentimentality still plays a role.) If you can come up with something that will make their lives easier, healthier, or more fun, you can bring a smile to their faces.
This gift guide includes plenty of ideas for older men and women, elderly parents and grandparents, and even those hard-to-buy-for people who already have everything. It also features dozens of ideas for older adults who are dealing with a variety of health challenges or conditions. Read on to discover how you can add a magic touch to a senior's day!
This article contains affiliate links. We are compensated with a small commission, at no extra cost to you, for sales made through the links.
Fun & Practical Gifts for Elderly People
Are you stumped when it comes to gift ideas for the senior citizens in your life? Whether you're searching for a fun present for an older neighbor or a practical gift for an aging relative, you'll get some inspiration from this list. Check out these gift ideas for elderly people:
Gifts for Parents
Gift ideas for parents can be hard to come by, particularly when those parents claim that they don't want or need anything (yet you still want to bring them a bit of cheer). Here are a few suggestions for gifts for parents like that:
Gift Ideas for Grandparents
Does trying to think of gift ideas for the grandparents in your life have you scratching your head? We've got you covered. Here are some suggestions for gifts that Grandma or Grandpa may appreciate: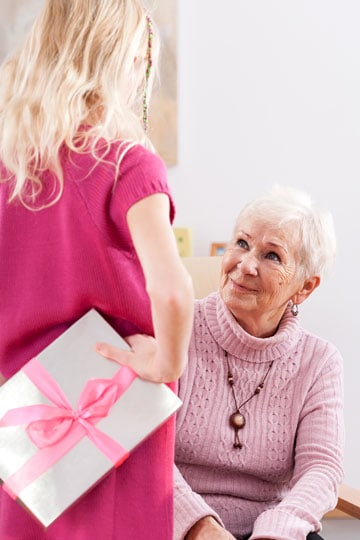 Gifts for People Who Have Everything
When it comes to people who have everything, the best gifts often focus on experiences and services or unique do-it-yourself items that they can't get anywhere else. Here are a few ideas that may help inspire you:
An old photo that you've restored—Many elderly people have decades-old photos that could use a bit of sprucing up. An old photo that's been restored is a great gift for grandparents who have everything. You can check out tips on how to restore it yourself using Photoshop, or you can have places like Costco do it.
Memory quilt—If you're a whiz with a needle and thread, you could create a customized memory quilt that incorporates materials that have special meaning for your loved one, such as favorite shirts, a wedding dress, or a military uniform. You could even use transfer fabric sheets to add photos to the quilt.
Home-cooked meals frozen in portions—Who wouldn't love a good home-cooked meal that doesn't require making it yourself? Cooking and freezing your elderly friend's favorite foods in meal-sized portions that are easy to reheat can be a thoughtful way to brighten up their days.
Coffee of the month club—If any of the senior citizens on your list are coffee connoisseurs, why not surprise them with a subscription to a coffee club that delivers exotic new roasts from different countries to their door each month?
Gift cards for experiences—One way to bring a little cheer to your loved ones is to treat them to an outing you know they'd love but normally wouldn't do. Spas, cinemas, and restaurants are just a few of the places that offer gift cards your elderly loved ones might enjoy.
Housecleaning or yard-care service—Many elderly people who still live in their own homes appreciate having someone else take care of scrubbing floors, cleaning bathrooms, mowing lawns, and raking leaves. You could arrange these services for them as a one-time deal or on an ongoing basis.
Grocery delivery service—Shopping for groceries is another one of those household chores that get harder as we get older. Services like Instacart can save your loved ones time and effort by bringing fresh food from local stores right to their doorstep.
Charitable donation in their name—For people who really don't need any more stuff, a donation in their name to a charity you know they support can be the most meaningful gift they receive. (For example, many seniors would feel honored to support the American Red Cross.) You could also donate your time to the charity instead of your money and tell the gift recipient that your labors were done in their honor.

Cooking lesson—Learning a new skill is a good way to keep the brain sharp. If any of your senior-citizen friends have a culinary bent, why not pay for a cooking lesson that teaches them how to prepare different kinds of foods they may not have tried before?
Theater, concert, or sports event tickets—Give your loved ones an evening out so that they can indulge their interests and enjoy their favorite performers. A pair of tickets to a music concert, theatrical performance, or live sporting event would surely be appreciated.
Ancestry.com membership—Many elderly people are very interested in documenting their family histories. A membership to an online service like Ancestry.com can guide your gift recipient through their genealogy research and help them fill out the branches in their family tree.
Gifts for People With Alzheimer's or Dementia
Some of the best gifts for Alzheimer's patients and people with dementia are those that help ease their anxiety, soothe their agitation, or stimulate their minds. Check out the following suggestions:
Gifts for Visually Impaired People
Does an older adult on your list struggle with low vision? Here are a few products for the blind and visually impaired that make excellent holiday gifts:
Be My Eyes—This is a specially designed smartphone app for a blind person that pairs him or her with a sighted volunteer through a video call. By seeing and describing what the blind person is pointing the camera at, the volunteer can offer assistance with anything from adjusting the thermostat to checking food expiration dates. It's available for both iOS and Android.
Large print measuring cups—Does your loved one live for baking or cooking? These measuring cups feature extra large contrasting type on both the handle and cup bottom to make the task of measuring ingredients a snap.
Magnifying glass necklace—Necklaces that incorporate a magnifying glass make fantastic gifts for older women who need a little extra help reading things like store labels. A huge range of styles are available, so you could even buy different necklaces to match your gift recipient's different outfits.
Probing cane—One of the most useful gifts for a blind person, a cane allows your loved one to maneuver confidently by detecting stairs, curbs, and other obstacles. Keep in mind that straight canes give more sensory feedback, while folding canes are easier to store.
Talking watch—People with low vision have a hard time seeing the numbers on a standard wristwatch. That's why talking watches for the blind are so cool. With the press of a button, a voice announces the current time. Some models even set themselves and automatically adjust to Daylight Savings Time.
Low vision keyboard—Make your loved one's computer a whole lot easier to use! Keyboards with high-contrast oversized keys make the letters appear larger and bolder. Both wired and wireless versions are available.
Audible subscription—This is one of those gifts for blind people that keep on giving. Each month, your loved one can choose one free audiobook from among thousands of titles and listen to it via his or her computer or mobile device.
Tip n Split Magnifier—With a built-in LED light, magnifying lens, and simple calculator, this handy device enables your gift recipient to easily read restaurant menus and bills, calculate everyone's share, and figure out a tip.
Big button phone with Braille keys—For a blind person, phone calls can be extremely challenging to make. Simplify the process by giving your loved one a specially designed phone with oversized keys featuring Braille type.
Gifts for People With Hearing Impairments
Are you trying to come up with something special for an elderly friend or family member who is partially or completely deaf? Gifts that may bring a smile to their face include:
Hearing aid charms—Give your loved one a bit of bling to jazz up her hearing aid! You can choose from designs that incorporate hearts, jewels, flowers, religious symbols, and more.

Sign language letter tiles—Does the deaf person on your list enjoy playing Scrabble? Does he or she commonly use American Sign Language? Gifts like these tiles that feature the ASL alphabet put a unique twist on an old game and can be a real hit.
Vibrating alarm clock—Help make sure your loved one doesn't oversleep. Clocks that rely on vibrations rather than sounds for the alarm can be very useful for hearing impaired people. Some models fit under a pillow, while others attach to a wrist.
Ear Gear—Hearing aids are expensive, so why not give a gift that helps protect them? These spandex nylon sleeves keep hearing aids safe from moisture and dirt and are available in eight different colors.
Video doorbell—With a video doorbell, your loved one won't have to stress about not hearing a ring. The doorbell sends an alert to a smartphone when someone is at the door and allows the homeowner to see and speak with the person standing there.
Captioned telephone—Your hard-of-hearing friend won't miss a word of what you're saying with a captioned telephone that instantly displays a written record of the conversation.
TV listening device—No one wants to miss out on the action. Help your hard-of-hearing friends enjoy their favorite television programs in comfort with an individual device that allows them to hear the TV and control the volume without bothering the people around them. You can get devices that connect to either analog or digital TVs.
Sound-enhancing earbuds—If you really want to go all out, try splurging on these. Among the best earbuds for hearing impaired people, these wireless Bose headphones allow the user to choose which voices and sounds to focus on and which ones to filter out.
Gifts for People With Arthritis
For people who live with arthritis, gifts that ease pain and promote comfort are usually high on the wish list. Check out these suggestions for gifts for arthritis sufferers:
Spread Some Cheer
Selecting the perfect gifts for elderly friends and family members doesn't have to be difficult. Use the list of ideas above for inspiration—and make a senior feel special!