What to Do in Retirement
What to Do in Retirement: 24 Great Ways to Spend Your Time
By Publisher
| Last updated
Retiring from the workforce can be a chance to reconnect with your greatest passions and most important goals—it all depends on what you choose to do in your retirement. You can try new experiences, develop new skills, and devote more time to the people and hobbies you love. It's all up to you.
As a retiree, you no longer have to deal with work-related deadlines; you are free to have fun and do what you want, on your own terms. Plus, even though your income might be lower than it was when you were working full-time, you can take advantage of a huge array of senior discounts, and you may be free of certain financial burdens like a mortgage, student loans, and credit card debt. In fact, a Merrill Lynch survey revealed that people feel happier, more relaxed, and less anxious in retirement than at any other time in their adult lives.
During a person's working years, leisure often means relaxing and getting away from structure. But in retirement, it's more about engaging in activity and connecting with people. So we've identified a wide range of activities that can help keep you physically active, mentally stimulated, and engaged in opportunities for socialization and fulfillment.
But remember: Retirement is all about freedom and choice. These ideas are just a starting point—use them as inspiration for charting your own path!
Common Goals of Retirees
Without the restrictions of full-time work, how do you envision spending your hours? In the Merrill Lynch survey of adults over age 50, 95 percent of respondents said they would rather focus on having more enjoyable experiences than on buying more stuff. And financial constraints had little impact on most retirees' ability to enjoy life. In fact, more than 88 percent of retirees across all income levels said they had increased flexibility and freedom to do the things they wanted to do.
Here's what the Merrill Lynch survey respondents were looking to accomplish through their everyday activities:
Get or stay health: 83 percent
Relax: 72 percent
Connect with family: 58 percent
Have fun: 57 percent
Make or expand social connections: 56 percent
Learn: 47 percent
Grow spiritually: 43 percent
Give back: 41 percent
24 Fun Things to Do in Retirement
When you retire, you suddenly find yourself with all the time in the world. So, what are you going to do with it? Here are 24 awesome ideas: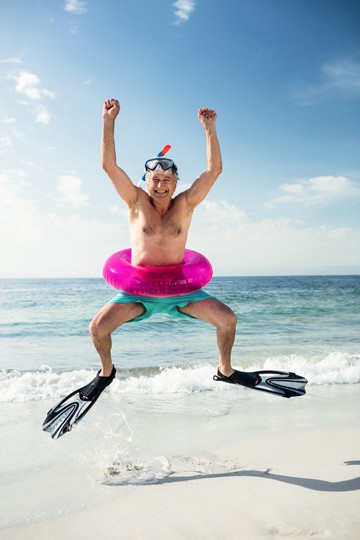 Travel

Satisfy your wanderlust! With no limits on your vacation time, you can get out and explore the world. Retirees have the flexibility to go on extended holidays and take advantage of last-minute deals. Many enjoy regular trips dedicated to biking, golf, shopping, or the arts. Some stick to domestic destinations, while others go further afield to explore places like the Caribbean, Europe, and Latin America.

In a survey of more than 1,300 American retirees, author Wes Moss found that the happiest ones took an average of 2.4 vacations each year. Here's more good news: A study in Applied Research in Quality of Life has shown that simply planning a trip can boost happiness levels because you are anticipating the good times to come.

Here are a few senior travel ideas to consider:

Rent or buy a trailer or motorhome and hit the open road. Make a goal of dipping a toe in each ocean, driving the entire length of Route 66, or visiting every national park in the country. If you're over 62, you can get a lifetime federal parks pass for only $80; in some cases, the pass also gives you significant discounts on camping and boat launch fees.
Become a campground host. Many campgrounds and RV parks provide free campsites and amenities in exchange for help with tasks like collecting fees, enforcing rules, and tidying the grounds. Campground hosting jobs might last for a few weeks or for an entire season; they are often volunteer positions, but some provide a small stipend. This can be a great way to travel for less cost.
Trade houses. Exchange houses with like-minded travelers and take advantage of completely free holiday accommodations. House swapping provides an immersive experience and lets you live like a local. Whether you're looking for a weekend getaway in a nearby region or an extended vacation abroad, you can find options to suit you. Websites like Home Exchange 50plus and HomeExchange.com cater to older adults; membership fees vary.
Take a cruise. Do you dream of a vacation at sea? Cruises are popular among retirees because they offer an almost-all-inclusive experience that lets you see different places every day. In fact, an AARP study found that 37 percent of baby boomers who traveled internationally did so on a cruise ship. And cruising may be more affordable than you think: Major lines like Carnival and Royal Caribbean offer discounts on some sailings for travelers over the age of 55.

Get an education

Retirement could be the perfect time to get that degree you've always wanted or just learn more about a subject that fascinates you. Every state offers options for free or discounted college tuition for older adults, although age requirements vary.

If you're more interested in gaining knowledge than acquiring formal credentials, you may want to check out one of the lifelong learning programs sponsored by the Bernard Osher Foundation. Programs are aimed at adults over 50 and are offered through colleges and universities across the country. Courses are fairly inexpensive (some cost as little as $35), but they do not come with college credit.

Plus, there are plenty of ways to expand your mind without spending any money. Listen to a podcast or TED talk. Visit museums and science centers—many have free admission on certain days or for seniors in general. Or consider massive open online courses (MOOCs) that offer free college-level training in a huge range of areas, including web design, game development, communication, chemistry, music, art, economics, psychology, and more.

Indulge in a hobby (or three)

Hobbies give you something interesting and fun to do, either on your own or as part of a group. Expand on hobbies you enjoyed during your working years or pursue new interests. Research conducted by Wes Moss found that the happiest retirees regularly participated in three to four hobbies. The possible activities are endless, but here is a sample of ideas that may appeal to you:

Gardening
Sailing
Dancing
Baking or cake decorating
Antique collecting
Reading
Model building
Bird watching
Singing
Horseback riding
Walking or hiking
Wine making
Furniture restoring
Pottery making

Donate your time

Volunteering gives you a sense of purpose and lets you contribute to a greater good. Almost one-quarter of retirees volunteer on a regular basis, according to the Transamerica Center for Retirement Studies. Identify the types of organizations you're interested in and see if they can use your abilities. You could work with Meals on Wheels, teach English to immigrants, become a Scout leader, or build a house with Habitat for Humanity. Check out VolunteerMatch to research opportunities in your area. (Or consider opportunities overseas: There is no age limit for joining the Peace Corps!)

Other places that could potentially use your help include:

Libraries: Sort books, plan special events and fundraisers, or deliver library materials to home-bound adults.
Hospices: Support patients by visiting with them, reading to them, or taking walks with them.
Seniors' centers: Greet patrons at the front desk, teach a computer class, or help out in the kitchen.
Theaters: Hand out playbills and show people to their seats (and possibly see a show for free).
Churches or other houses of worship: Organize and lead community outreach initiatives or youth programs.
Museums: Lead tours and answer questions from the public about exhibits.
Animal shelters: Feed and groom animals, clean cages, or walk dogs.
Food banks: Receive shipments, sort food items, and prepare packages.
Veterans homes: Help with craft activities, play music with residents, or escort veterans to appointments.

Get involved in a sport

Being physically active comes with a whole host of health benefits: You can improve your flexibility, boost your immune system, and keep your heart and lungs healthy. Playing sports is also an easy way to meet new people and have fun. Bocce, pickleball, bowling, golf, tennis, and water aerobics are just some of the sports that are popular among retirees. You could join a team for older adults or use your athletic expertise to coach younger people.

And just because you're retired doesn't mean you have to give up serious competition. The National Senior Games Association sponsors an Olympic-style competition for the 50-plus crowd that features 20 sports, including cycling, archery, horseshoes, power walking, volleyball, shuffleboard, badminton, and table tennis. Participants must qualify at the state level before going on to the national games.

Set new fitness goals

You can keep fit and stay active even if you're not the sporty type. Participating in an exercise class for seniors is a good way to stay accountable for your fitness goals. Low-impact activities like swimming, biking, and tai chi are excellent ways to boost your endurance, strength, flexibility, and balance. Join a gym, train for a marathon, take up yoga for seniors, or become part of a walking group. As an added bonus, being more active over the course of the day will help you get a better sleep at night.

Mentor others

Sharing your expertise can be a very fulfilling way to give back. Becoming a mentor to a young person lets you act as both a teacher and a coach and make a positive difference in a kid's life. Plus, research in The Journals of Gerontology Series A: Biological Sciences and Medical Sciences has demonstrated that older adults who mentor young people are three times as happy as those who don't. According to a Harvard Business Review article, mentors also show improved cognitive functioning. Here are a few ways you can get involved:

Of course, there are many additional ways to help others benefit from your knowledge and experience. Teach a course at your local community center or library. Offer tutoring services to high school or college students. Or volunteer with the SCORE Association and help local entrepreneurs grow their businesses.

Join (or start) a club

Meeting with other people who share your interests is a fantastic way to make new friends and expand your knowledge. Check with your local seniors' center to see what types of groups are active in your area. Clubs centered around books, films, walking, gardening, and quilting are common. If you can't find a group that's focused on your particular interest, think about starting your own.

Be social

Human beings are social animals. Now that you no longer have to go to work every day, you have plenty of time to focus on deepening your social connections. Doing so is not just enjoyable, it's also good for your health. Research in the American Journal of Epidemiology and Ageing Research Reviews suggests that maintaining strong social ties can boost your overall cognitive health and lower your risk of developing conditions like heart disease and dementia.

So arrange regular get-togethers with other retirees. Plan wine-tasting parties or movie nights. Spend quality time with grandkids or other family members. Or reconnect with old friends on Facebook or at school reunions.

Start dating (singles and couples)

Most people who have been happily married or together long-term know that a strong relationship takes maintenance. But some of the regular maintenance you and your partner do must be fun activities that remind you of what you like and love about each other. Planning fun dates with your partner is one of the best ways to keep that spark alive that initially drew you to each other.

And what about the single seniors? Research from Harvard University projects that over the next twenty years, single-person households among the 80+ age group will more than double, from 4.7 million households in 2018 to over ten million in 2038. There are many reasons for this growth, including getting divorced or separating, having a partner with dementia or other issues debilitating enough to require full-time care in a facility, or experiencing the death of a partner. Loneliness is already a big concern for today's seniors, so for those who prefer a partnership, it may be time to take the leap into meeting new people.

Single seniors also have a lot to potentially gain by meeting and going on small adventures with potential love interests. Not only do you get out of the house, but you also can enrich your life with experiences, meet new people, practice your dating confidence, and potentially meet that special someone you want to spend the rest of your life with. Speed dating for seniors can be a safe, fun, and low-pressure way to get started. And if meeting people more organically "in the wild" is intimidating, online dating services for seniors are available to help make those connections easily.

Work part-time

Want to keep one foot in the work world? Almost 70 percent of newly retired people get part-time jobs, according to the Merrill Lynch survey. Many seniors find that such an arrangement gives them an opportunity to use their existing skills (or develop new ones) while earning a little extra money. You have the freedom to pursue any field that interests you without worrying about climbing the corporate ladder. And research by IZA World of Labor found that people who continued to work beyond retirement age had high levels of well-being and life satisfaction.

Learn a new skill

Pushing yourself to learn something new is not only enjoyable, it also keeps the brain agile. Attending formal classes and workshops is one option, but depending on what you want to learn, you could also explore free online videos that demonstrate the techniques you're looking to master. Consider learning how to:

Speak a new language
Play a musical instrument
Drive an 18-wheeler
Scuba dive
Cook a different type of cuisine

Foster a pet

Open your home to a shelter or rescue pet and give an animal a brighter future. You could care for sick or injured dogs or cats and help them adjust to life in a home. The idea is to provide a loving and stable environment for the animals until a permanent home can be found for them. This is a great way to get the benefits of animal companionship without the high price tag. (Most fostering organizations, such as Dogs Without Borders, cover the cost of food, toys, and medical care.)

Work with your hands to produce something unique and original! You could explore projects involving knitting, woodworking, painting, photography, scrapbooking, jewelry making, and more. Craft stores and community colleges frequently offer inexpensive workshops where you can learn about new crafts and join up with other people who share your interests. You might even be able to take advantage of programs at studios that give you access to professional-grade tools and materials for a small fee.

Games can be an awesome way to challenge your brain and have fun either by yourself or with others. Get together with neighbors, friends, or family members to play board games, card games, dice games, and more. Attend bingo nights or join a chess club. You could even explore the world of online or video games.

Start a small business

Now that you're not focused on making a living, you have the chance to develop and sell any product or service you like. Many retirees draw on their years of experience to become freelance advisors or consultants. You could also consider generating additional income by:

Selling crafts through an Etsy shop
Offering homemade cakes or jams at a farmers' market
Babysitting for families in your area
Walking dogs or looking after pets
Fixing computers

Go to summer camp

A growing number of specialized camps are giving older adults the opportunity to partake in canoeing, ziplining, archery, river rafting, ropes courses, climbing walls, and camp fires. Adapted activities are available for those with physical challenges. You won't be roughing it quite the same way as when you were younger. (Most camps offer comfortable accommodations, often in air-conditioned lodges with private bathrooms.) Some camps allow couples to bunk together, while others separate male and female campers. Costs vary from around $500 to more than $1,400 for a week-long stay, which includes all your meals and activities. Here are a few options to check out:

Improve your home

Why not undertake projects to make your home more beautiful, convenient, or secure? You could build a fence, convert a child's old room into a home office or exercise space, update your walls, cabinets, or other décor with a fresh coat of paint, or boost your home's curb appeal with simple additions like shutters, window boxes, or solar spotlights.

Explore your family history

Delve into your roots and discover where you came from. This could involve sorting through family photos or amassing a collection of stories that have been passed down through the generations. You can use websites like MyHeritage and Ancestry to build a family tree and track down details about your ancestors, although you will need a paid subscription to access the full range of resources; prices range from $80 to $200 per year. Or check out the list of free genealogy resources for each state at Family History Daily.

Write

With more time to think and reflect, you might realize you have special stories or know-how that could be shared with the world. Many retirees enjoy penning memoirs, novels, cookbooks, how-to guides, poems, or theatrical plays. You could start a blog dedicated to travel, cooking, music, or the retirement experience in general. Or write strictly for yourself: Keeping a personal journal can be a great way to document memories, relieve stress, and work through your emotions.

Organize a charity drive

Make a real difference in your community by leading a project to help others. Enlist family, friends, club members, former colleagues, and anyone else who can contribute to your efforts. Talk to local charities to see what's needed most. You might consider collecting clothing for disaster victims, raising money for a special needs group, or gathering toys for sick children.

Get involved in the political scene

Do you have an activist bent? There's no better time than retirement to take a greater interest in the issues affecting your city, your state, or the country in general. You could become a poll worker, volunteer on election campaigns, organize rallies, collect signatures on petitions, attend town hall meetings, or even run for local office.

Enjoy events that interest you

Get in tune with the special events going on in your community so that you can take in whatever strikes your fancy: theater shows, concerts, sports competitions, monster truck rallies, film festivals, etc. Many such events offer special pricing for seniors.

Just chill

Not every moment of your retirement needs to be packed with activities. Everyone needs a little downtime now and then, so don't feel guilty about watching a bit of TV or taking a nap if that's what you feel like. After all, you've earned this time—if you want to relax and do absolutely nothing, go for it.
Tips on Planning for Leisure Spending in Retirement
While plenty of retirement activities are absolutely free, some do have a price tag attached. The good news is that it's possible to keep your finances healthy while living the retirement of your dreams. Here are a few tips:
Decide what you want to do.

Consider the kinds of things you'd like to focus on: volunteering, traveling, going back to school, spending more time with family, etc. Flesh out those ideas with as many details as possible. For example, if you want to travel, think about exactly how many trips you'd like to take each year and where you'd like to go.

Talk to your partner.

Did you know that, according to the Merrill Lynch survey, only about one-third of retirees have talked to their spouses about how much they're willing to spend on leisure pursuits in retirement? If you have a significant other, you'll want to make sure your goals align with his or her aims. Discuss how you would like to divvy up your time and money in the post-workforce years. If you envision touring around in an RV for six months of the year but your partner was hoping to move to a downtown condo to be closer to big-city amenities like theaters and restaurants, you may have some negotiating to do.

Make a spending plan.

It's common for people to withdraw more savings during the early years of retirement (up to about age 75) in order to enjoy travel or other active pursuits. Other people choose to fund their leisure activities with income earned from part-time jobs. Whatever your goals, it's wise to talk to a financial planner about accounting for leisure spending in your long-term plans. Aim to do this at least five years before you retire so that you can adjust your saving and spending patterns accordingly. Your advisor should be able to work with you to put together a plan that will help you realize your dreams for this next phase of your life.
Imagine the Possibilities
For many people, retirement is the most relaxing and enjoyable time of their lives. You're free to indulge in a range of activities that keep you interested and engaged. So think about your goals and dreams—and start making them happen!